2013 Fantasy Baseball Week 21 Waiver Wire: 3 to Catch, 3 to Cut, 3 to Keep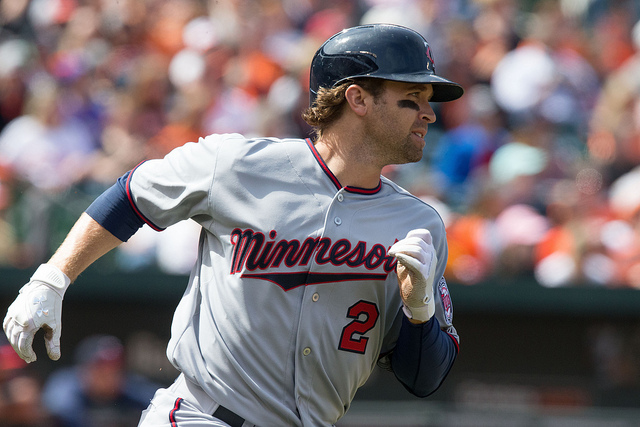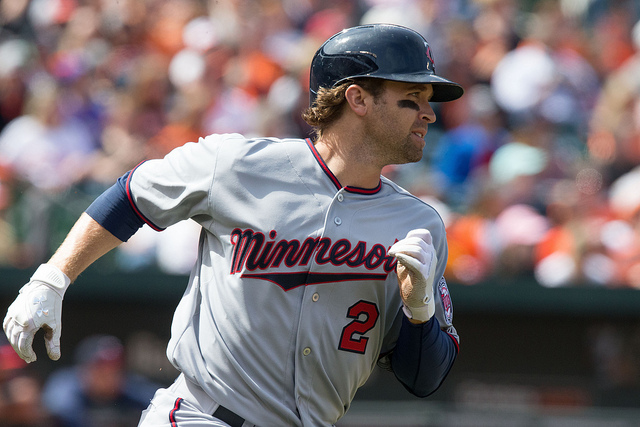 It's the Week 21 edition of fantasy baseball 3×3, where we're passing along a friendly reminder to pick up Brian Dozier, cutting bait on Chase Headley, and investing in a new and improved Tim Lincecum.
There are plenty of waiver wire columns out there that provide an exhaustive list of the most added players in fantasy leagues. This isn't one of them. Here, we'll run down a few lesser-known, lesser-considered, or lesser-owned players, with perspective on who deserves a your attention, who deserves your patience, and who deserves to go straight to bed without dessert.
3 TO CATCH
Guys, we talked about this.
Brian Dozier has maintained the early jump in his fly ball distance and popped nine extra base hits in may, including three home runs.
He's done it by taking a more selective approach, chasing fewer pitches outside the zone. He's seeing about the same number of strikes as he has in the past, but he's offering at strikes nearly 10% less often. Pitchers haven't changed their approach against Dozier, it's still down and away most of the time with hard stuff inside to offset the soft stuff on the outside part of the plate. The difference this season has been Dozier's newfound ability to obliterate the inside pitch. And I do mean OBLITERATE. His ISO against pitches belt-high off the plate inside is an otherworldly .909.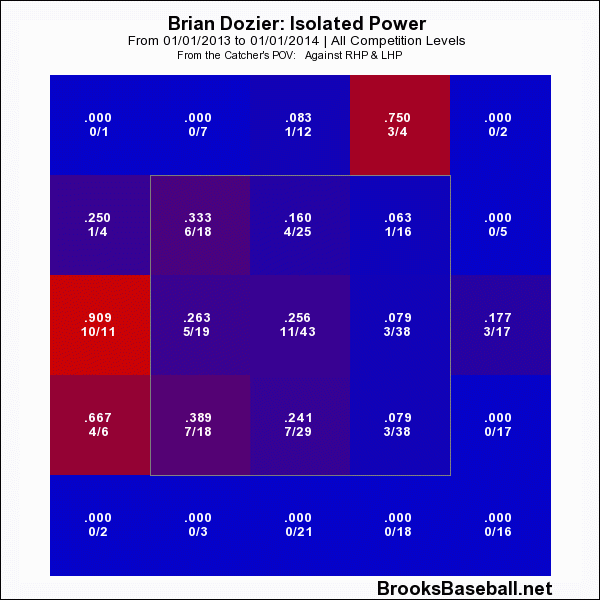 Miguel Cabrera, who aside from being the best hitter on Earth is unquestionably the best in baseball at driving pitches off the plate, has "only" a .536 ISO on pitches in that part of the zone.
I don't care who it is, any hitter who does something better than Miggy is probably worth a pickup.
To pick him up, I'd drop: Asdrubal Cabrera, Michael Young, Andrelton Simmons
After posting an impressive 2.74 FIP and 23.9% strikeout rate in the hitter-happy Pacific Coast League, then kicking his big league career off with a solid start in Toronto, Sonny Gray was dazzling against the Houston Astros on Wednesday. Although the list of pitchers who've been dazzling against the Houston Astros is long (and not exactly distinguished), a kid who comes up to the big leagues flashing mid-90s heat and a wipeout breaking ball deserves our attention, especially when he plays his home games in a park that suppresses scoring better than all but five others in baseball.
Bartolo Colon's groin strain has secured Gray's spot in the rotation for at least the next couple of weeks, and with Colon unlikely to return much before rosters expand in September, that spot looks secure for the foreseeable future. He hasn't yet reached the 152 innings he tossed last season; with 136 in the bank so far, he's probably got at least 40 more in the tank before an innings cap would kick in. Aside from a couple of landmines against the Tigers and Rangers, Gray's schedule looks like smooth sailing the rest of the way, including probable dates with the Mariners, the Twins, and his old buddies, the Astros.
To pick him up, I'd drop: Bruce Chen, Jacob Turner, Bud Norris
Since rejoining the rotation in late July, every single one of Tyson Ross' starts has met the following criteria:
Six innings or more
Six strikeouts or more
Two runs or less
Five hits or less
He registered three wins in those five starts, two of which came away from home in Arizona and Cincinnati, both noted hitter's parks. Sure, it's just five starts, but it's a damn impressive just five starts.
Ross has benefitted from a favorable BABIP and strand rate, and his walk rate is quite a bit higher than I'd prefer, but he clearly has the stuff to succeed, especially given the privilege of pitching in Petco Park. As a starter, Ross has a 25.1% strikeout rate and a 2.90 FIP; it's not easy to find other starters with those kind of numbers. In fact, there are only eight qualified starters who can match up. You probably know their names: Scherzer, Harvey, Fernandez, Sanchez, Sale, Burnett, Hernandez, and Kershaw. Not bad company, eh?
To pick him up, I'd drop: Ryan Dempster, Ian Kennedy, Zack Wheeler
3 TO CUT
What exactly is Asdrubal Cabrera good at? His suddenly poor plate discipline and some unfortunate BABIP luck have conspired to kneecap the first two thirds of his 2013, but even if his luck improves, does he have enough skill to produce value in the last few weeks of the season?
He hits in a good slot in a good lineup, meaning he'll deliver above average R and RBI totals for his position, but that's really more of a function of his role and his teammates than any of Cabrera's individual skills.
His batting average production is consistent, but nowhere near elite. He's a .273 hitter through 3,308 big league plate appearances, but he's had only one full season in which he hit better than .276.
He isn't an efficient base stealer and doesn't run enough to accumulate steals through sheer volume of attempts. Cabrera stole 17 bases in 667 plate appearances in 2011; in the 1,031 plate appearances he's had since then, he's swiped a total of just 16 bags.
He developed some power, but the career year he had in 2011 isn't coming back. After hitting 25 home runs (more than quadruple his previous career high) that season, Cabrera's total has dropped in both of the next two years. He managed 16 bombs last season, and ZiPS projects him to finish with just 12 this year.
In total, I think ZiPS is about right. I expect Cabrera to close out his season hitting for about a .265 average and two or three more each of homers and steals. Sure, it's useful, but if I'm a Cabrera owner, I'm shopping him to anyone who'll listen before the trade deadline and scouring the waiver wire for options with more upside.
I'd trade/drop him for: Brian Dozier, Stephen Drew, Jed Lowrie
The last time I wrote about Chase Headley, I advised that owners hang on to him until his value rose enough to warrant anything more than a half-eaten turkey sandwich in a trade. I was wrong. You should just take the sandwich.
Headley's had plenty of time to recover from the thumb injury that sidelined him for the first couple of weeks of the season, and plenty of time to prove that it wasn't the injury that sapped his power. Whether it was a change in approach or just dumb luck, it's pretty clear now that 2012 was an outlier. The .210 ISO he posted against right-handed pitching last season has dropped by more than half, sinking to .104 in 322 plate appearances this season, a number which almost identically matches the .015 ISO he posted against righties in 2011. A cursory look at his spray charts confirms it.
2011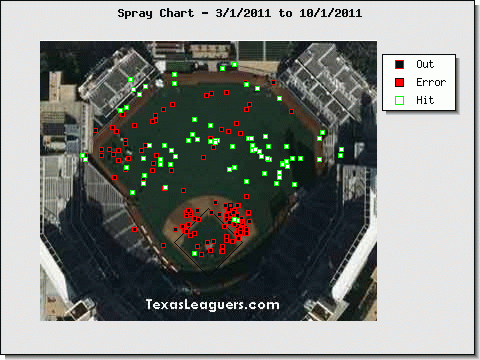 2012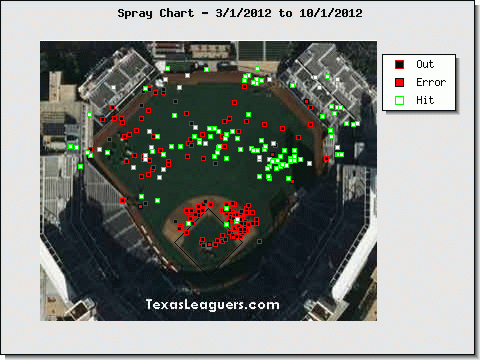 2013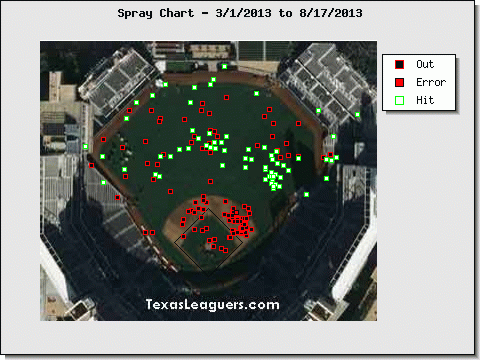 Aside from a handful of balls that he hooked down the line, Headley's struggled to even reach the warning track in right field this season, just like back in 2011. The power is gone; if there's a viable option on the waiver wire, Headley is droppable in all 10 and 12-team formats.
I'd trade/drop him for: Chris Johnson, David Freese, Nolan Arenado
In 30.2 second half innings, Jeff Locke has allowed 41 hits and 20 runs, while walking 21 against 30 strikeouts. After spending the first half flirting with the Mendoza line, it appears that Locke's BABIP has decided to challenge Ted Williams instead; it's risen from .228 in the first half to .398 in the second.
IF ONLY SOMEONE HAD WARNED US!
In any case, it's not the change in luck that'll eventually burn him, it's the fact that he's just not a very good pitcher. Locke's strikeout-to-walk rate has been in a downward spiral since May; a 6.16 BB/9 (worst among qualified starters) has driven his K/BB ratio to 1.43 in the second half, the eighth-worst mark in baseball.
I can say with confidence that Locke's BABIP won't be this terrible for the rest of the season, but any positive trends there will likely be cancelled out by his increasingly horrific control. If you can get anything for him before your trade deadline, move him now.
I'd trade/drop him for: Ivan Nova, Ian Kennedy, Brandon Beachy
3 TO KEEP
There isn't a harder fantasy baseball asset to evaluate right now that Tim Lincecum. I can't say with certainty that he isn't going to implode the next time he takes the mound, but I can say that I have enough faith in the chances of a positive result to take that risk.
The tribulations of Lincecum's fading fastball have been well documented, but it seems like he's finally learned how to make things work with less than a full tank of gas. The velocity on his fastball has been gone since the start of last season, but this year he's taken some zip off of his slider and curveball as well. The dialed-back versions of both pitches have been more effective that last year's models; Lincecum has produced more movement, thrown more strikes, and generated more whiffs per swing on both of his breaking balls.
Last year's results made it quite clear that Lincecum's days of two-pitch success are behind him. He needed to develop a more well-rounded arsenal to compensate for his now-average fastball, and he's done just that. With the improved slider and curve at his disposal, Lincecum is a solid fantasy option for the rest of the season.
I wouldn't trade/drop him for: Tony Cingrani, Chris Tillman, Francisco Liriano
After a sizzling start to his sophomore season for the Cubs, Anthony Rizzo has gone ice cold. His .256 BABIP explains his poor batting average, but the home run power he displayed early in the season has inexplicably faded. You'd expect that the heat and humidity of a Chicago summer would only help Rizzo's slugging, but he hit just as many homers (10) in April and May as he has in June, July, and August combined.
But while the home runs haven't been there, there are no other signs that his power is waning. Rizzo's fly ball distance has remained consistently strong (it's 288 feet for the full season and 282 feet during his Summer slump), his total of 32 doubles ranks among the best in baseball; (only seven hitters have more), and his .197 ISO is actually a significant improvement over his previous career average. As of Sunday, Rizzo has 18 home runs on the year. I'd be very surprised if his total didn't reach 25 before the end of the season.
Stay patient if he's on your roster. If not, Rizzo is a fantastic trade deadline target.
I wouldn't trade/drop him for: Billy Butler, Mark Trumbo, Mike Napoli
In each single season since 2005, Nick Swisher has logged now fewer than 522 plate appearances and hit no fewer than 21 home runs. He's already up to 468 plate appearances this season, but he's still on only 13 long balls.
I won't stumble into the logical fallacy that Swisher is due for a hot streak just because he's behind his typical pace, but I will point out that this season's 11.5% HR/FB rate marks the first time Swisher's HR/FB rate has dropped below 14% since 2007. I'll also point out that Swisher's 292.74-foot average fly ball distance is exactly the same as Alfonso Soriano's; Soriano has 25 home runs this season. Finally, I'll point out the although he moved to a less hitter-friendly park in Cleveland, his .196 ISO at home is actually 15 points higher than the .181 mark he posted last season at Yankee Stadium.
It's still quite probable Swisher's streak of home run consistency will come to an end this year, but I don't expect that it'll go down without a fight.
I wouldn't trade/drop him for: Todd Frazier, Justin Morneau, Nick Markakis
Agree, disagree, need advice? Hit me in the comments or on Twitter @gerardowrites.
Thanks as always to FanGraphs, Brooks Baseball, Texas Leaguers, and Baseball Heat Maps for the data.