Cusp Dwellers: River Cats Awaiting Promotion to Oakland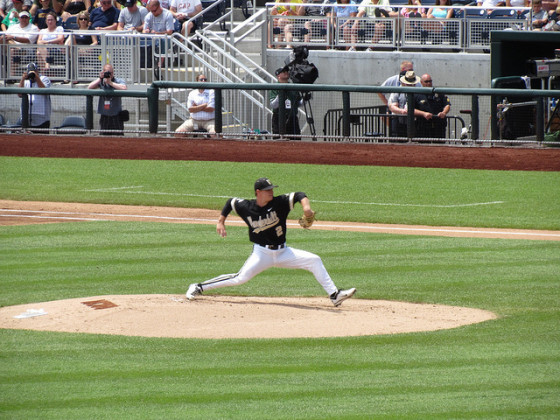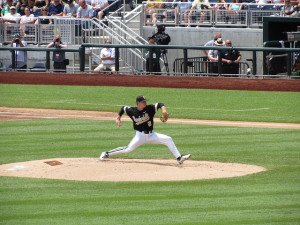 Grant Green, 2B – Green has been tabbed in prospect rankings and subsequently monitored in the dynasty universe since being drafted 13th overall back in 2009. We're still waiting. A prodigious collegiate career at USC, two 'Futures' invites (MVP in 2011) and consistent MiLB production still has not resulted in a single major league plate appearance for the now 25-year old. Despite hitting .409 with five doubles in spring training, Green was unable crack the opening day roster on an A's team deprived of legit second base talent i.e. Adam Rosales, Eric Sogard and Jemile Weeks. Why the monumental struggle to break through?
For one, he doesn't possess an overwhelming strength. Green profiles as a solid average hitter (.289) displaying mostly line drive, gap power (five HR, 13 doubles) and failing to drive from the base of his 6'3 frame. He runs well (6 SPD component) but those wheels don't translate to stealing bases (four). He rarely walks, posting OBP's in the .330's and .340's (0.45 BB/K). With all that being said, it's not offense yanking his collar, but rather his inability to grasp a position defensively. Green has been moved from shortstop to third base to the outfield and now to second, and he continues to struggle with miscues in the field.
While there's no question the bloom is off the rose, it would be stunning not to see Green in the show at some point in 2013; likely sooner rather than later with Weeks hitting just .214 in May and Rosales (30) and Sogard (27) predictably failing to distinguish themselves.
Sonny Gray, RH SP – Another collegiate product is waiting in the wings in Oak Town. However, unlike Mr. Green above, the stock of former Vanderbilt ace Sonny Gray is rising expeditiously. The 2011 first-round pick struggled to maximize his tools between the Texas and Pacific Coast League's last season, but he's righted the ship in a major way.
In ten starts he's 5-3 with a 2.40 ERA, allowing 60 hits in 63 2/3 innings while striking out 65 (5.9 K/9 last season at AA). He's issued only four walks to right-handed hitters and has thrown efficient strikes, consistently pounding the bottom of the zone (one HR allowed, 2.05 GO/AO). It should be noted that unlike most PCL parks, Raley Field is pitcher friendly, particularly in the spring months prior to the heat wave.
Standing at 5'11, Gray utilizes a maximum effort, aggressive delivery with prominent leg drive (similar to Jarrod Parker in this regard). He challenges hitters with a power fastball from 93-97 that's difficult to lift. His sharp breaking 12-6 curve was widely acclaimed as the best of its kind in college baseball, and as his pitchability has improved, the hook has begun to baffle professional bats as well.
With Parker having rekindled his rookie season form, Gray will need an injury or a misstep from Dan Straily to force his way into the 2013 rotation. At the very least, the future looks bright in 2014. He's not a marquee name (yet), but keeper and dynasty owners would be wise to take notice ASAP.
Follow on twitter @AdamGaneles for MiLB and MLB insight