2013 Fantasy Football Week 12 Gold Mine: Tolzien, Ogbonnaya, Dobson, Tamme
Injuries can cripple a fantasy football team, so can busts for that matter. And there has been plenty of them both, too many to actually count to be honest. But the waive wire has had some really solid additions throughout the weeks that could easily have assisted you.
Just last week Bobby Rainey (TB) ran for more than 160 yards being the best pick up for the week. A few weeks ago we saw Mike Glennon another Tampa Bay Buc make his debut and put up some great numbers as well.
With the playoffs only a few weeks away and some pretty tough defensive match ups you're going to need to peruse the waiver wire for that little golden nugget.
Check out this guys owned in less than 25% of leagues.
Quarterbacks: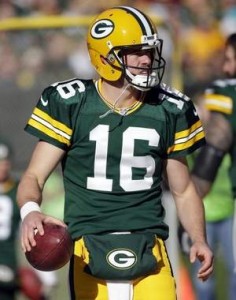 Scott Tolzien (GB): Tolzien (5.9%) is making his second straight start. And while his first wasn't completely impressive, his second should be much different. Tolzien and the Packers face the inept Minnesota Vikings that has given up at least 22 fantasy points to opposing quarterbacks in 5 of the last 6 weeks. Vikings are currently ranked 31st in the league against QBs, and while Tolzien isn't going to be the next Peyton Manning (DEN) he has a great cast of supporters around him and with an extremely favorable match up he should fit in nicely.
Ryan Fitzpatrick (TEN): Fitz (3.2%) has received his second opportunity as the starting QB for the Titans. His first stint began in week 5 when he officially took over the starting gig against the Chiefs scoring 23 fantasy points. While his game against Seattle wasn't completely impressive (but do you blame him?) he has scored at least 16 fantasy points in the 3 of the 5 games he has played with a double-digit performance against the Jets in week 4 after Jake Locker (TEN) went down. The Raiders have given up the 25th most fantasy points to opposing QBs this season with at least one passing TD given up in all but one contest this year.
Running Backs:
Chris Ogbonnaya (CLE): The running situation in Cleveland hasn't been anything but pathetic. Ogbonnaya (14.3%) has toyed with the idea of starter and back up week in and week out. Because of the nearly anemic running game in Cleveland, Ogbonnaya has never had more than 8 rushing attempts in any game this year. However, while his rushing attempts remain low his ability to catch the ball out of the backfield remains high. In 4 of the last 5 games he has had at least 3 catches with at least 30 yards in 3 of those games. The Browns have a very favorable match up this week with the 22nd ranked defense against opposing HBs when Steelers come to town.
Donald Brown (IND): Brown is NOT owned in less than 25% of leagues, but he is owned in only 31% of leagues and for that he needs to be owned in a lot more. Brown, is currently projected to score 18 fantasy points in his week 12 match up against Arizona, and while his match up is not the best facing the 3rd best team against the run this year, Brown has had back-to-back double-digit scoring performances with at least 17 points in each. Brown has gotten it done both on the ground and in the air scoring three times in the past two weeks. Despite the Trent Richardson (IND) trade earlier this year its Brown who's been more reliable.
Wide Receivers:
Aaron Dobson (NE): Dobson (11.8%) really wasn't in the favor of Patriots QB Tom Brady early on this year despite two double-digit performances to open. However, over the last three weeks he has really kicked it into gear. Dobson has caught at least 4 passes in each of the last three games with 3 total touchdowns and 53 fantasy points. Dobson has averaged over 10 points per game throughout the year, which makes him a tremendous flex option moving into the playoffs. The juggernaut fight between Brady and Manning hits a new chapter this week as Brady, Dobson and the Pats go up against the 21st ranked passing defense against opposing wide outs.
Santonio Holmes (NYJ): This will be the second week in a row where I pick Holmes (19.2%) as a must have pick up. Last week was clearly not the best for any player on the Jets sideline but Holmes did gain 71 yards on 2 catches. Holmes was coming off both a hamstring and a foot injury and was used in limited fashion. Holmes is the #1 receiver for the Jets and if history has anything to say about it the Jets offense should be a well-oiled machine this week. The Ravens are the 19th ranked defense against opposing wide outs and has given up 179 yards receiving in 4 of the last 6 games.
Tight Ends:
Jacob Tamme (DEN): Reports have surfaced that Julius Thomas (DEN) may not suit up on Sunday vs. the Pats with a questionable right knee. If Thomas can't go Manning will have to go back to his former TEs Tamme (0.7%) or Joel Dressen (0.3%). I am a bigger fan of Tamme due to the familiarity Manning and Tamme have with each other dating back to their days in Indianapolis. The Patriots are ranked 16th against opposing tight ends and have given up at last 41 yards receiving to TEs in each of the last 7 games. If Thomas can't make a go of it make sure you are quick to picking up Tamme in this one.
John Carlson (MIN): Almost nothing has gone right for the Vikings, not even Adrian Peterson (MIN) has been that great this year, but Carlson (1.3%) has been some what of a shining star over the last few weeks. Carlson has caught at least 4 passes in each of the last three games with back-to-back double-digit fantasy scoring outputs. Although he only has one touchdown on the year its clear Christian Ponder (MIN) et al are looking to get Carlson involved a lot more. Vikings may need to air it out a bit this week facing the Packers who are ranked 22nd against opposing TE which will only favor Carlson more.
The majority of us only have another three weeks left. And while it may seem a bit redundant to hear me discuss each week the playoffs, the fact of the matter is its coming. And it's coming a lot faster than you or I want them to. Make sure you play the next few weeks smart and you'll find yourself as the last man standing.
Statistics and Percentages come from PPR ESPN.COM leagues.
As always you can follow me on Twitter @JustinMandaro and ask your start sit questions right up until game time.