Fantasy Football 2013: The Lions Underwhelming WR Corps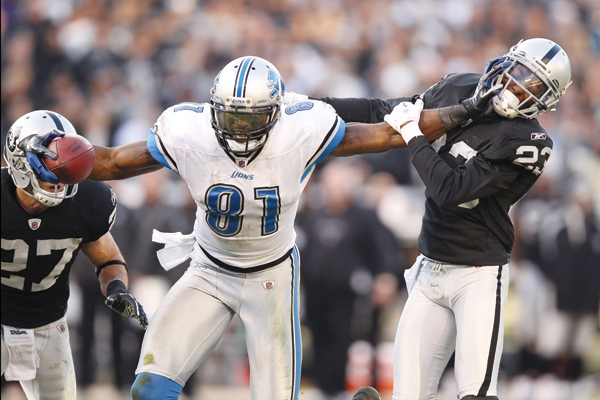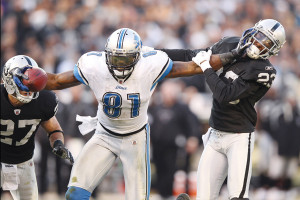 With Calvin Johnson held out of Sunday's game against the Packers, we saw just how limited the Lions outside weaponry is. I mean they are frighteningly thin at the wide receiver position. Garbage time of a 22-3 game skews the numbers and hides the truth – 11 of Matthew Stafford's 25 completions came in the fourth quarter, as well as 128 of his 262 passing yards. Johnson stated that he was "real close" to playing this week, so it would be a stunner if he's not ready to roll at Cleveland in six days. The real question is who's going to compliment CJ in the passing game? More specifically for our interests, which Lions wideout, if any, is worth owning until Nate Burleson returns from injury?
For whatever reason unbeknownst to the objective football mind, Durham has played 129 of 135 snaps the past two weeks.  He caught six of his eight targets during that span for 88 yards and a TD, with two drops. Two of his three receptions this week, including the touchdown (2:06 mark of 4Q), came with the game out of reach. Durham is a big man at 6'5 with solid ball skills, but he has great difficulty achieving separation from defensive backs. His speed does not play at this level either. The joy ride ends soon and he's not worth owning in re-draft or keeper formats. IGNORE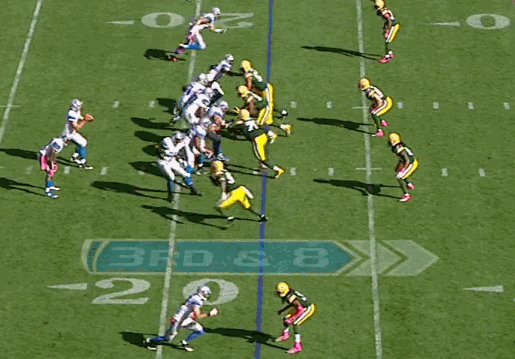 Edwards returned in week five after missing a pair of games with an ankle injury. The 2012 undrafted free agent played 59 of 68 offensive snaps, catching just two balls for 16 yards. While Edwards served as primarily a vertical threat at Houston with Case Keenum behind center, he's run only short routes in his limited action with the Lions. He doesn't possess much upside at 5'9 with 4.57 speed, and if anything he seems to project as more of a slot guy with his above average quickness. Despite heavy snap activity, he's not worth owning in any format given his current utilization. IGNORE
Broyles, the Lions most physically intriguing option behind Johnson, actually saw a decrease in snap count with CJ on the sidelines. After failing to catch a pass in week four, Broyles only saw the field on 41% of snaps against Green Bay, hauling in both his targets for 27 yards. He was not part of the package in two-WR sets. Still easing his way back from a second ACL tear, evaluating Broyles is a difficult task. There is some big play potential here, which is more than can be said for the rest of the WR depth chart.   But right now he is purely a speculative addition in deeper leagues. But as has been the case since late in the summer time, monitor his usage intently. WAIT AND SEE
The tight end Pettigrew has undergone a revitalization of sorts in recent weeks. After catching five balls for 38 yards in the opening three games, he's responded with 11 receptions for 113 yards in his last two – including 60 yards of YAC. He even turned back the clock to his Oklahoma State years with a hurdle of Green Bay cornerback Davon House. Pettigrew has played on 92% of his teams snaps and is more rosterable than any of the secondary wide receivers. Tony Scheffler and Joseph Fauria are in the TE picture as well, but to a much lesser extent. NEED-BASED ADD
It can be argued It's a fact that running back's Reggie Bush and Joique Bell are the Lions two most dangerous pass game weapons after CJ. They've combined for a highly unusual 37 receptions for 441 yards, good for 30% of Stafford's completions and 29% of his yardage output. To put this in the simplest terms: Detroit's air identity is Calvin Johnson and hitting their running backs out of the backfield. With the cast of misfits detailed above, that is extremely unlikely to change. Even against a defense in partial prevent mode on Sunday, Stafford still had to sling the ball into miniscule windows to move the chains. It is essential that they bring in a #2 wide receiver via draft or free agency heading into 2014.
*Premium Stats provided by ProFootballFocus.com*
Follow Adam on twitter @AdamGaneles for NFL analytics and breakdowns