2014 Fantasy Baseball: Jean Segura and Worrying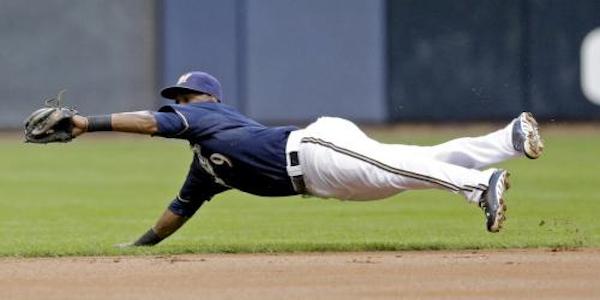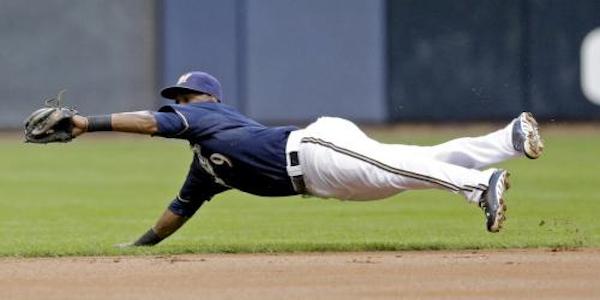 No one is really sure who Jean Segura is. There is the 2013 first half version that torched the league with power and speed. There is 2013 second half Segura that was good at basically nothing except running fast. Then, finally, we have minor league track record Segura, which is somewhere in the middle, but shaded more towards the former.
His draft status in 2014 is important because questions abound. What exactly happened during the lost months of 2013? If something was up, is it a large concern going forward, or just normal growing pains?
No one expected Jean Segura to show the type of power that he showed in the first half. He did have one ten homer season in the minors, but the sheer distance on some of his major league home runs was a surprise, albeit a nice one. After mashing 11 homers during the first three months of the season, Segura was only able to muster one in the final three months. Yikes.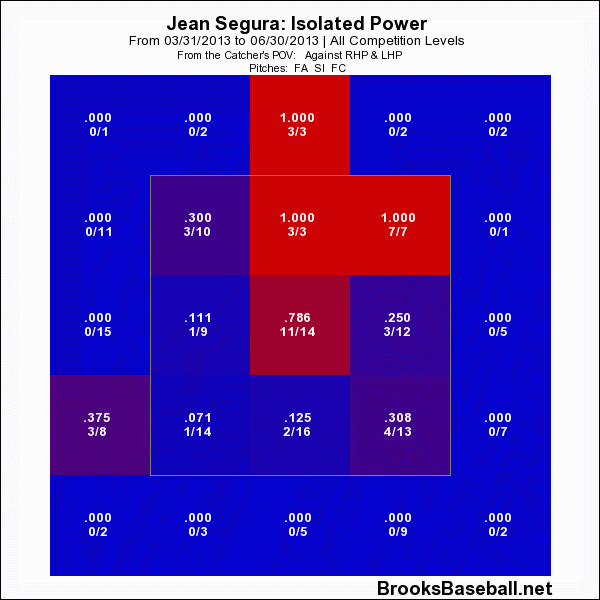 Segura crushed nearly everything in the strike zone – especially fastballs, which are pictured above – during the first three months of the season, especially in the upper third of the zone. Essentially, Segura crushed the pitches major league hitters are supposed to crush. Segura's hit tool has always been one of his carrying tools and his hand-eye coordination was on display in the first half as he was able to cover the plate and do it with authority. All good there, for now.
Segura's handiwork against hard pitches is huge because that is basically all he saw for the first three months of the season.

His work against fastballs early on was very good, but that shouldn't take away from his ability to punish off speed offerings as well. His struggles versus the curve are worrisome, but that is to be expected somewhat from young hitters.
So we've established that, in the first few months, Segura covered the plate extremely well and made his dollar off of fastballs. So, what exactly went wrong in the second half?
Segura's power fell off of a cliff, but let's be honest, his power was never supposed to be at such lofty heights in the first place. Segura's HR/FB rate in the first half was a staggering 15.6%. Even more staggering is the fact that he managed to hit 11 balls out of the yard despite only hitting flyballs in ~23% of his plate appearances. A HR/FB rate that high is in line with hitters like Matt Holliday, Hunter Pence, and Evan Longoria. It doesn't take much to realize that they are much more powerful than Mr. Segura.
Segura's complete drop to a paltry 2.3% HR/FB rate in the second half seems to be almost completely unreasonable. He may not have 20 home run pop, but he isn't Alcides Escobar. Segura's batted ball profile was essentially unchanged throughout the season, despite reports that he had become ground ball heavy only in the second half.

Line drive percentage isn't the most reliable stat, but nonetheless it appears he hit fewer line drives in the second half. He also popped more fly balls up on the infield, but he was always ground ball heavy. That's not all bad. Usually power hitters can boost their production by hitting more flyballs – a reasonable amount more. Hitters of Segura's mold tend to benefit more from ground balls because their speed allows for batted balls to turn into base hits.
Last season was Segura's first full season. And it is fairly obvious that stamina could have played a part in his demise. It's something that many noticed while watching Milwaukee games, and it's even something that Segura admitted in late August:
"I've never had a bad slump in a year. It's not easy hitting .300 in the big leagues, especially facing the same teams in our division. They've got good pitching.

"I'll just keep grinding and see how I finish."

Segura has appeared in 125 of the Brewers' 129 games and started 122 at shortstop. He's had just one game off since the all-star break and played all but four innings in that span despite several nagging injuries.

Throw in 35 games in the Dominican Winter League and 60 at-bats in spring training, and the 23-year-old admits he's starting to feel worn down.

"But I wanted to play every day," he said. "And everybody's getting tired — pitchers, position players. Everybody's tired. Just got to keep grinding and keep playing like I've been doing all the way through."

Manager Ron Roenicke has tried to keep Segura fresh, but he perhaps has been the team's most indispensible player when one takes into account what he does defensively and on the basepaths in addition to the offense he provides.

"I could give him off days, but he doesn't really want them," he said. "I try to give him some days here and there. He doesn't seem quite the same. I don't know if it's just fatigue. He was so hot early. I don't know, but we'll try to watch him."
It's fairly obvious that Segura's manager felt that he needed time off, but Segura did not want to take any. That's admirable. There's no doubt that Segura played more than his fair share of baseball before and during the season, so fatigue is to be expected.
It's not a sexy reason, but fatigue was likely the main culprit here. His strikeout rate did increase to 15.4% and 16% in July and August, respectively. But it bounced back to his first half level of ~12% in September.
So…About 2014
Segura will likely not have a stretch as good as his March-June stretch anytime soon. He should still have plenty of value, especially considering that his legs have always been considered to be his fantasy meal ticket. Despite his sub-par slash line in the last three months of the season, he still was able to swipe 20 bags. He doesn't have to hit for much power to be a top-5 shortstop option if he's going to swipe 40+ bags.
Projection systems tend to believe that his late season swoon was an aberration and that he'll perform closer to his earlier numbers, although not quite as good.

If Segura is able to produce the average of the projections above, owners should be thrilled. By all accounts he should hit near the top of an order that will include: Carlos Gomez, Ryan Braun, Jonathan Lucroy, and Aramis Ramirez so there should be plenty of runs to be scored.
One thing has been on many fantasy players' minds since the early ADP reports have surfaced: Jose Reyes or Segura? Segura's ADP in NFBC drafts is ~29th overall. Reyes' is a little cheaper, checking in at ~38. While NFBC drafters favor Segura, ESPN's rankings summit pegged Reyes as the #4 SS and Segura at #7.
Choosing Reyes or Segura is fascinating because there are plenty of questions surrounding both. In fact, the top five players as SS (Tulo, Hanley, Reyes, Desmond, and Segura) all have sizable question marks. Some of them are health issues. One has contact issues. And one – as stated above – was atrocious down the stretch.
No one is taking Segura or Reyes over Hanley or Tulowitzki. An argument can be made for Ian Desmond to be taken in front of either of them, but for now we'll focus on Segura versus Reyes. Reyes' injury history is long and expansive. His games played totals for the past four years are: 133, 126, 160, & 93. It's honestly not quite as bad as I was expecting. Sure, he missed a lot of time during 2010 and 2011, but he was still able to be very productive, including winning a batting title in 2011.
Projection systems aren't quite as friendly to Reyes, especially in the stolen base department, for a multitude of reasons including aging.

ZiPS projections are not available yet for Reyes, but the projections we have are extremely similar. Reyes is viewed as a better power option, but much less valuable on the base paths, although I'm taking the over on his steals if he's able to make that many plate appearances. The difference in the projections for average are negligible. Reyes is projected to have a much higher OBP, mainly due to his ability to draw walks with greater frequency.
It's a pick 'em to me. Part of me says Reyes because if he's able to suit up for 140 games, I absolutely love him in that park and that lineup. Segura, however, is the same player, in many ways, that Reyes was when he burst onto the scene.
Personally, I'd choose Reyes over Segura if they're the same price. I'm also more willing to accept risk than a lot of players. If you're more risk averse – from a playing time perspective – then Segura is your guy. They should be close in most categories, but I believe a little more in Reyes' power. They both should be fantastic shortstop options, but if Reyes can stay on the field he should provide more value.