The Tragedy of Alex Rodriguez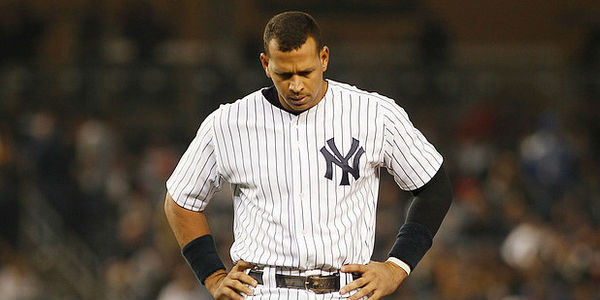 Sports fans instinctively seem to love to embrace the full story arc of an athlete's career. For a superstar, immortal player, there is nothing more dramatic than watching the rise, fall, and comeback redemption story play out. But sometimes there is no coming back. Sometimes the perfect storm of self-inflicted wounds, shattered second chances, and burnt bridges makes the comeback and redemption near impossible. This is the tragedy of Alex Rodriguez.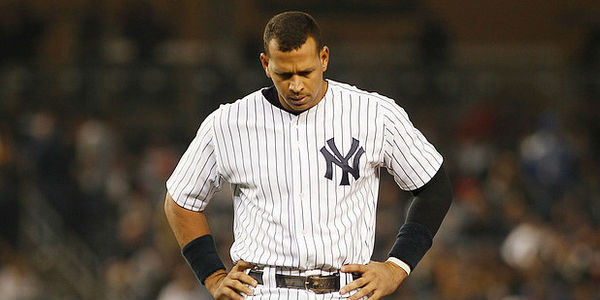 Alex Rodriguez's baseball career was shot from a cannon after he was selected first overall in the 1993 draft by the Seattle Mariners. By 1996 he was one of the top players in baseball and taking the league by storm. He would go on to become a fan favorite not only in Seattle but across the country. These were simple times for Rodriguez in regards to public perception. The only thing people knew about ARod was that he was one of the best athletes on the planet. He wasn't making controversial statements, providing tabloid front page fodder, walking arm in arm with pop stars and actresses. He was simply a phenomenal baseball player. However his ceiling-less talent would lead him in a new direction.
Rodriguez's first character turn happened when he signed his record breaking free agent deal with the Texas Rangers before the 2001 season. According to Rodriguez years later, he was pressured by his agent Scott Boras to go for the highest offer instead of signing with the team Rodriguez initially wanted to go to, his childhood favorite, the New York Mets. By means of jealously, or the perception that he was merely in it just for the money, Rodriguez instantly became a heel in the eyes of many, especially his old heartbroken fans in Seattle. Rodriguez's on-field performance, which we would later come to find out was boosted by the use of performance-enhancing drugs, was not affected by any kind of fan backlash. These days it's much easier to screen for these with drug test urine. He went on to play in 485 of the scheduled 486 games from 2001-2003, putting up God-like numbers in the process, culminating with him winning his first MVP award in 2003, his final season in Texas.
Despite Rodriguez's prowess, the Rangers finished in last place in each of the first three years of his contract. Realizing they could finish last without his payroll-crippling contract, they traded Alex after the 2003 season to the New York Yankees. The initial reception of Rodriguez in New York was positive. He willingly accepted switching to third base with recently named captain Derek Jeter cemented at shortstop. Rodriguez performed well for New York in 2004, including the playoffs in which he hit .320 with 3 home runs and 8 RBI. The 2005 season proved to be another milestone for ARod as he won his second AL MVP award, the first Yankees MVP since Don Mattingly in 1985, who happened to now be Alex's hitting coach. Everything was in place for Rodriguez who was being embraced by fans in the Bronx as each of his 48 home runs sailed over the fence. His next tumble wouldn't come until the 2005 playoffs, which would launch the reputation of Rodriguez as a non-clutch, anti-Jeter playoff performer in the eyes of fans and media for the next four seasons.
Yankees fan expected Rodriguez to carry his MVP regular season into the division series against the Angels. Finally fans in the Bronx would have redemption against Anaheim for that 2002 Division Series defeat. Like many of the Yankees in that series, Rodriguez would fall flat. He went on to hit .133 with only two hits, and the Yankees fell to the Angels once again in the short five game series. Several Yankees could have taken the hit for that series loss, including untouchable heroes Bernie Williams, Jorge Posada, and Tino Martinez, but it was Rodriguez who took the big hits from fans and media alike. He immediately took on the reputation of an un-clutch player, unfairly in my opinion, and it wound up revealing Rodriguez's level of insecurity and sensitivity. The label would carry on with Rodriguez through the next few seasons, where he would put up huge regular season numbers and fall flat in the playoffs.
From 2005 to 2007, although Rodriguez would dominate in the regular season, capped off by his third MVP award winning 2007 performance, he would hit a combined .159 (7 for 44) in those postseasons. The Yankees loss to the Indians in the 2007 division series would lead to the ultimate dismissal of Joe Torre as Yankees manager. Rodriguez once again took the brunt of the vitriol from the fans and media. Unjustly, many associated Torre's dismissal with Rodriguez's third consecutive failure in the playoffs. Fans distaste for Rodriguez couldn't have reached a higher level at this point, until the opt-out, his third tumble.
During the 2007 World Series, Fox Announcer Joe Buck would famously report that Alex Rodriguez had opted-out of his current contract with the Yankees, effectively making him a free agent. Rodriguez opted-out well aware of the warning from Brian Cashman that if he did, the Yankees would not sign him to a new deal. Eventually, Hank Steinbrenner stepped in and made arguably the biggest front office mistake since the Red Sox traded Babe Ruth to fund a play, signing Rodriguez to a new 10 year, $275 million deal plus home run record incentives. The key part to this story is Steinbrenner wanted Rodriguez to break all of the home run records as a Yankee under the assumption that he would restore the records as a clean ball player. As we all now know, Rodriguez signed on to be that golden boy fully aware of his PED use. The Yankees would go on to miss the playoffs for the first time since 1993 under new manager Joe Girardi, and the baseball world would be a few short months away from being turned on its head, Rodriguez's final fall before redemption.
In early Spring of 2009, reporter Selena Roberts would reveal to Alex Rodriguez that she was releasing a book depicting his use of performance-enhancing drugs. Rodriguez, possibly remembering the chaos that Roger Clemens went through in denial of steroid use, actually made a smart move and admitted to using PEDs from 2001-2003 while with the Texas Rangers, citing the pressure to live up to his massive contract and the "culture" of the game at that time. The Yankees front office had to have been incensed by this, especially Executive VP/General Manager Brian Cashman, who openly didn't want to re-sign Rodriguez after the 2007 opt-out. Now all of his "clean player" home run milestone records and dollars would be a waste for the franchise. The most stand-out moment in all of this was Rodriguez' press conference, as Derek Jeter sat stone faced in a chair probably wishing the same thing as Cashman, that they had let him walk one year prior. After all of the headlines and stumbles, I don't think anybody anticipated what happened next: Alex Rodriguez's rise and redemption.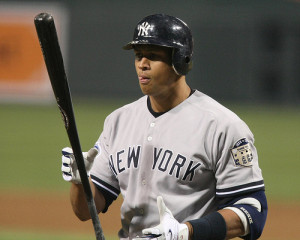 Rodriguez wouldn't play his first game in the 2009 season until May 8th in Baltimore. The situation could not have been painted more perfectly for ARod as the Yankees were 13-15 and in dire need of help. Because of this, he had Yankees fans behind him upon his arrival, and once he stepped foot into the batter's box in Oriole Park at Camden Yards, the fairy tale would begin. Jeremy Guthrie tried to jam Alex on a 98 mph inside fastball and Rodriguez connected for a three-run home run that would propel the Yankees to a stretch of winning eleven out of their next thirteen games. Rodriguez's season would be capped off by a record breaking postseason that can be only described as magical. The timing of his hits and home runs in that postseason is something that should only be reserved for a movie script, and he would put the Yankees on his back to lead them to their first World Series in nine years. Rodriguez had finally received his redemption and full acceptance with Yankees fans and media. He finally shook the stigma of not being able to perform on the big stage, and he did it in Goliath fashion. The story should end here as the arc is complete. The hero rose, he fell, and he climbed back up the mountain, but unfortunately for Alex Rodriguez, this isn't a hero's story.
In the Spring of 2013, after three seasons mixed with several injuries, Rodriguez would once again be linked with performance-enhancing drugs, this time with Tony Bosch out of Miami's Biogenesis clinic. Rodriguez would spend most of 2013 rehabbing from his second hip surgery, all the while entrenched in a legal battle with Major League Baseball, now denying any additional use of PEDs. Major League Baseball eventually came down with a suspension of 211 games against Rodriguez, which would cover the rest of the 2013 and 2014 seasons, in an attempt to effectively end his playing career. Rodriguez appealed the suspension, eventually made his season debut and played out the season with the Yankees while his lawyers handled the legal battle with baseball. The Yankees would be eliminated from the playoff race on the same night Rodriguez would play his final game of the season. He walked back to the dugout pummeled with boos from fans in the Bronx after his final at bat, a strikeout looking against Rays' ace David Price. I don't think many of us realized this, but that could have been the final at-bat in ARod's career now that he has been suspended for the 2014 season, making his unfortunate, and tragic final fall.
Alex Rodriguez, likely taking the advice of his lawyers, is now not only suing Major League Baseball but the players' union as well. Unlike his playing days which may have ended with his bat resting on his shoulder, he will go down swinging in court. He has officially burned every bridge, and he now sits stranded on an island of his own, the grandest cocktail of ego, arrogance, and insecurity. In a hero's journey this story would have ended in 2009, where we found our hero come back from the fall and rise up to glory. But this isn't a hero's tale; this is a tragedy, the tragedy of Alex Rodriguez.