2015 Fantasy Baseball: Diving into an Ottoneu Dynasty League, Part I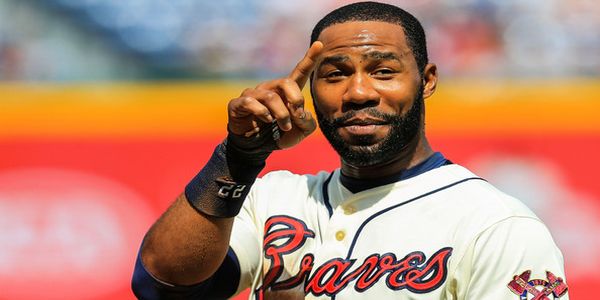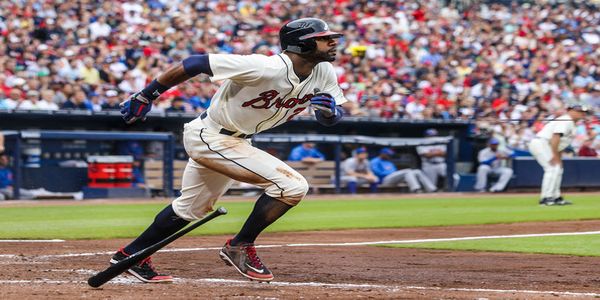 Dead in the middle of football season I received an email gauging my interest in taking over a dynasty fantasy baseball team. Although I was knee deep in targets and yards per carry type metrics, the idea of diving back into fake baseball in December appealed to me. So I took the plunge by accepting the invite to the FanGraphs Experts Ottoneu League with sharks (respected colleagues in the fantasy baseball community) like Eno Sarris, Jeff Erickson, Andy Behrens, Tim Heaney, Chad Young, Andy Andres, Neil Fitzgerald and others. Sharks I tell you — and I was fresh blood.
For those unfamiliar with the Ottoneu game, let me give you a quick overview. Our particular version is a 12-team, old school 5×5 (runs, home runs, runs batted in, stolen bases, average, wins, strikeouts, saves, ERA and WHIP) with 40-man rosters and a $400 salary cap. We start one at each position, including five outfielders, a middle infielder and a utility man.
Where everything gets hairy is the offseason. The league uses an arbitration process for inflation. The allocation system gives a $25 budget to each team in the league. The team can allocate this budget towards players on other teams. Each team must allocate at least one dollar to every other team, and no team can allocate more than $3 to any other team. At the end of the allocation period, all players have their salary increased by the amount allocated towards them. Allocations take place after the initial offseason salary increase, so any allocations will be in addition to the $1 or $2 increase each player gets at the end of the season. For example: The team I took over drafted Anthony Rendon last season for $9, but during arbitration owners allocated $12, pushing the third baseman's salary for the upcoming season to $21.
Naturally, this arbitration process will push many teams over the salary cap forcing teams to make cuts or trades during the offseason. The team I inherited was about $20 over the cap, so I needed to make some moves in order to get under $400 by the January 31st deadline.
But jumping into a 12-team dynasty league with 40-man rosters following its fifth season isn't exactly the easiest task. Being the new guy on the block, you don't really have a feel for the nuances of the game, the value of the players or the tendencies of the owners.
So after some quick analysis, I just dove in. Here is what I started with: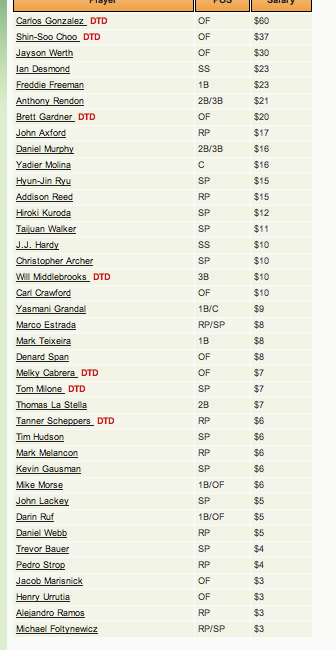 Right away I knew I needed to cut salary and cut some players at their current costs. Carlos Gonzalez at $60, Shin-Soo Choo at $37 and Jayson Werth at $30 are three players that I assumed I wouldn't be able to trade, so I would simply have to cut them. That doesn't mean I didn't try, though…
A few other goals I wanted to achieve: I needed my team to get younger; I needed to get cheaper, controllable players and I didn't want to "play for the future", so I would try to do all of this while giving myself a real shot to compete this year.
I'll simply show you the trades I made and the look of my roster before we head to our auction. I don't want to divulge too much information here to give my competitors an edge on me during the auction.
The deals:
1. I dealt my $8 Denard Span for Eno Sarris' $11 Doug Fister.
2. I dealt my $20 Brett Gardner, $16 Daniel Murphy & $3 Michael Foltynewicz to Andy Behrens for $17 Jose Fernandez and $24 Yoenis Cespedes.
3. I dealt my $9 Yasmani Grandal, $5 John Lackey & $3 Jake Marisnick to Chad Young for his $35 Jason Heyward, $6 Drew Pomeranz & $2 Hunter Renfroe.
4. I dealt my $4 Trevor Bauer to Jeff Erickson/Peter Schoenke for their $9 Javier Baez.
After the trades and a bunch of cuts, here is what the team looks like now: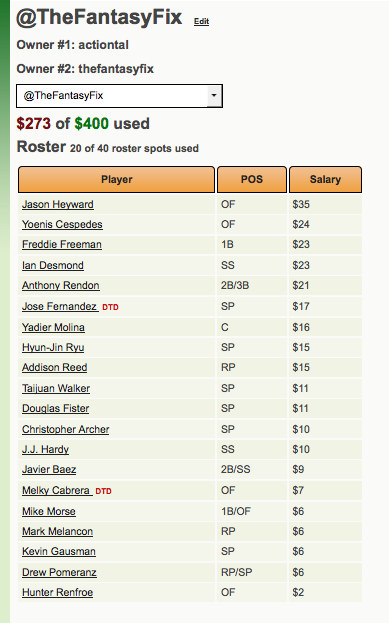 I'll leave this as it is for now. Will add some of the trade analysis in a bit. If you have any questions or comments about Ottoneu, the players I cut or targeted or just want to know what the hell I was thinking, drop me a note in the comments.