2015 Fantasy Baseball Draft Guide: Boston Red Sox Team Preview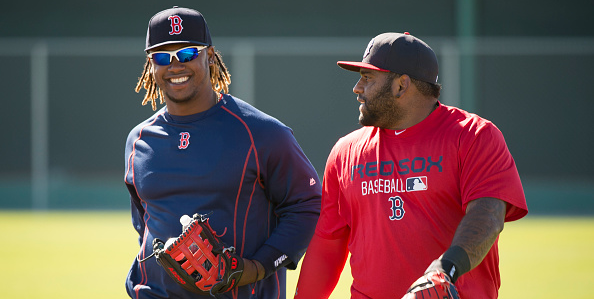 Offseason Overview
After missing the playoffs for the second time in the past three seasons, the Boston Red Sox added some new faces to a lineup that didn't live up to expectations in 2014. Along with Pablo Sandoval and Hanley Ramirez, the Red Sox welcomed Rick Porcello, Wade Miley, and Cuban outfielder Rusney Castillo to the mix in Boston. The Red Sox turned an average offense into what may be one of the best in baseball; and they're hopeful that their starting rotation is good enough to lead them back into the playoffs in a wide-open AL East.
Top Draft Picks

Hanley Ramirez (SS/OF): This will presumably be the last season that Ramirez is shortstop eligible, as the Red Sox are planning to use him primarily in left field. Thinking about Hanley Ramirez's swing playing in Fenway puts a smile on the face of Red Sox fans. Ramirez will have plenty of opportunities to drive in runs, while also having the luxury of having David Oritz, Pablo Sandoval and Mike Napoli hitting behind him. The hope for Hanley, as always is that he's able to stay healthy and be a force in the Red Sox lineup. Given the lack of offensive star power at shortstop around baseball, expect Ramirez to be off the board early or fetch top prices due to the valuable and consistent power-speed combination.
David Ortiz (DH): I'm still patiently waiting for Ortiz to regress and stop being the middle of the lineup force that he's been throughout his career in Boston. Who among us didn't sound the death knell of Papi's career after a 2012 year that included just 60 RBI in only 383 plate appearances? Ramirez continues to defy the odds after back to back 30 homerun years, striking out under 100 times in both of them. Baseballs answer to Tim Duncan of baseball, has refused to let age slow him down and he continues to be a reliable source of power in fantasy lineups. Last year at the age of 38, David Ortiz posted David Ortiz numbers, hitting 35 home runs and driving in 104 runs. Those numbers are even more impressive given the offensive struggles of fellow teammates in 2014. The .263 batting average is reason for slight concern, however, adding Sandoval, Ramirez, to the lineup, while getting a full year from Mookie Betts, should make Ortiz even that much more appealing to owners.
High Upside (Sleepers)
Mookie Betts: It might not be fair to call center fielder Mookie Betts a sleeper at this point, since it seems that everyone is now well aware of his ability. For the first time since losing Jacoby Ellsbury to the New York Yankees, the Red Sox have found themselves a dependable center fielder and leadoff hitter (no hard feelings, Jackie Bradley Jr). The 22 year old Betts was a late season call up at the end of the 2014 season and showed us flashes on what he can do in the majors, scoring 34 runs to go along with five home runs, 18 RBI and seven stolen bases in 213 plate appearances. His triple slash line of .291/.368/.444 mirrored his minor leagues numbers. The Red Sox have the luxury of having a crowded outfield, where there are a handful of players fighting for a spot. Hanley Ramirez seems to be a lock in left field, and judging by the way Mookie Betts has been hitting this spring and the hype surrounding him, he's all but certain to start the season in center field. (Rumors of Castillo beginning the season in the minors abound). Betts seems primed to have a breakout season for Boston in 2015, so don't be afraid if you have to reach a little bit to make sure that you get him on your team.
Xander Bogaerts (SS): Bogaerts first full season in the majors wasn't exactly what fantasy owners were hoping for, however, it's easy to be optimistic about 2015 for the young shortstop. Bogaerts showed flashes of his tremendous upside down the stretch, clubbing 4 home runs and driving in 16 runs over the final month of the season, while hitting .313. Fantasy owners need to be patient with younger players; particularly one that provides the upside that Bogaerts possesses and plays a premium position.. Prior to his late season MLB debut in 2013, Bogaerts hit .297 with 15 home runs, drove in 65 runs, and had a .388 OBP over two minor league stops. Shortstop continues to be the thinnest position in baseball when it comes to fantasy value, and most of the best shortstops will be gone by the middle of the draft. If you decide to go the route of waiting on a shortstop in your draft, Bogaerts is the one to target as a breakout candidate.
High Downside (Busts)
Dustin Pedroia (2B): Reckless abandon is a virtue in a baseball player and something we have all admired in Dustin Pedroia's style of play. It can alos lead to shortened careers. Last year, the former AL MVP It was the story of Pedroia's posted career worst numbers in almost every offensive category. Injuries continue to plague Pedroia, and his bad thumb is potentially devastating for a hitter. Just a couple years ago, Pedroia was one of the most reliable fantasy options at second base, as he provided power along with stolen bases and a .299 career batting average. The past two seasons he's hit less than 10 home runs, and watched his stolen base numbers go from 17 in 2013 to just six last season. What's somewhat shocking, however, is that he's still getting drafted as a top fantasy option. He had surgery in mid September to try and repair the problem that has been haunting him for the past two years, but at age 31 it would be surprising to see him regain his power completely, especially after posting an ugly .376 slugging percentage in 2014. It's difficult to ever doubt Pedroia, but the risk seems be too high and his reputation rather than his numbers seem to be driving his average drat position. It may make sense to wait and go with the trustworthy numbers of Ben Zobrist, or gamble on the upside of Roughed Odor.
Closer Situation
Koji Uehara decided to not test the open market and instead sign with the Red Sox early in the offseason, and the hope is that he remains a solid closer at the age of 40. Unfortunately, the chances of him being ready for opening day seem slim due to a setback to his strained right hamstring. For now, Edward Mujica is going to get the looks in the ninth inning with Uehara likely starting the season on the disabled list. Follow the situation closely, but expect Uehara to take over closing games when he returns to the team. Over the last two seasons, Uehara has saved 47 games to go along with 181 strikeouts over 138.2 innings.
Impact Minor Leaguers
Christian Vasquez was slated to enter the season as the starting catcher, but there's a chance that he might need Tommy John surgery, ultimately ending his season before it started. Fortunately, the Red Sox have the depth to answer the question mark at the position. They have yet to name who the starter will be come opening day, but there is a chance that prized catching prospect Blake Swihart gets the nod. Swihart has been the center of trade speculation this offseason, often being mentioned in a package that would net the Red Sox starting pitcher Cole Hamels from the Philadelphia Phillies. With the Vasquez injury, it seems as if Swihart is untouchable. For now, barring a trade, the decision will be between Swihart and veteran backstop Ryan Hanigan. Between stops at Double-A and Triple-A in 2014, Swihart hit 13 home runs and drove in 64 runs, while batting .293. This is a situation worth watching.