2015 Fantasy Baseball Draft Guide: Cincinnati Reds Team Preview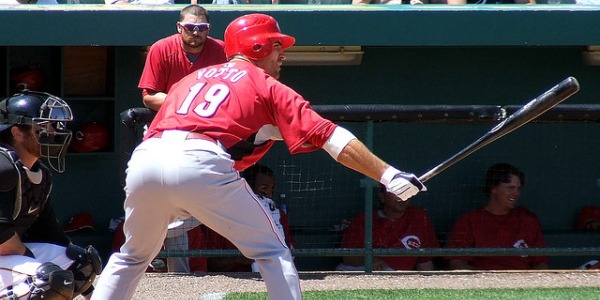 This post was written exclusively for TheFantasyFix.com by Brian Dunshee.
Offseason Overview
The Cincinnati Reds enter the 2015 season with a lot of question marks surrounding the team and they direction they're headed. With high expectations the Reds had a disastrous 2014 season. Injury limited their best player, Joey Votto, to only 62 games, while Jay Bruce took a huge step back offensively with a paltry .217 average and only 18 home runs. One positive from this past season was the emergence of Devin Mesoraco as one of the game's best catchers, as he put up 25 homers and 80 RBI with a .273 batting average. The Reds stating pitching took ahit this offseason as they traded away Mat Latos and Alfredo Simon, before acquiring Marlon Byrd to be their starting left fielder. The Reds still have a talented team, but the lack of depth is concerning and their window to compete for the playoffs in the National League's Central Division may have closed for now. If the Reds start slow, we may seem them dangling ace Johnny Cueto and shutdown closer Aroldis Chapman for young player to build for the future.
Top Draft Picks
Johnny Cueto (SP): The NL CY Young runner up took a huge step forward last year and solidified himself as one of baseball's best pitchers. Cueto topped 200 innings for just the second time in his career (243.2 IP), but more impressively he struck out 242 hitters. Cueto ranked second in baseball with 20 wins last season, while also ranking fourth with a 2.24 ERA, alhough peripherals suggest theremay have been some luck involved (3.30 FIP), it is hard to argue with the success he has had with Cincinnati. Injuries have always been the concern with Cueto. (see 11 starts in 2013) If you're going to draft Cueto, do so with caution. Every pitcher comes with risk, especially those with a history of destroying fantasy seasons because of injury. If you like taking pitching early in a draft, Cueto could be the ace that you're looking for, without having to pay the first round price of Clayton Kershaw or Felix Hernandez. His average draft position in ESPN leagues right now is about 33rd overall, just ahead of fellow aces Zack Greinke and Jordan Zimmermann.
Aroldis Chapman (RP): There is no denying that Aroldis Chapman is one of the best closers, if not the best closer, in all of baseball. Not only does Chapman blow triple digits fastball by hitters, he has nasty slider that sits in the high 80s making it almost unfair for hitters. Save numbers are always a matter of opportunity, but Chapman should be among the league leaders in saves. His garish 17.67 strikeouts per nine innings will also assure your team of 100+ strikeouts. Last year, Chapman was an All Star and finished the season with an even 2.00 ERA. Interestingly, the Fielding Independent Pitching (FIP) shows that he was actually over a run better than what his ERA showed (0.89). If you give merit to taking a lights out closer early in the draft, Chapman is your guy.
High Upside (Sleepers)
Anthony Desclafani (SP): Desclafani was recently named to the Reds starting rotation, and they're hoping that he can make the best of this opportunity following his trade from the Miami Marlins as part of the Mat Latos deal. Though some predict that he will end up in the bullpen, Eno Sarris boldy predicts here that Desclafani will have a season that trumps his minor league numbers. He also notes that while Desclafani has two solid pitches in his fastball and slider, his changeup is still a work in progress but looks like its developing into a solid third pitch. He has proven that he can miss bats, and if he can develop the changeup into at least an average pitch, he's going to strike out a lot of batters. You'll be able to take him very late in most drafts and bet on his upside.
Jay Bruce (OF): Sleeper? Jay Bruce? Everyone hurt themselves jumping off the Jay Bruce bandwagon last year. For the novice owners, who only look at numbers he won't even be a consideration. Savvy owners will still bet on the upside of a player that produced three 30 homerun seasons in a row prior from 2011-2013. During those years he never drove in less than 95 runs, proving to be one of the best slugging fantasy outfielders. A case could be made that the drop in production was a direct relation to the knee surgery that he had in early May that sidelined him for a few weeks, as he never seemed comfortable during the year. Bet on him turning things around with Votto in the lineup. With owners focusing on last year's numbers he may be one of the better steals that you can get in the middle of your draft.
High Downside (Busts)
Todd Frazier (3B): Frazier busted out in 2014 and became only the third third-baseman in Cincinnati Reds history to post a 20-20 season. It's rare in baseball nowadays to find a third baseman with that kind of pop and that kind of speed; although I am not totally sold on a repeat of those numbers. Throughout his career leading up to last season, including the minors, Frazier never topped 20 home runs or 20 stolen bases. Players often have this one breakout season in their late twenties before regressing back to their mean numbers, and I believe that's what will happen with Frazier. I do believe Frazier is a good bet to top 20 home runs again, I wouldn't put too much stock in him doing the same in the stolen base category. ZIPS projects Frazier to hit 25 home runs along with 84 RBI and 14 stolen bases, along with posting a triple slash line of .258/.323/.454. Still a solid season but he may be an overdraft in many leagues.
Closer Situation
The aforementioned Chapman is nearly unhittable and is referred to by most as the best closing option in fantasy. If the Reds happen to fall in the standings in July, don't be shocked if the Reds try to get the best value for Chapman and move him to a contending team. The price would have to be staggering, but if they make the decision o rebuild he is their best chip to begin the process. You won't have to worry about him losing fantasy value, of course, as it is unlikely that any team would pay the price the Reds will ask for and not him their closer. In a deeper league or in case you are in need of saves, it might be smart to handcuff Chapman with setup man Sam Lecure. As our own closer chart shows here, Lecure seems to be next in line in case of a trade or an injury to the Cuban Missile.
Impact Minor Leaguers
The immediate impact you'll see this season from the Reds system is Rasiel Iglesis, a hard throwing pitcher who has already been named to the starting rotation. Iglesis' fastball has been clocked in short stints at 97mph. Some think he might end up being the eventual closer if the Reds can't re-sign Chapman when his deal is up, or, if he struggles as a starter and they decide to trade Chapman. As for the rest of the system, there isn't a whole lot of help that you'll see this season. Keep an eye on how Robert Stephenson, one of the organizations best young arms, develops this year in the minors. The Reds are hoping that they have a future ace in Stephenson, but he is going to need to take a big step forward this year after struggling to find his control throughout last season.