2015 Fantasy Baseball: Week Four Two-Start Pitchers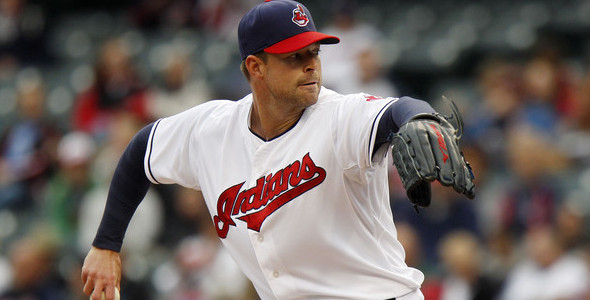 Fantasy pools are underway and owners are gearing up for a long summer of ups and downs. A fantasy owner's best friend is the waiver wire—where finding value can make the difference between a great week and a very disappointing week. Most pitchers see the mound once a week, but if you want to maximize the number of starts per week, it's important to look for pitchers pitching twice and exploit favorable matchups if they exist. With that, let's take a look at some pitchers you should be starting this week and some you should just leave on your bench.
Note: due to the suspensions handed down by Major League Baseball, Chris Sale, Jeff Samardzija, and Yordano Ventura will all lose a scheduled start this week.
Elite
Corey Kluber | Cleveland Indians
Opponents: Jeremy Gutherie (KC), Aaron Sanchez (TOR)
My favorite two-start pitcher this week goes to Kluber. The righty is due for a win after starting the season 0-2. The 29-year-old gets Gutherie and the Royals on Monday and Sanchez and Toronto on Saturday. Gutherie is 1-1 this season, but sports a 5.50 ERA, a 1.44 WHIP, and only seven strikeouts. The Indians shouldn't have a hard time scoring runs in that game. As for Sanchez, well the kid has had a rough start to his 2015 season. He currently sports a 5.14 ERA, a 1.86 WHIP and a K:BB ratio of 9:12. Kluber should get a lot of run support in both games and pick up two easy wins this week.
David Price | Detroit Tigers
Opponents: Tommy Milone (MIN), Jeremy Gutherie (KC)
Price had one of his worst outings of his career last time out—lasting only 2 1/3 innings, giving up eight runs on ten hits and striking out two. Despite that start, the southpaw is as reliable as it gets. Before that game, Price had only given up one earned run in three games and pitched eights innings in two of those three games. The Twins are ranked 23rd in team batting average and have managed to score only 48 runs in 16 games. Tommy Milone has pitched well this season, but I don't expect him to be able to tame the Tiger hitters, and Gutherie we already talked about. Price is a safe bet to pick up two wins this week.
Johnny Cueto | Cincinnati Reds
Opponents: Jimmy Nelson (MIL), Eric Stults (ATL)
I love everything about Cueto this week. The Reds starter has gone at least seven innings in each of his starts this season and has struck out ten batters twice in those four starts. The righty gets a terrible Brewers team that is third in the league in strikeout per game (8.3 K/GP) and averages under three runs per game (2.7 R/GP). The Braves have had a bit more success this season, but Eric Stults is an average pitcher who doesn't have the stuff to strikeout hitters on a regular basis. Cueto is a lock for a great week this week.
Other Must Start Pitchers: James Shields, Michael Wacha, Joe Kelly, Sonny Gray
Mediocre
Clayton Kershaw | Los Angeles Dodgers
Opponents: Madison Bumgarner (SF), Chase Anderson (ARI)
Don't get me wrong—Kershaw is in no way someone you should ever bench, because most of us paid a first round pick to draft him. The Dallas, TX native is stuck facing rival lefty Bumgarner Monday, and that's never an easy task for the Dodgers. He was great his last outing against the Giants—pitching six innings of two hit, three run ball, and it should be more of the same. His last start against the Diamondbacks however wasn't pretty, and I don't expect the 27-year-old to pitch that poor this time around.
Madison Bumgarner | San Francisco Giants
Opponents: Clayton Kershaw (LAD), Jared Weaver (LAA)
It's the same story for the Giants ace. When a three-time Cy Young winner comes into town, you need to be perfect, and the Dodgers have some hitters who can hit the ball (Gonzo of course), but the lefty is still a must start this week even with Kershaw on the hill. His second matchup however is much better with Jered Weaver on the mound. He hasn't been very good to start the season—posting a 5.24 ERA, 1.48 WHIP and striking out 12 in four starts. The 32-year-old pitcher isn't the dominant pitcher he once used to be, and as a team, the Angels are 27th in team batting average (.219). If the Giants can score a couple of runs for their ace, he should have all he needs to pick up a win.
Anibal Sanchez | Detroit Tigers
Opponents: Mike Pelfrey (MIN), Yordano Ventura (KC)
It's really hard to predict which Sanchez will show up on game day. The Tigers righty has been ugly at times but can be lights out the very next start. The hope for fantasy owners is that the Sanchez from last game shows up (6 1/3 1H, 1ER, 4BB, 8K) and not the one from the start before (3 1/3, 9H, 9ER, 2BB, 2K). Mike Pelfrey was surprisingly very good his last start against the Royals, but I'm not betting on that happening twice. The Twins are a below-average team in multiple offensive categories, and quite frankly, I don't see them being able to get much going against a strikeout machine like Sanchez. The Royals on the other hand, lead the league in team batting average this season (.300) and I wouldn't be surprised if the Venezuela native gets rocked around for a few runs. It's a risk either way, but I'd take it and pray really hard for him to not get hit hard.
J.A Happ | Seattle Mariners
Opponents: Ross Detwiler (TEX), Roberto Hernandez (HOU)
Say what you want about Happ, but he hasn't been terrible to start the season. The eight-year veteran is 1-1 this season with a 2.61 ERA and a 1.06 WHIP and gets two teams that are below-average hitting teams (TEX 30th, HOU 24th). The southpaw limited both teams to two runs in their meetings this season, and the Mariners have enough pop in their lineup to help give their pitcher some run support. He won't rack up the strikeouts, but if your league isn't strikeout heavy, he makes for a sneaky start this week.
Other Two-Start Pitchers to Consider: Vance Worley, Doug Fister, Jake Odorizzi, John Lackey, Dillon Gee, Julio Teheran
Bench
Ubaldo Jimenez | Baltimore Orioles
Opponents: TBD (CHW), Jake Odorizzi (TB)
If you're going with Jimenez, you may need pitching help. His stats don't look terrible—sporting a 2.30 ERA and a 0.89 WHIP, but don't let that fool you. The righty had a good outing against Toronto his first time out, but has gone back to normal—allowing four runs on six hits in five innings last game. To top it off, both games are at home in a hitter friendly ballpark, so that's enough for me to bench the veteran and look for help somewhere else.
Taijuan Walker | Seattle Mariners
Opponents: Yovani Gallardo (TEX), Collin McHugh (HOU)
I refuse to start Walker until he figures his stuff out. The 22-year-old is 0-2 this season, with a 10.66 ERA, and a 2.29 WHIP. The kid has yet to pitch six innings and is giving up just over six hits a game. Many people will believe that this is the week Walker figures everything out against two below-average hitting teams, but I'm not sold on that. Bench him until we see an improvement.
Eric Stults | Atlanta Braves
Opponents: Doug Fister (WAS), Johnny Cueto (CIN)
Sure, Washington and Cincinnati are in the bottom echelon in team batting average, but bad pitchers remain bad pitchers (as I learned with Wei-Yin Chen last week) and Stults is one of them. The Nationals are slowly starting to find their bats, and Johnny Cueto is a nightmare, so there's really nothing here for fantasy owners. My advice here is bench him and be glad you did come Sunday.
Other Pitchers to Avoid: Adam Warren, Cole Hamels, Mike Pelfrey, Nathan Karns, Jimmy Nelson, Homer Bailey.
Stats and references provided by www.MLB.com and www.ESPN.com