Fantasy Baseball Final: October 3rd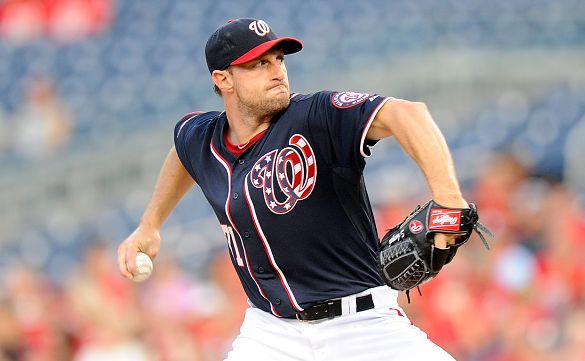 If You Only Read One Thing…
Max Scherzer had an exceptional first season for the Nationals in 2015, but he sure has a lot of things going against him when it comes to writing headlines. Teammate Bryce Harper had his breakout year in 2015, likely taking home National League MVP honors, and Jake Arrieta, Zack Greinke and Clayton Kershaw have dominated the talk in the NL Cy Young race as well. The Nationals did not have the year that they were hoping for, by any means, in 2015, but Max Scherzer gave them a pitching performance of a lifetime in game 161 at Citi Field against the Mets. Scherzer threw his second no-hitter of 2015, striking out 17 batters, including nine in a row at one point. He became just the sixth pitcher ever to throw two no-hitters in one season, ending his 2015 campaign on as good of note as possible. He created quite the buzz on Saturday night with a performance that many are calling one of the greatest outings you will ever see.
Just As We Excepted…
Manny Machado stayed red hot on Saturday, hitting two more home runs and driving in four, bringing him to 35 home runs and 86 RBI this season. According to ESPN Stats & Info's Twitter account, Machado joins Alex Rodriguez as the only two players in MLB history to have a season of 35 home runs and 20 steals before turning 22 years old. Machado has been one of the only bright spots on an Orioles team that lost Nelson Cruz and Nick Markakis this offseason, but expected to be right back in the playoffs where they were a year ago. If Machado continues to put together seasons like he did in 2015, he is going to be a first round fantasy option for the next 10-15 years.
Zack Greinke had one more outstanding outing in 2015, making it even more difficult for the NL Cy Young voters to make their decision. Greinke went eight innings, allowing four hits, one earned run, one walk and striking out eight in the Dodgers 2-1 win over the Padres. Greinke will finish the 2015 regular season right at 200 strikeouts, an ERA of 1.66 and a record of 19-3 on the year. It really is a shame for Greinke, Arrieta and Kershaw that only one of them is able to win the Cy Young. Greinke dazzled in his final chance to win over the voters, and more importantly, helped the Dodgers get home field in the NLDS against the Mets with their 2-1 win.
But We Didn't See This Coming…
No matter how good of a hitter you are, you can't expect to have a night like Christian Yelich had on Saturday. The Marlins and Phillies battled in a day/night double-header, as Yelich finished the day going 8/9 with three runs scored and two runs batted in. He went 5/5 with four singles and a double in game one of the double-header, and 3/4 with a walk, two singles, and a double in game two. Yelich raised his batting average from .290 to .298 after game one going 5/5, and raised it from .298 to .302 in game two. Although you would expect more from Yelich in terms of RBI and runs scored when you reach base nine times, going 8/9 with a walk and raising your batting average 12 points in one day is about as good as you can do in games 160 and 161 for a team that is 19 games below .500.
Save Chances…
A.J. Ramos notched two saves on Saturday, going two innings and striking out five to pick up saves 31 and 32 on the year. Ramos pitched just two innings, one in each game, but struck out five of the six outs he recorded. There were 10 starting pitchers on Saturday that failed to record as many strikeouts as Ramos.
Santiago Casilla, Joe Smith, Wade Davis, Hector Rondon, Kendley Jansen, Aroldis Chapman, Zach Britton, Cody Allen and Felipe Rivero all recorded saves as well for their teams.