2016 Fantasy Baseball: All Remaining Free Agency Team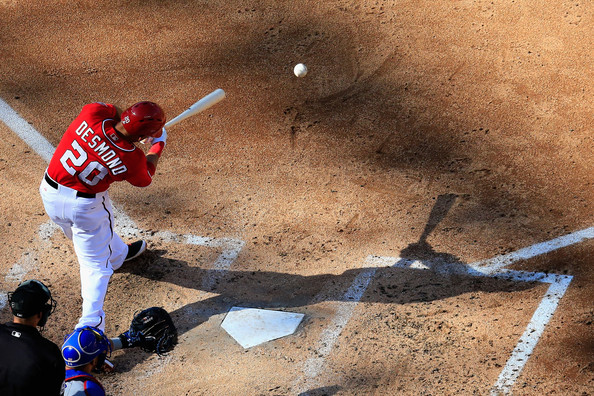 When free agency began in November, every prominent player just knew they were going to find a new home and make the big bucks they had been dreaming about. Unfortunately, other factors got in the way for some of these players and they ended up unemployed when pitchers and catchers reported. For some, the qualifying offer was the problem. Others just misjudged their market. So we've decided to come up with our best team of unsigned free agents.
Designated Hitter: Pedro Alvarez
Alvarez has averaged 28 bombs for the Pirates the last four seasons, so he seemed like a cinch to sign somewhere. Alvarez even had the added bonus of marginally being able to play third base in addition to first base. Unfortunately, he can't play either of them particularly well, so that limited him to the American League. There are fewer and fewer potential destinations for the slugger now.
First Base: Justin Morneau
The former AL MVP will turn 35 in May. A series of injuries have probably scared off most teams, but I thought someone would have signed him to a one year deal for short money by now. You would think that someone like Chicago or Cleveland would have some interest. A team like Houston could also use a short-term solution at first base if the price is right.
Second Base: Jimmy Rollins
It's sad when a player has to go out this way. Rollins has obviously been a shortstop most of his life, but he has offered to move to the pivot to facilitate movement. Nothing has developed for him so far. He has been durable but has produced an OPS+ of 100 or better only twice since 2008. Couple that with dwindling range and you can see why teams don't want to go with him as a regular. However, a move to second base could benefit him defensively and if he is willing to play multiple positions, he doesn't have to play every day. He is one of those guys that deserves an opportunity to go out on his own terms.
Third Base: David Freese
Freese is one of those players that is difficult to pin down. On the one hand, he has produced an OPS+ of 100 or better in every single season of his career except for one. A team with a glaring problem at third base could have picked him up for an affordable price and been happy. The problem has always been staying on the field. He's had only one season with 140 or more games to this point in his career. People expected his career to take off following his 2011 postseason where he broke out for five home runs and 21 RBI. That was good enough to get him the LCS and WS MVP awards. He's never played on that level since.
Shortstop: Ian Desmond
You certainly can't force teams to spend money. However, Ian Desmond to the Chicago White Sox simply makes way too much sense. They have Tyler Saladino penciled in as the opening day shortstop. Desmond is about as clear an upgrade as you will find. What's the problem? The White Sox surrender a draft pick if they sign him at any point through the June draft. This is a ridiculous rule that needs to change. The qualifying offer system is a clear barrier to movement, and while teams that lose free agents should be compensated somehow, keeping one of the better players in baseball unemployed doesn't seem like the right answer.
Outfield: Austin Jackson
No one is going to blow any smoke up your backside and convince you that Jackson is a superstar in waiting. Those days are gone. What he is is an outfielder that can play all three positions competently and put up numbers close to the league average. There has got to be a place for that somewhere. Heck, in a vacuum, every team would love that kind of production out of their fourth outfielder. The problem comes down to the fact that many teams already have that kind of production and no one wants to play regular outfield prices for it.
Outfield: Marlon Byrd
Byrd has played for seven teams since 2012. Beginning in 2013, he's averaged 24 home runs a season playing both right and left field. He had only one 20 home run season to his credit before 2013. It does make you wonder some as he will be 38 next season. However, like Jackson, you would think he would have the versatility to stick as a fourth outfielder somewhere.
Outfield: Shane Victorino
When you see significant players still on the block, there are usually two plausible explanations. Either the player has a draft pick attached like in Desmond's case, or the player is an aging player that has a different view of his abilities than the rest of the game. Victorino has missed much of the last two seasons because of nagging injuries. He sees himself as a regular right fielder (or even center fielder) and the rest of the game sees him as a bench player. His best landing spot is somewhere in the National League where he can serve as a fourth outfielder/pinch hitter but he and his agent may not have reached that conclusion yet.
Relief Pitcher: Joe Nathan
Nathan is officially 41 and is coming off a lost season due to injury. He was a closer as recently as 2014 (where he saved 35 games), but he is a closer in name only. Obviously, his advanced experience as a big time closer would come in handy for a team that is looking for someone that help a young closer learn the ropes. The question is whether he is willing to rehab enough to serve in that kind of role or whether he will simply retire.
Starting Pitcher: Tim Linecum
I don't care who you are or what team you root for. Anytime you see a two-time Cy Young Award winner on the open market, a part of you has to perk up a little. 2015 wasn't a great season for Linecum, but he did pitch effectively when he pitched. Perhaps teams are waiting for him to prove he is healthy, but that is a Catch-22 if there ever was one. You can't prove you are healthy until you pitch and you can't pitch until someone signs you.