2016 Fantasy Baseball: Week 17 Two-Start Pitchers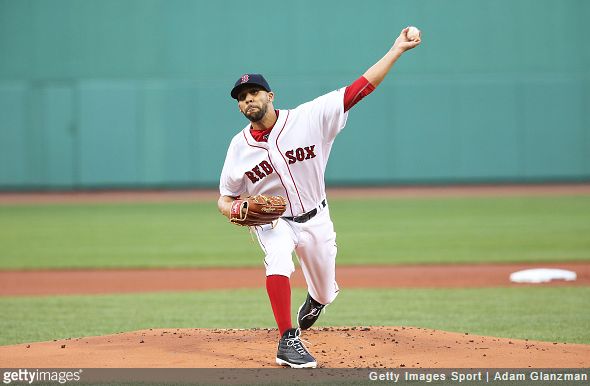 Christopher Morais
A fantasy owner's best friend is the waiver wire—where finding value can make the difference between a great week and a very disappointing one. Most pitchers see the mound once every seven days, but if you want to maximize the number of starts per week, it's important to look for pitchers pitching twice and exploit favorable matchups if they exist. With that being said, let's take a look at some pitchers you should be starting this week, and some you should just leave on your bench
Elite
David Price | Boston Red Sox
 Opponents: James Paxton (SEA), Brandon McCarthy (LAD)
It's been a difficult season for the veteran lefty, but David Price has a chance to build on his last start with two above-average matchups this week. Both the Mariners and Dodgers struggle against left-handed pitchers—especially the Dodgers—who are ranked last in baseball in team batting average (.224). Price is an elite pitcher, but he's giving up a ton of hits and his .338 BABIP isn't a result of just "some bad luck." Fantasy owners shouldn't have to worry about Price this week.
Gerrit Cole | Pittsburgh Pirates
 Opponents: Mike Foltynewicz (ATL), Homer Bailey (CIN)
Pirates ace Gerrit Cole has put together a pretty decent season up till now and should continue to pitch well down the stretch. Despite sporting a 6-6 record, the righty has a nice 2.78 ERA and a decent 1.25 WHIP. He's coming off his first complete game in almost four years and should have no problem picking apart the Braves and Reds. Both teams are terrible when it comes to hitting the baseball, and neither team is really that good at pitching. Cole isn't going to wow anyone with high strikeout totals, but he's got the stuff to get him 5-7 Ks a start. After spending a month on the DL in June/July, fantasy owners are hoping Cole can finish the year strong and be a pitcher they can rely on in the playoffs.
Madison Bumgarner | San Francisco Giants
 Opponents: Zach Eflin (PHI), Stephen Strasburg (WAS)
If Madison Bumgarner continues to pitch like this till October, not only will the Giants make the post-season, but he will no doubt win the Cy Young. He's second in the NL in ERA (2.09), 4th in WHIP (0.98), 3rd in strikeouts (170) and second in complete games (3). Despite all those numbers, Bumgarner has failed to pick up a win since the All-Star break, but it hasn't been his fault. The southpaw can change that this week with starts against the Phillies and Nationals. The Nats hit lefties pretty well, but Bumgarner is an elite lefty that can really cause some problems for the Nationals. As for the Phillies, well they aren't good against lefties or righties, so it doesn't really matter. The Giants ace is a safe bet this week if you're lucky enough to own him.
Other Must Start Pitchers: Carlos Carrascco, Jacob deGrom Stephen Strasburg, Matt Shoemaker.
 Mediocre
Masahiro Tanaka | New York Yankees
 Opponents: Jacob DeGrom (NYM), Carlos Carrasco (CLE)
Yankees ace Masahiro Tanaka will have to face both DeGrom and Carrasco in his next two starts, but the 27-year-old has a decent chance of picking up wins in both games, even if the task seems quite difficult. Tanaka has a 3.16 ERA and a 1.11 WHIP, to go along with 108 strikeouts in 21 starts. The Mets are #NotGood at hitting the baseball, so there shouldn't be a problem there, but the Indians are a tough task, even for Tanaka. Last time the Yankees starter faced them, things didn't end well, lasting only 4.2 innings and allowing seven runs (three earned) on ten hits. The one error in that game was a costly one, and Tanaka just couldn't recover. The Indians are a dangerous team, but it's unlikely that they rough him up like last time. He carries some risk, but he shouldn't be bench for it.
Danny Salazar | Cleveland Indians
 Opponents: Jose Berrios (MIN), C.C. Sabathia (NYY)
Danny Salazar is having himself another great season, posting a 2.97 ERA and a 1.21 WHIP in 19 starts so far this season. Despite all that, he's been pretty mediocre over his last four starts, failing to go past the sixth inning and allowing 3-plus runs in three of the four starts. Both the Yankees and Twins are average hitting teams, so the fear here may just be if Salazar's cold streak is over. He's certainly worth a start; just don't be surprised if he gets rocked.
Yu Darvish | Texas Rangers
 Opponents: Dylan Bundy (BAL), Lance McCullers (HOU)
Some fantasy owners may be scared to use Yu Darvish this week, but that fear may be overhyped. In six starts this season, Darvish is 2-2, sports a 3.09 ERA and a cool 1.13 WHIP. Those numbers aren't exceptional, but let's not forget, this is a pitcher coming back from Tommy John surgery, and he's still managed to put up some pretty good numbers. The most impressive part of Davish's game might be his strikeout rate. He's racked up 45 strikeouts in just 32 innings of work, which is really phenomenal. What's even better? The Astors and O's are top ten this season in strikeouts. He may not get the win, but Darvish is good enough to rack up double-digit stirkeouts against both teams. Roll him out there and don't look back.
Other Options to Consider: Jimmy Nelson, Kyle Hendricks, Adam Wainwright, Matt Moore, Jon Gray.
 Bench
Marcus Stroman | Toronto Blue Jays
 Opponents: Doug Fister (HOU), Danny Duffy (KC)
Marcus Stroman is a great young pitcher, but it's been a difficult season for the Blue Jays' starter. The Duke graduate is 8-4 this season, but his 4.92 ERA and 1.33 WHIP paint a different picture. His record is more due to luck, not personal success. His skillset is above average, but he's been unable to consistently display that skillset every start. The Astors can easily burn Stroman with the long ball, and the Royals don't strikeout very often. Both matchups are going to be a challenge for the 25-year-old, and right now, betting on Stroman to have two solid outings is very risky, one most fantasy owners shouldn't take.
James Shields | Chicago White Sox
 Opponents: Anibal Sanchez (DET), Dylan Bundy (BAL)
Despite all of James Shields' recent success, I'm not buying into him having a ton of success this week. The Tigers are 6th in team batting average this year, while the O's are ranked 9th in the same category. Facing two top-10 teams in hitting isn't ideal, and even if Sheilds has been excellent over his last six starts, he's going to regress, and that regression will happen this week. He shouldn't de dropped from your roster, but he should be benched.
Chris Archer | Tampa Bay Rays
 Opponents: Danny Duffy (KC), Jose Berrios (MIN)
Assuming he stays with the Rays, Chris Archer is not worth a starting spot this week. The righty has pitched better over his last two starts, but no one should be buying that recent success. Archer still owns a 4.42 ERA and a 1.35 WHIP, and those totals will go up this week. His strikeout potential is there, so he could have some success against the Twins, but the Royals are 25th in strikeouts, and the twins are a decent enough team that they can pile a few runs on Archer by the end of the night. Every part of me wants to trust Archer for at least one start (against the Twins), but when it comes to the Rays starter, safe is better than sorry.
Other Pitchers to Avoid: Kyle Gibson, R.A Dickey, C.C Sabathia, Archie Bradley, Doug Fister, Jose Berrios, Sean Manaea, Dan Straily, Anibal Sanchez, James Paxton.
Stats and references provided by ESPN.com and MLB.com MLB.com