2016 Fantasy Baseball: Week Seven Two-Start Pitchers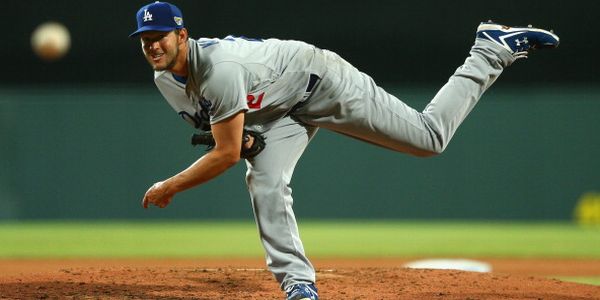 Christopher Morais
A fantasy owner's best friend is the waiver wire—where finding value can make the difference between a great week and a very disappointing one. Most pitchers see the mound once every seven days, but if you want to maximize the number of starts per week, it's important to look for pitchers pitching twice and exploit favorable matchups if they exist. With that being said, let's take a look at some pitchers you should be starting this week, and some you should just leave on your bench
Elite
Clayton Kershaw | Los Angeles Dodgers
 Opponents: Jered Weaver (LAA), Colin Rea (SD)
The Dodgers' ace is having himself another Cy young season. The lefty has a 1.74 ERA in 62 innings and has a crazy 77:4 K:BB ratio. The Angels and Padres are middle-of-the-pack when it comes to facing left-handed pitchers, but this isn't just any left-handed pitcher; it's Kershaw. Expect another big week from the 28-year-old.
Madison Bumgarner | San Francisco Giants
 Opponents: Colin Rea (SD), Kyle Hendricks (CHC)
Elite lefties are on the menu this week. The Cubs are ranked 11th in team batting average against left-handed pitchers, but like Kershaw, Bumgarner isn't just any lefty. His 2.72 ERA and 60 strikeouts in 49.2 innings should give both the Cubs and Padres all kinds of difficulty. His matchup against Chicago might scare some fantasy owners (mainly because the game is at Wrigley Field), but there's nothing to worry about here. Expect the Giants' starter to have a very productive week.
Max Scherzer | Washington Nationals
 Opponents: Noah Syndergaard (NYM), Adam Conley (MIA)
If it wasn't for the Miami Marlins, Max Scherzer would have the best matchup of the week. The fish have hit right-handed pitchers very well to start the season, but again, Scherzer isn't just any righty. The Nats ace is a strikeout machine, and it was on full display Wednesday night. His 4.15 ERA isn't great, but his 1.17 WHIP is right on track with his career average, and the Mets are definitely prone to striking out against hard-throwing righties. After his last start, Scherzer should be a staple on every fantasy team moving forward.
Other Must-Start Pitchers: Jordan Zimmermann, Noah Syndergaard, Kenta Maeda.
 Mediocre
 David Price | Boston Red Sox
 Opponents: Ian Kennedy (KC), Danny Salazar (CLE)
After signing a massive seven-year deal in the offseason, the Red Sox aren't exactly getting their moneys worth with David price. Despite being 5-1, Price has an ugly 6.00 ERA and a 1.33 WHIP. Both those numbers are above his career average and both those numbers are a problem. His strikeouts haven't gone down, averaging 1.35 strikeouts per inning, but the rest of his game just hasn't been stellar. The good new is that both Kansas City and Cleveland are below average when it comes to team batting average, but the Royals don't strikeout very often against lefties. In fact, the Royals have 50 strikeouts in 245 plate appearances against left-handed pitchers. It's going to be a boom-or-bust week for Price, but fantasy owners can't give up the Boston ace just yet. Plug him in and hope he can pick up at least two quality starts.
Marcus Stroman | Toronto Blue Jays
 Opponents: Chris Archer (TB), Phil Hughes (MIN)
Fresh from his graduation from Duke University, Stroman is ready to get back on the mound and help the Jays get back to winning baseball games. The 25-year-old has dates with the Rays and Twins this week, which is great news considering both teams are pretty bad against pitchers in general. The Rays rank 30th in team batting average against righties, while the Twins are ranked 20th. Stroman's 1.09 WHIP after eight games is pretty good, and if he continues to pitch like the ace he is, fantasy owners will get rewarded. Start him with confidence and don't question it.
Nathan Eovaldi | New York Yankees
 Opponents: Zack Greinke (ARI), Eric Surkamp (OAK).
Eovaldi has been a mixed bag so far this season. The 26-year-old sports a 4.85 ERA with a 1.34 WHIP, but in seven starts this season, he's only given up more than three runs three times (and two of the three times came at the beginning of the season). The Texas native has the stuff to strike opposing hitters out, which is great news because the D'backs love to strikeout, but they also like to hit righties hard (7th, .268). As for Oakland, they don't exactly strikeout a bunch (22nd, 210), and they don't hit the baseball with much conviction (18th, .247). If Eovaldi can keep the ball in the park against Arizona and get Oakland to swing and miss a few more times than usual, he could have a very solid week.
Other Options to Consider: Danny Salazar, Rick Porcello, Ubaldo Jimenez, J.A HApp, Kyle Hendricks, Jerad Eickhoff, Colin Rea.
 Bench
Dallas Keuchel | Houston Astros
 Opponents: Carlos Rondon (CHW), Derek Holland (TEX)
Dallas Keuchel is still a good pitcher, but there's no reason to start him right now considering how bad he has been since the start of the season. The 28-year-old has an ugly 5.58 ERA, a WHIP of 1.60 and 42:22 K;BB ratio. The biggest concern with Keuchel is how opponents are hitting .294 off him this season. That's a massive problem to say the least. There's still lots of baseball left to play and Keuchel should be able to get back on track, but right now it's best to just leave him on the bench.
Matt Shoemaker | Los Angeles Angels
 Opponents: Kenta Maeda (LAD), Kevin Gausman (BAL)
Let's be honest for a minute—Matt Shoemaker is not a very good pitcher, and yet, people still choose to roster him on their fantasy teams. The only reason the 29-year-old is in the Majors right now is because Garrett Richards is having Tommy John Surgery on his elbow. His 9.12 ERA and 1.91 WHIP is #notgood, and frankly, he shouldn't be an option at any point this season. If you play daily fantasy baseball on a regular basis, make sure to load up on hitter facing Shoemaker this week.
Alfredo Simon | Cincinnati Reds
 Opponents: Danny Salazar (CLE), Wade Miley (SEA)
Speaking of pitchers who don't deserve to be in the Majors right now, Alfredo Simon is another pitcher who's been so bad, it's amazing that he still has a job. The 35-year-old is 1-3, sports an atrocious 8.67 ERA and has a 1.89 WHIP in 27 innings. The Indians and Mariners are pretty average when it comes to right-handed pitchers, but Simon is so bad, they become above-average. Part of me wants to believe that no one is actually rostering him on a regular basis, but people do crazy things when pitchers pitch twice in one week. Don't be one of those folks; leave Simon on the waiver wire where he belongs.
Other Options to Avoid: Sean Manaea, Eric Surkamp, Aaron Blair, Williams Perez, Phil Hughes, Jered Weaver.
Stats and references provided by www.MLB.com and www.ESPN.com