2014 Fantasy Baseball, Week 4 Tools of the Trade: The Charlie Blackmon Trade Market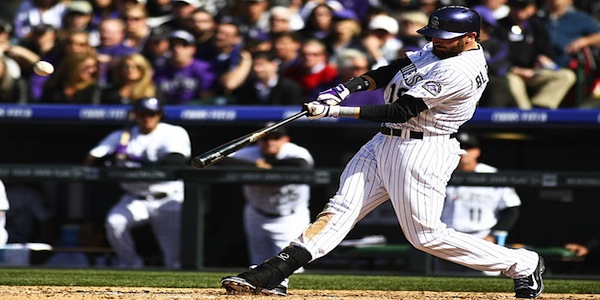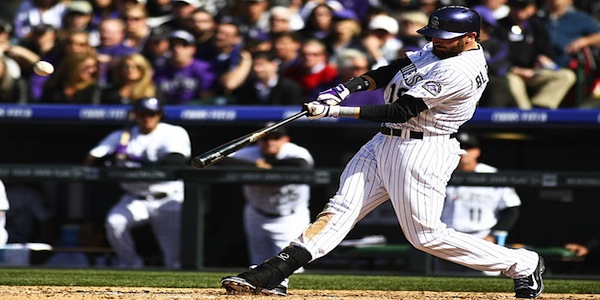 TheFantasyFix.com's "Tools of the Trade" is a unique guide for owners to use while attempting to make an even trade with their league-mates in a standard 12-team mixed, 5×5 head-to-head or rotisserie redraft league.
The values present in this guide are simply the basis for a trade. A full-blown analysis of each team's strengths and weaknesses are essential prior to proposing or accepting a trade offer.
How to use the guide: Ideally, owners will agree to a trade that will aid both sides and stay within $2-3 of each other in a one-for-one and $4-5 in a multi-player deal, according to our chart.
The Week 1 "Tools of the Trade" was free for all readers, but going forward, the "Tools of the Trade" will only be available to Front Office members. Learn the benefits of being a Front Office member here.
Now onto the chart:
[am4show have='p3;p4;p7;p11;' guest_error='Front Office' user_error='Front Office' ]
Trading isn't easy. It's fun, but not easy. Remember that you don't have to "win" the trade in order to pull the trigger. If you're improving your team, then you should make the deal.
Each-and-every week we'll review fantasy baseball trade proposals and/or offers that come in via our "Quick Fix" and Twitter to determine if the offer is fair and whether or not the trade should be proposed or accepted.
This week I was looking for deals regarding players like Carlos Santana and Brett Lawrie who have yet to turn it on as well as Charlie Blackmon and Brian Doizer who've started the season off scorching hot (well, except for Dozier's batting average).
Not many folks responded to Brett Lawrie who is slashing .135/.198/.297 with four dongs and 15 RBIs in 20 games. The frustration surrounding Lawrie is understood. He's been a "could be" or "should be" type of player for the past few seasons now, but Lawrie has yet to stay healthy enough to approach the 20/20 plateau that some — including myself — thought he could reach. In addition to the horrific slash line, Lawrie is walking less (6.2% BB%) and striking out more (19.8% K%) versus his career averages. He's swinging and missing (9.8% SwStr%) more and making less contact in the zone (84.4% Z-Contact%). Finally, when looking at his batted ball profile, we see that he's hitting the ball on the ground (51.7% GB%) more and hitting line drives less (5.2% LD%) than he ever has before. All of these factors — and probably more — lead to a .109 average on balls in play. Gross. Lawrie owns a .288 career average on balls in play, so this current funk that Lawrie is in, is unlikely to continue for much longer. I'd be checking around to see what it would cost to grab Lawrie, but temper your expectations.
Charlie Blackmon ia a different story. The Rockies' outfielder entered Spring Training in a position battle with Corey Dickerson, but is now the number one player on ESPN's Player Rater and the number two player in Yahoo!'s game. In 21 games, Blackmon is triple slashing .411/.450/.671 with four homers and five swipes to go along with 15 runs and 13 runs batted in. Blackmon's plate discipline is rather impressive through 21 games (80 PAs). His walk and strikeout rates are an identical 6.3% (five of each) and he's making fantastic contact on pitches both in (96.8% Z-Contact%) and out (82.4% O-Contact%). The main concern I have with Charlie Blackmon is the 19% HR/FB rate when he's never exceeded a 9.8% HR/FB over his career. The spike in HR/FB reminds me a lot of Jean Segura's early-season spike in homers last season. And as we remember, Segura's clobbered 11 homers  prior to the All-Star Break, but has hit just one in 90+ games since. Does this mean that Blackmon's output will tail off a lot? No. Just a little? Probably. The elevation of the home park benefits Blackmon a ton, so hopefully he can sustain some of the surge.
So what are we doing with Charlie Blackmon? I'm fielding offers, that's for sure. It never hurts to see what others are willing to pay for the number one/two player in the game (right now). Your potential return on investment is likely to be significant — Blackmon owned an ECR of 359 and a preseason ADP of 461 at FantasyPros — and his value can hardly get higher. And if you're not happy with what others are willing to offer, then hold, which is probably the safest of the plays.
Some people are trying to cash in on their shares of Charlie Blackmon, thoguh. Let's see what these fantasy baseballers received via trade and how those deals match up with our beloved chart:
@TheFantasyFix Blackmon for Masterson. (16 team mixed)

— RyanHoward_Flashmelo (@RHoward_FMelo) April 23, 2014
A 16-team league is pretty deep, so maybe the Blackmon owner was desperate for an arm. Even if that is the case, a $9 Blackmon for a $3 Masterson appears to be lopsided according to our chart. But keep in mind, our chart is geared towards 12-teamers, so maybe this worked out for both owners. 
@TheFantasyFix one guy that trades everybody that he drafts, traded away Liriano for Blackmon. H2H 10team , weekly lineup — Sharbel Dekelaita (@SDekelaita) April 23, 2014
A $9 Charlie Blackmon for an $8 Francisco Liriano looks to be a sqaure deal according to our chart. The only problem I have with this deal is the size of the league. In a 10-teamer, the starters on the wire should be plentiful, so if I were going to deal the outfielder in this situation, I'd be shooting for the stars. I would have been asking for pitcher along the lines of a Lance Lynn, Mike Minor or Sonny Gray. But again, this is all without knowing the specifics. 
@TheFantasyFix I traded Miguel Cabrera for Blackmon. Not liking Cabrera's struggles, Blackmon the real deal — Adam Pfeifer (@aPfeiferRS) April 23, 2014
Adam is a jokester. He's a funny guy. Go give him a follow.
@TheFantasyFix trying to trade for him, guy wants chase utley. Good deal or no?

— Greg Meyer (@Gmeyer6288) April 22, 2014
This gentleman was speaking about Carlos Santana, who is also off to a slow start this season. His walks are up (20.% BB%) but so are his strikeouts (21.7% K%). He's making less contact on balls both in and out of the zone and the ones he's putting in play aren't falling for hits (.170 BABIP vs. .277 career BABIP). I'd be looking to deal for Santana where I can, if the price is right.
In this situation, a $22 Chase Utley for a $14 Carlos Santana make look unfair. However, it's a good chance to buy on a guy like Santana if you took on an additional second baseman during the draft in fear of Utley's lingering health issues. I'd try and get a little more than just Santana for Utley, but don't let that be a sticking point in the deal.
Have a question about our Week 4 Tools of the Trade? Leave it in the comments below.
The concept for the this trade value chart has been adapted from Dave Richard's fantasy football work at CBS.
All of our statistics are courtesy of our friends at FanGraphs .
[/am4show]