2015 Fantasy Baseball: Mixed Tout Wars Review, Rounds 1-3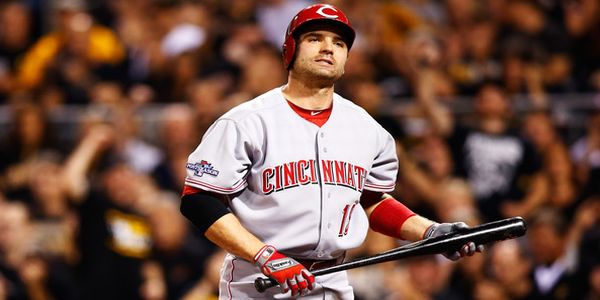 Spring Training is here. That means all of us baseball nutsos get to travel to Arizona or Florida to get an early look at our favorite teams and players. It also means that we get to dive head first into numbers to try and sort out what happened last season, who went where in the offseason and what will happen this coming season. But what it really means is that the fantasy baseball community kicks into full gear with some of the more famous leagues with some of the more credible participants in the fantasy baseball community: Tout Wars and LABR.
For the purpose of this reflection piece we'll be focusing on Tout Wars. If you're not familiar with this league, here's an excerpt from their WikiPedia page:
"Tout Wars is the most high-profile fantasy baseball experts league and was the focus of the 2006 best selling book Fantasyland. It was created in 1997 by Ron Shandler who was fed up with the lack of promotion USA Today gave its annual LABR fantasy baseball experts league. The drafts are conducted each year in late March shortly before the MLB season and include a 12 team AL-only league, a 13-team NL-only league and a 12-team mixed league (added in 2005). Tout Wars was featured as the subject of a 2010 documentary called "Fantasyland" based on the book."

Not everyone analyzes these leagues. Some just go out and pick their favorite players on their favorite teams and hope for the best — which can be fun, too. But the more serious players — the ones that go out and purchase magazines, draft guides or peruse the many fantasy baseball draft preparation articles here on TheFantasyFix.com — will use the results of this draft to gauge where players are being seletcted and some even attempt to mirror the strategies used by these experts.
Let's take a look at the experts:
Tim McLeod (100) 2014 Champion
Brent Hershey (100)
Perry Van Hook (100)
Adam Ronis (100)
Tom Kessenich (100)
Rick Wilton (100) Returning. Last result was ninth place finish in Tout AL in 2010.
Grey Albright (89)
Ray Murphy (100)
Eno Sarris (85)
Greg Ambrosius (83)
Paul Sporer (93)
Rudy Gamble (100) New to Tout Wars.
Paul Greco (99)
Charlie Wiegert (95)
Anthony Perri (100)
League Format/Settings:
You can learn all the specifics about the Tout Wars by reading their constitution here, but basically it's a 12-team, 5×5 rotisserie league that uses on base percentage instead of batting average. This is a two catcher, five outfielder league that also uses a middle and a corner infielder.
You can see all of the results here, but I'm going to dissect three rounds and/or some picks and share my thoughts.
Round One
The first round went pretty much as planned until Paul Sporer pulled the trigger on Joey Votto with the eleventh selection. At first glance, critics may call Paul crazy for passing on the likes of Edwin Encarnacion, Troy Tulowitzki or even Robinson Cano, each of whom provide either stellar production in the counting categories or may be a significant value relative to their position. And while I may have went with Encarnacion myself, Joey Votto will be an incredible asset in this format that counts on base percentage.
Since Votto entered the league in 2008, no other player has an OBP higher than his .419. And he's put together peak OBP seasons of .474 in 2012, .435 in 2013 and .424 in 2010. The Reds' first baseman is coming off a .390 OBP season — his worst since 2008 when he posted a .368 OBP — but Votto wasn't right last season, which is why he only appeared in 62 contests. Steamer suggests that Votto can hit 19 homers, score 75 runs and knock in 66 to go along with four stolen bases and a .404 OBP. He's going to be a stud in this format and I absolutely love the pick. You can see what Paul has to say about his Votto pick and the rest of his draft in his recap here.
Round Two
Selections start to get fun in round two as owners attempt to add proper complements to their first round selections. Adam Jones slipping to the third pick in the second round seems to be a bit of a shocker until you dig into his career .320 OBP. The guy just doesn't take walks. Since 2010, with a minimum of 149 games played, the most walks Jones has taken in a single season is 34 in 2012 with 697 plate appearances. Jones' home run production slipped a bit in '14 probably due to a dip in HR/FB% to 15.8% from 18.8% and 19.9% the previous two seasons. He also saw a decrease in average home run and fly ball distance from 297.49 feet in '13 to 288.64 feet in '14. All that said, I still really like Adam Jones as he enters his age 29 season and the pick by Paul Greco to pair with Robinson Cano, but I'm not surprised he slipped just a bit compared to his current ADP of 15 in traditional formats.
Two players that were selected after Adam Jones that I may have considered instead of the Orioles' outfielder are Josh Donaldson and Jose Altuve. Greco already had Robinson Cano in tow, so snagging Altuve didn't make sense at that point. But Josh Donaldson, playing half of his games in the Rogers Centre and at the premium hot corner position could have made sense for Greco at 15. Steamer projects both Jones and Donaldson to produce similar counting stats, but Donaldson to post the superior OBP (.341, to Jones' .312). Maybe Greco feared that too many outfielders would be off the board during his next turn so he went with Jones? I'm not sure, but I did reach out to Paul to try and get an idea about his strategy there. Will update this article when I hear back.
EDIT: Just heard back from Paul Greco. He indicated that "the length of time between his second and third round pick was just too long. And in a 15-teamer with each team starting five outfielders (do the math folks, thats 15 teams x 5 starting outfielders = 75 starting outfielders), he simply needed to get in on the outfield action." As I guessed above, Greco confirmed that the only other player he considered at that spot was Josh Donaldson. But he ended up with one of my favorite's Nolan Arenado down the road in the fourth round, so not too shabby.
Round Three
A lot of fine picks went down in round three as teams really start to take shape. The only selection I wasn't sure about was Rick Wilton's pick of Todd Frazier at 3.06. I get that Frazier smacked 29 homers and swiped 20 bags last season with a .336 OBP, but I believe Wilton paid the premium for Frazier's career year. Steamer thinks that Frazier will come back to earth and post something in the range of 21 homers, 11 stolen bases and a .316 on base percentage. And the .316 projected OBP fails to even crack the top 25 among projected third baseman for the upcoming year.
Contrary to Greco, Wilton waited on outfielders — the first outfielder he selected was Rusney Castillo in the ninth round and he was the only outfielder Wilton picked in the first 20 rounds (!) — a strategy he likely employed to zag when everyone else was zigging. Wilton's strategy aside, I would have gladly selected any of the six players that followed, instead of Frazier: Starling Marte, Carlos Santana, Carlos Gonzalez, Madison Bumgarner, Justin Upton or Corey Dickerson.
Round Four
Will be adding some thoughts regarding rounds 4-10 this evening, so please check back!