30 Prospects in 30 Days: Taijuan Walker — SP — Seattle Mariners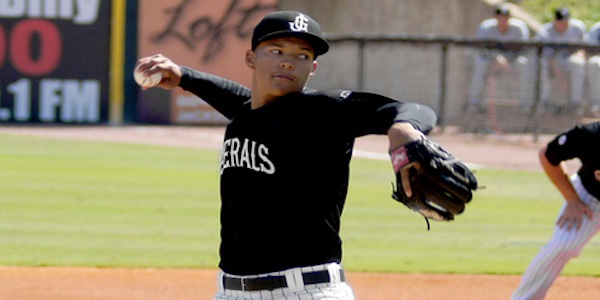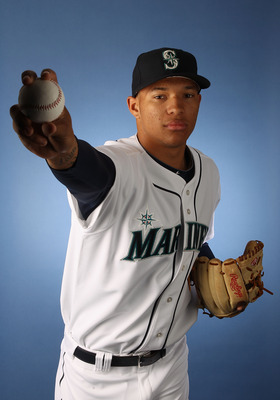 The Mariners selected Taijuan Walker with a first-round supplemental pick (43rd overall) in the 2010 MLB Amateur Draft. The Yucaipa, California product is an athletic right-handed starter that stands at 6'4", 210 pounds entering his age twenty season.
Walker's three premium offerings — fastball, curveball and changeup — are still developing, but each appear to ooze the upside of true major league "plus" pitches.
His fastball tops out in the 97 mph range, but is regularly worked into sequences between 93 and 97 mph. Mike Newman indicated that Walker's arm slot on his fastball allows him to hide the ball well, causing the pitch to "explode late on hitters" and appear faster than it may be. Baseball America notes that Walker's fastball can "flatten out at times" but his overall command of the pitch is steadily improving.
In addition to the fastball, Walker possesses a devastating curveball in his arsenal that sits in the 75-77 mph range and falls off the table. BA notes that Walker tends to "short arm" his curveball at times, which could tip off hitters, but it still flashes knee-buckling plus potential when thrown to perfection. Walker changes speeds in the mid-to-high 80s and is said to have nice movement down in the zone. With a few added pounds and continued development, the change could become a plus offering that works 88-90 mph. Lastly, both BA and Jason Parks suggest that Walker recently added a cutter, and the latter observed it in action this Spring as evidenced below:
After going over my game notes on Taijuan Walker, I decided to take a long shower. Locked the door. FB worked 94-97; CT was nasty at 91-92

— Jason Parks-Pirlo (@ProfessorParks) February 28, 2013
Gotta love Parks' approach to scouting. One of the best out there in my opinion. Alright, back to prospect…
Walker got a sniff of professional ball in 2010, when he made four appearances (7 IP) in Rookie ball. But his first real taste came in 2011, with the Clinton LumberKings of the Class A Midwest League, in which Walker paired a 2.89 ERA (2.70 FIP) with a 29.4 K% enroute to being named the Seattle Mariners' minor league pitcher of the year. Based on the success at A ball and the concern that Walker could fall victim to the notorious hitters' parks in the Advanced-A California League, Walker made the leap to Double-A in twenty-twelve. He made 25 starts for the Jackson Generals last season as the youngest player in the Southern League. And although his 4.69 ERA (4.09 FIP) don't appear sexy on the surface, Walker whiffed more than 20% of the batters he faced while surrendering free passes to fewer than 10% of opponents — a huge step in the right direction for a player his age at that level.
Some feel that Walker could head back to Double-A for the beginning of 2013 to refine his offerings, but an assignment to Triple-A wouldn't surprise. Additionally, with continued development, Walker could get a call for a cup of coffee when rosters expand. However, the beginning of Walker's major league impact is likely to be felt in 2014.
Current keeper and dynasty league owners could lack a true understanding of the significant jump Walker made in 2012, and may be willing to part ways for 70-80 cents on the dollar based on said numbers. If that's the case, pounce on the opportunity to acquire the right-hander without hesitation. He's a top ten prospect at the moment and has the potential to be a future front-line starter on your fake team for years to come.