The Buck Starts Here: Late Mixed League Auction Targets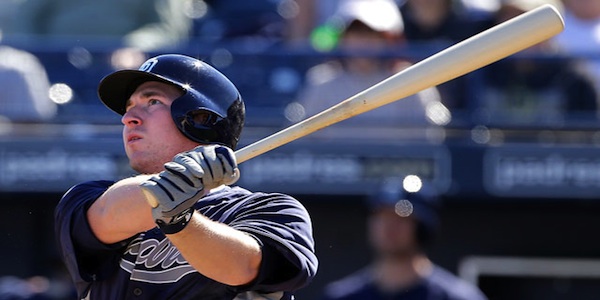 More often than not, fantasy baseball owners head into their draft with a list of players they're targeting and have a general idea of how much they're willing to spend to acquire said players. But two-to-three hours into an auction, when teams are filled up, targeting specific positions or possibly not even paying attention, other owners may capitalize by securing players with tons of upside for one or two dollars.
Last season, we competed in a 14-team rotisserie auction league known as "Blog Wars," comprised solely of writers in the fantasy baseball industry. The auction was a blast, but admittedly, took forever. But there we were, more than 300 players deep into the draft — long after the Ryan Braun and Troy Tulowitzki type players were off the board — and our team had a few open bench slots with just a few bucks left to spend. The 316th player was nominated — Mike Trout — for $1. We were pretty high on Trout and decided to splurge for $2 to acquire his services. Yes, $2. For anyone with the slightest knowledge of baseball, no further analysis of this should be necessary. The selection of Trout parlayed with some shrewd in-season roster management, resulted in @TheFantasyFix taking home the hardware.
But Trout was not the only value at the end of the auction. Here are some other notable stars and the cost incurred by a team to acquire them: Allen Craig ($1), RA Dickey ($1), Wilin Rosario ($1), Sergio Romo ($1), Chase Headley ($2) and Aroldis Chapman ($2).As you can see, the one and two dollar players at the end of the draft are simply low-risk, high-reward players that will not lose you your league, but can potentially win you your league. And while the percentages suggest you won't land a Cy Young Award winner or an MVP runner-up, you should still be on the lookout for players with that type of upside.Start by jotting down a few names you'd like to grab late in your auction.Here is a short list of players I will be targeting late in my 2013 fantasy baseball mixed league auction:
Jedd Gyorko | SD | 2B – The Padres' future second basemen blasted 30 long balls and knocked in 100 runs in 126 games between Double-A and Triple-A in 2012. And although production from the Pacific Coast League doesn't exactly translate to output in the big leagues — especially PETCO Park — getting potential pop from your second basemen should not be overlooked.
Adam Eaton | ARI | OF – The Diamondbacks' outfield seems to be a bit overcrowded, but it will be hard to keep a guy on the bench who triple slashed .381/.456/.539 in 119 games at Triple-A last season. In addition to the beefy slash line, Eaton managed to cross the plate 119 times and added 38 swipes, good enough for a wRC+ of 163. If Arizona ships out Jason Kubel or Justin Upton as rumors suggest, Eaton would appear to be the direct beneficiary of playing time.
Jean Segura | MIL | SS – Segura will enter the 2013 season as the starting shortstop for the Brewers, and what he lacks in the pop department he will surely repay owners in the speed and average categories.
[am4show have='p4;p7;p3;' guest_error='Front Office' user_error='Front Office' ]
Justin Maxwell | HOU | OF – Maxwell blasted 18 long balls and knocked in 54 runs in just 124 games with the Astros in '12. Maxwell is a batting average liability — he batted .229 in '12 — but those in need of some pop may be willing to overlook that for a dollar.
Julio Teheran | ATL | SP – With Brandon Beachy sidelined until the summer, the Braves top overall prospect will get a chance to win a spot in the rotation out of Spring Training. Teheran briefly came up for a cup of coffee in twenty-eleven, then again in twenty-twelve, but failed to impress. Reports from the Dominican Winter League indicate Teheran made some adjustments and appears back on track. Easily worth a buck to try and catch lightning in a bottle.
Chris Archer | TB | SP – As Moe notes in our "AL-Only Impact Prospects" piece, Archer possesses a real ability to miss bats with the fastball and slider, but needs to improve on his control. He's a $1 target in deep mixed leagues due to the uncertainty that he breaks camp with the big boys.
Oscar Taveras | STL | OF & Jurickson Profar | TEX | 2B – The hype machine will likely cause both of these top prospects to go for more than a dollar in your auction, especially those of the AL or NL-Only variety. But if you have any hope of grabbing the closest thing to 2013's Mike Trout or Bryce Harper — although we know their rookie performances are unlikely to be matched — be willing to go a few extra bucks and grab one of these stars in the making.

[/am4show]