2013 Fantasy Baseball Rookie Report, Week 11: Cole Cruises in Debut
Gerrit Cole, Pittsburgh's top prospect and MLB.com's preseason eighth-ranked minor leaguer, won his first Major League start Tuesday night by shutting out the Giants over 6.1 innings before allowing two earned runs in the seventh. Despite topping out at over 100 mph Cole only recorded two strikeouts. However, he didn't walk a batter; threw 59 of his 81 pitches for strikes; and picked up eight swinging strikes, which was good for a 9.8 percent swinging strike rate (the league average is 9.2 percent).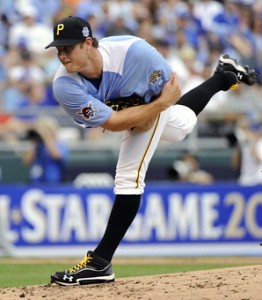 Cole pitched very well throughout the entire night, and it just happened that after retiring 13 straight hitters Cole gave up three hits to three of the first four hitters he faced in the seventh. Stuff happens. Cole's command was very good, hitting both sides of the plate. When he missed his spot he missed low and avoided any danger. I can barely even recall a pitch missing high, and I just finished watching his start. Out of the seven hits he allowed only three were well-struck balls. He only got lucky on one, maybe two, balls in play that could've/should've been hits, including a great play by Neil Walker and Garrett Jones to retire Hunter Pence in the sixth.
I'm not worrying at all about Cole's lack of strikeouts Tuesday night. Cole was pounding the zone the entire night, and the Giants are by far the least strikeout-prone team in the NL. Cole's first strikeout came against Gregor Blanco in a three-pitch at-bat leading off the game: 96 mph, 96 mph, 99 mph. His second strikeout came against Buster Posey in the sixth, when he K'd him swinging at an 82-mph slider well in the dirt.
Overall, it was a very impressive start for Cole. Coming into the night the Giants ranked sixth in the NL against righties in wOBA and OPS, so even though it's not a powerful team San Francisco is a tough team to beat. I'd recommend picking up Cole in almost any league, but don't drop someone you'll miss later on in the season. In one 12-team league I'm dropping Kyle Kendrick for Cole as I think Kendrick's stats can be found on the waiver wire for the rest of the season.
Tony Cingrani replaced Johnny Cueto in Cincinnati's rotation Tuesday in Chicago and looked just like he did back in April. Cingrani threw seven innings, allowed two earned runs and struck out five while walking just one. Cingrani's ESPN ownership went up 54 percent in the last week, so it looks like most of you were rewarded for being on the ball. However, this might've been Cingrani's last start for the Reds for the time being as Cueto should return to the rotation Sunday. Cingrani's been great in his first 40 innings of 2013, owning a 3.15 ERA with a 46:10 K:BB although he's had problems with the long ball (eight homers allowed). I'd say hold on to Cingrani to see if he makes another start this week, but if Cueto comes back he's droppable in all but the deepest of leagues or leagues with Minor League spots.
Like Cole, Michael Wacha picked up the first win of his MLB career Tuesday night against the Mets. The night started out terribly for the rookie. He gave up two runs, two hits, including a home run to Omar Quintanilla, and walked three in the first inning. But after that rough opener, Wacha threw five innings of shutout ball, allowing just three hits and no walks while striking out four. Actually, two of the five hits Wacha allowed were infield hits that would be turned into outs more often than not – Matt Adams couldn't corral a fairly soft two-hopper right at him that hit his glove, and Pete Kozma threw away what should've been an out. Wacha did have trouble hitting his spots throughout his six innings, but his line looks far worse than how he actually pitched. He threw his curveball nine times last night after just throwing it three and four times apiece, respectively, in his first two starts. Wacha's best pitch – his change up – has been unusually ineffective through his first three starts; hitters are hitting .308 in at-bats that end in a change up. But Wacha's struck out seven and walked just two in 26 plate appearances ending in a change, and hitters have a BABIP of .421 on change ups against him. That number is sure to come down closer to where Wacha's opponents' slugging percentage on his change up is – .346. Continue to start him.
Quick Hits