2013 Fantasy Baseball Rookie Report, Week 19: Cingrani, Peralta worth a pickup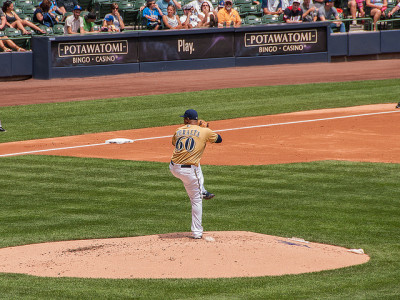 This season it's been hard to keep the Rookie Report fresh, as the same players (Shelby Miller, Julio Teheran, Jose Fernandez) have continued to dominate throughout the season and there has been a definite lack of noticeable rookie hitters outside of Yasiel Puig and Wil Myers. I've covered the pitchers extensively, and done my best to cover Puig and Myers, the only two rookie hitters who are really deserving to be owned in most mixed leagues. I apologize for the briefness of this week's piece, but I feel that there are only a few rookies really worth writing about. If you have anyone you'd want me to write about, please leave a comment here or @ me on Twitter, @44amiller.
And even when I have written about Puig, he's made me look foolish. On July 24 I wrote about how Puig was struggling in July. Well since then he's hitting .383/.508/.660 with three homers, four doubles and 11 walks (!) in just 13 games.
We're obviously dealing with a small sample size in August, but so far the rookie is walking in 25 percent of his plate appearances while cutting eight percentage points off his July strikeout rate. Even though his strikeout rate has worsened in the second half, he's upped his walk rate from 4 to 15. He's still hitting for insanely high BABIPs, but he's been doing that for over two months now while not having the best plate discipline either. But he's having success and came out of a big slump so he must be doing something right. You can only enjoy it.
Tony Cingrani isn't getting near as much publicity as the other rookie pitchers, because he hasn't been starting/in the majors the whole year and hasn't done as well as them. But he's pitched well in more than one stint, and his 82 percent ESPN ownership number and 57 percent Yahoo! number should both be higher. Cincinnati doesn't know when Johnny Cueto will return to the rotation, if even at all, so Cingrani's spot seems safe for the near future. The 24-year-old has just finished a six-start stretch where he struck out 43 in just 39.1 innings compiling a 2.97 ERA. He's held opponents to a .270 slugging percentage in that stretch, too. His WHIP will never be great, at least for now, because he walks too many, but he can definitely help you in wins, ERA and strikeouts down the stretch run.
Another player who's pitching well is Milwaukee's Wily Peralta, whose 4.42 ERA and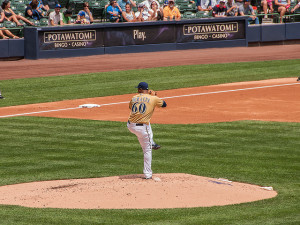 1.44 WHIP don't tell the whole story. Since June 21, this 24-year-old has started nine games and put up a 2.08 ERA. During that time Peralta has struck out 19.7 percent of batters, which is much better than his 12 percent strikeout rate from the beginning of the season to June 20. One reason for this is Peralta's increased use of his slider against lefties, detailed in chart form below (Thanks to the always great Brooks Baseball).
| | | | | |
| --- | --- | --- | --- | --- |
| Slider usage vs. lefties | Overall | First pitch | Pitcher ahead | Two strikes |
| Before June 20 | 26 | 31 | 31 | 39 |
| After June 20 | 30 | 40 |       40 | 45 |
Peralta's getting more swings on his slider (51 percent, up from 47), throwing more strikes with it (38, up from 24), and getting more whiffs (20, up from 15). His ground ball percentage on the slider has gone up from 32 to 47, and his strikeout rate has gone up from 31 percent to 42 percent.
Peralta has only allowed more than three earned runs in just one of his last nine starts, and he's only owned in 5 percent of ESPN leagues and 12 percent of Yahoo! leagues. He's worth a pickup in deeper leagues, as his recent hot streak has a definite reason behind it.