2014 Fantasy Baseball: Rick Porcello, Sleeper Starting Pitcher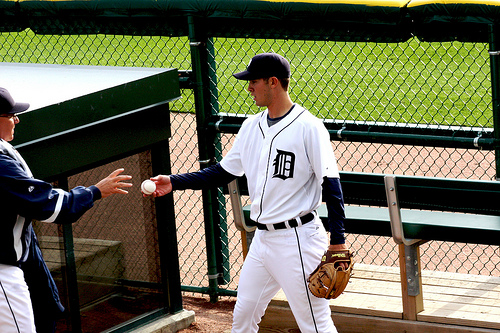 Rick Porcello has been much more valuable to the Detroit Tigers in his five MLB seasons than he's been to your fantasy squad. He's compiled 12.2 WAR in his five years as a Major League starter, including back-to-back three-win seasons in 2012 and '13, without posting an ERA below 3.96. He's pitched at least 162.2 innings in each of his five seasons, falling closer to mediocre than bad.
PREPARE FOR YOUR DRAFT WITH OUR 2014 FANTASY BASEBALL DRAFT GUIDE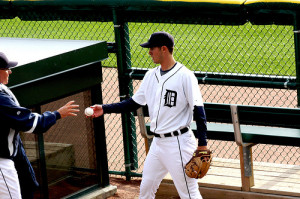 So why should you roster Porcello this season? Because he's shown marked improvement recently, especially last season, and at 25 he has plenty of room to grow. Porcello's improved in a lot of different areas in the past few seasons, and most recently – and notably – his strikeout percentage finally went up to the Major League-average of 19.9 percent. His 2013 strikeout rate was 19.3, but from May 1 to the end of the season his strikeout rate was 20.7 percent. After a rough April Porcello's ERA was an OK 3.77 with 134 strikeouts in 157.2 innings, and his K/BB went up from 3.38 to 3.62.
Porcello's FIP and xFIP have also gotten better each of the past two years. His groundball rate has grown every year since 2010, and so have his contact percentage and swinging strike rate. Those first three stats indicate Porcello has a very good chance at some very good success in the coming years.
But how's he improved recently? By throwing his sinker less and his off-speed pitches more often. From 2009 to 2012 Porcello threw his sinker at least 44 percent of the time in each season, but threw it a career-low 41 percent of the time last year. Below is Porcello's pitch frequency from Brooks Baseball for 2009 through April 2013 and then from May 2013 to October 2013.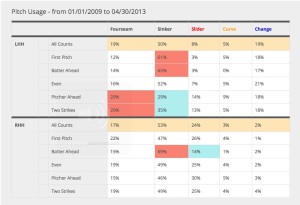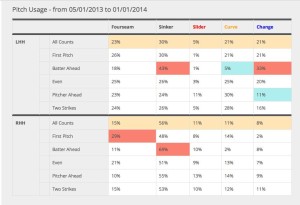 While his sinker is OK against righties, lefties absolutely pound it: For his career lefties have 74 strikeouts and 81 walks on plate appearances ending with his sinker, as well as a .345 average and a .499 slugging percentage – both easily tops for lefties against Porcello. So he cut his sinker rate from 50 percent to 30 percent against lefties and started throwing a relatively new pitch. Prior to 2013, Porcello threw a curveball only three percent of the time. But in 2013 he threw opponents a curve and threw his curveball 16 percent of the time and 21 percent of the time against lefties:

A 35 percent K rate and 19:1 K:BB on his curve against lefties, as well as good average, slugging and ISO. Pretty, pretty good. Not only did Porcello improve against lefties last year, but the higher use of his curveball helped him improve against righties, too.
Porcello threw his slider 24 percent of the time against righties in his first four years and one month, but after April last year Porcello threw it just 11 percent of the time, a 50 percent decrease. He upped his curve and changeup usage against righties, and it paid off immediately.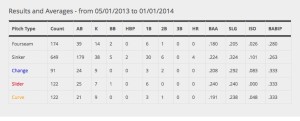 Porcello's slider was his worst pitch against righties, but after he decreased his usage of it he saw an increase in strikeouts and a better ISO, albeit in a small sample. His changeup remained very good, and his curveball was again dominant. Just ask Josh Donaldson.
What we have to remember about Porcello is that he's just 25 and has already pitched five seasons in the Majors. After being drafted in 2007 Porcello only threw 125 innings in High A ball in 2008 before becoming a Major League starter in 2009. He's been learning on the job each season, so you couldn't expect him to be great right away. Chris Archer is three months older than Porcello, but he just spent his first (mostly) full season in Tampa Bay last year, at age 24. Porcello has 500 more big league innings on fellow 2007 draftees Matt Moore and Jarrod Parker. Those guys had plenty of time to work on their pitching in the minors, while Porcello didn't.
It seems like Porcello's ready to really look like that first-round pick. With the ability to throw five pitches and now an out-pitch against lefties, Porcello will provide a ton of value from where he's being drafted now, which is in the late-200s.