2014 Fantasy Baseball: Week 14 Two-Start Pitchers and Streamers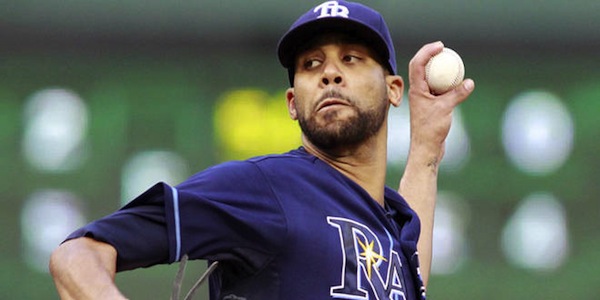 There are several two-start pitchers who qualify for the streaming portion of this article. For sake of brevity I'll only cover them in the top portion of the article, but you should definitely pick up any of the two-starters you want to stream. If you have any questions about these starters, other pitchers or general fantasy baseball questions hit me up on Twitter.
Gerrit Cole returned to the mound Saturday against the Mets. His outing wasn't pretty, but he draws a mediocre Phillies team Friday so feel free to activate him if you haven't already. Also, Taijuan Walker should make his season debut Monday in place of the demoted Erasmo Ramirez. If all goes according to plan he'll start Monday at Houston and Sunday at the White Sox. If you're in a deep league he should be picked up and/or started.
Must-Start
We're light on definite aces this week, but most of these guys above are studs in their own right. Kazmir got roughed up last week, but he's been incredibly consistent for a long time now so you can't give up on him due to one bad start. Kluber gets a tough Dodgers team and a 'meh' Royals squad, but with only one bad start on the year (his first) he's an auto-start against anyone. Zimmermann has a 1.18 ERA in 38 June innings with 36 strikeouts to just five walks. Yeah, in Colorado is the scariest place in the Majors, but the Rockies are without Nolan Arenado, Carlos Gonzalez and Michael Cuddyer. Zimmermann's an auto-start any week, also.
Arrieta isn't owned in even 80 percent of ESPN leagues, and while that may be due to some dead leagues he should be owned everywhere. The 28-year-old has a 1.14 June ERA in 31.2 innings with 38 strikeouts and five walks. He had a perfect game through six innings last week against Cincinatti. Arrieta's upped his slider usage from 15 percent of the time before this season to 25 percent of the time in 2014. He's added over two miles an hour onto it from earlier in his career, too, making it the fastest slider in the Majors. He's also increased his curveball usage, and hasn't allowed an extra base hit on it yet this year. He's got two lower-third teams in wOBA against righties this week, so he's a great start. (I'm fully aware he's going to get rocked this week, by the way).
Wood had a great return to the rotation Wednesday, blanking the Astros in seven innings. Wood has two non-great teams against lefties this week, and as a starter Wood has a 2.60 ERA in eight starts with a near 5:1 K:BB. Alvarez definitely qualifies as a streamer pick this week, owned in only 45 percent of leagues. He's allowed four runs and six walks in his last seven starts. The Phillies and Cardinals rank 28th and 21st, respectively, against righties in wOBA.
Start in 12-teamers
Richards has seen his walks spike in his last three starts, but he's still striking out over a batter an inning. He's got a streak of five straight quality starts, and he hasn't even allowed more than two earned runs in any of them. In June his K-BB% is easily his best of any month this season, and his xFIP of 3.30 is the same as it was in May. The White Sox present a somewhat tough matchup, but Richards is extremely close to must-start status. I think you're starting McHugh against Seattle, but if you want to sit him against the Angels that's fine. He's regressed a bit in June, walking more guys while holding a BABIP at .224. He's still striking out a ton of guys, but you can use some caution here.
Beckett has benefited from a very low strand rate and BABIP, putting his FIP and xFIP in the mid-to-high 3's – a far cry from his 2.11 ERA. But I don't think it's all smoke and mirrors. Beckett is throwing his curveball more often, and a lot fewer fastballs. The result? One-hundred thirteen at-bats ending in a curveball – 32 more at-bats than any other pitch – that include 39 strikeouts and one walk. He's given up only five extra-base hits and a .139 BABIP on the curve. So there's real change here, which means his performance to date is more real than fluke. That being said if you want to bench him at Colorado that's fine, but I'm not.
Kuroda's lowered his ERA each month of the season, to 3.52 in June with a 1.08 WHIP. He only has 18 strikeouts this month and is getting by on some BABIP luck, but his left on base rate is closer to league average than it had been in the previous months and his home run rate (6 percent) combined with his May rate of 14 percent is right near league average. So, yeah, he's getting lucky a bit this month because of a lack of strikeouts, but it's also some regression from his unluckier days earlier this year. My advice on Lincecum is to forget about the no-hitter. You've had time to enjoy it, but we know who he is now: a talented pitcher who can be awesome one day and really bad the next. In his last four starts following a shutout Lincecum has allowed 27 runs in just 19.2 innings. He does have two good matchups this week, but don't expect his no-no to be a turning point.
Deep-league starts
Porcello has a nice 3.41/1.19 combo with just two stinkers in his last 10 starts. He doesn't get enough strikeouts to be worthy of starting in shallow leagues, but in deep leagues you can run him out there and count on him for the most part. Now if you could combine Wheeler's stuff with Porcello's command then we'd be talking. Wheeler is the opposite of Porcello, as in you can't trust him in shallow leagues because he's prone to blowups but he'll at least be a steady source of strikeouts. He's got a great ground ball rate to go with his strikeouts, and his FIP, xFIP and SIERA all suggest his ERA should be around 3.50, instead of its current 4.45. I think better days are ahead.
I'll be honest I know nothing about Hahn, except he has three straight good starts after a rocky MLB debut. He's getting a lot of strikeouts and has two fairly neutral matchups this week, but he already went once against the Giants so it might be difficult for him to duplicate his performance (6 IP, 2 ER, 8 K, 1 BB) against them. Walker should take over for the demoted Ramirez and get two starts this week. I'd start him in a lot of leagues, as the Astros aren't that imposing and the White Sox are the third-whiffiest team against righties.
Cosart is at 3.60/1.30, but after a .1-inning, seven-earned run outing April 18 he's pitched 76.2 innings of 2.70/1.27 with only one home run allowed in his last 10 starts. That WHIP leaves something to be desired, but with the lack of strikeouts he's going to give up some hits. That matchups aren't too great, but I'm willing to roll with him as he's done really well for the majority of the season. Burnett's been just fine lately, but two of his last four starts have been against two of three worst offenses against righties plus a Cardinals squad that is just 21st offensively. If you're desperate he's an OK play against two OK offenses, but his road ERA is .8 runs higher than at home.
AL-/NL-Only starts
Pitchers to avoid
Top streaming options available in at least 50 percent of ESPN leagues
Mike Leake – Tuesday at San Diego – The Padres rank dead last in offense against righties and at home, so this is a perfect match. Leake shut down Toronto, the top offense against righties, and a pretty good San Francisco lineup in his last two starts, and his walk, strikeout and home run rates are career-bests this year.
Jake Odorizzi – Wednesday at New York Yankees – Odorizzi's averaging 6.5 strikeouts a game in his last 10 starts, and the Yankees rank below average in wOBA and Isolated Power against righties.
Carlos Martinez – Thursday at San Francisco – Martinez hasn't made it past the fifth inning in either of his first two starts, but he's just under a strikeout an inning. The Giants have the seventh highest strikeout rate against righties and rank just 22nd in wOBA at home.
Drew Smyly – Friday vs. Tampa Bay – I'm cheating just a bit as Smyly's owned in 52 percent of leagues, but that number should be higher. He's got a 1.44 ERA in June with more than three strikeouts for every walk thanks to more curveballs. The Rays rank below average in Isolated Power and wOBA against lefties.
Jose Quintana – Saturday vs. Seattle – This is written before Quintana's Sunday start against Toronto, but he has consecutive good starts after a couple of bad ones. But overall he's been fairly consistent for most of the season, and Seattle ranks 29th in wOBA against lefties.