2015 Fantasy Baseball: Rookie Report – Heston, Heaney Updates; Washington's Ross Rising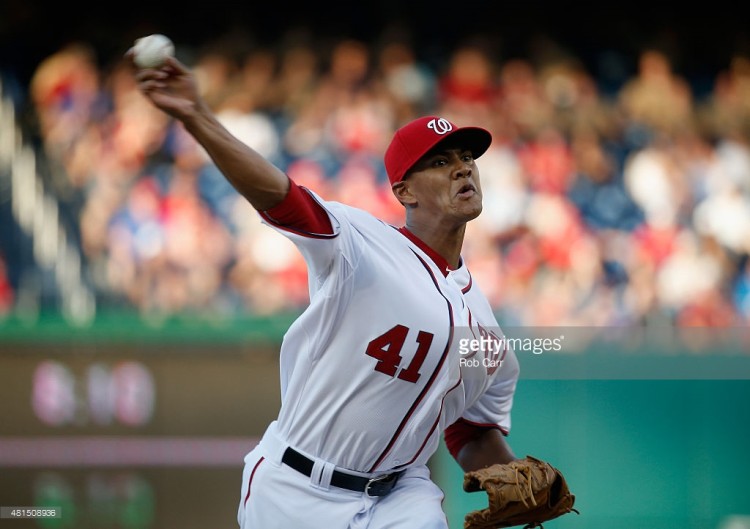 Chris Heston Continues Strong Season
Heston is tied for the rookie lead in starts with 20 and he's behind only Noah Syndergaard in rookie pitcher WAR. Heston's 3.14 ERA ranks 24th among all qualified starts, and his 56.5 percent ground ball rate ranks fifth among all starters. Heston's only had one month with an ERA above 3.56. Heston doesn't blow you away with anything; he only averages 90 mph on his sinker. He does have really good whiff numbers on his three off-speed offerings, but that hasn't translated into strikeouts. He's more focused on turning his pitchers into ground balls, which he's been able to do consistently throughout the season.
There are two caveats to Heston's performance, but neither should come back to haunt him in the future. He's benefited from his home park, where his 2.57 ERA is much lower than his 3.86 road ERA and where he's given up only one of his six home runs allowed. He's also struggled against lefties, who've hit five of the six homers he's given up and have a .321 wOBA compared to righties' .261 (seen at link above). He also strikes out far fewer lefties and walks more than twice as many lefties than righties. But thanks to his home park factor of 62 (!) for left-handed home runs he's been able to maintain a great seasonal stat line. As long as Heston stays a Giant he'll have a great defense behind him as well as a very pitcher-friendly home park to benefit from.
Andrew Heaney Goes 4-for-4 in July
Heaney continued his solid first season in Anaheim by winning each start he made in July. In his 40.1 innings this year Heaney has a 1.79 ERA. Because he's not Zack Greinke that figure should surely rise soon; his FIP and xFIP are 3.03 and 3.57, respectively. He's benefited from a high left on base rate (88 percent) and a .239 batting average on balls in play. Granted, the Angels have the second-best team BABIP allowed at .280 so Heaney may be able to continue to maintain a low BABIP. While Heaney's strikeout rate isn't where you'd want it to be he's only walked five batters this year and allowed only three home runs.
When we last looked at Heaney's performance I noted his sinker velocity was up from his miserable 2014 and he was getting more swings-and-misses on it, too. While his sinker velocity actually has come down in each of his last four starts, each start's velocity continues to be higher than his average velocity last year on his sinker. And while he's had two duds in the whiff department in his last four starts he's also posted two whiff-per-swing rates of equal or better than his best start last year. I don't know if Heaney will ever be near a top-of-the-rotation guy, but he's been able to make a couple changes that should help him be fantasy-relevant now and in the future.
Joe Ross Succeeding in Fill-in Duty
It's likely that Ross has made his last start for Washington, as Stephen Strasburg is scheduled to make one more rehab start before re-joining the big-league club. But if Ross spends any more time in the Nats' rotation he's someone to keep an eye on. He's made six starts this year, and in 39 innings he's struck out 40, walked four and allowed three home runs. He's turned in a quality start five times, and in four starts he struck out at least six.
Ross relies mostly on a four-seam/slider combination, and it's quite lethal. Despite only recording four strikeouts in 46 at-bats ending in a four-seamer Ross hasn't allowed an extra-base hit on the pitch. Seen at that same link Ross has allowed only a .096 average on his slider while striking out 28 batters in 52 at-bats ending in a slider. The whiff per swing rate on his pitch is also a monstrous 50 percent. Ross is only 22 and was a first-round pick in 2011. He's got the performance, and he's got the pedigree. Even if he doesn't pitch in the Majors again this year he's a name to remember for next year's drafts.