2015 MLB Trade Deadline: St. Louis Cardinals Acquire Steve Cishek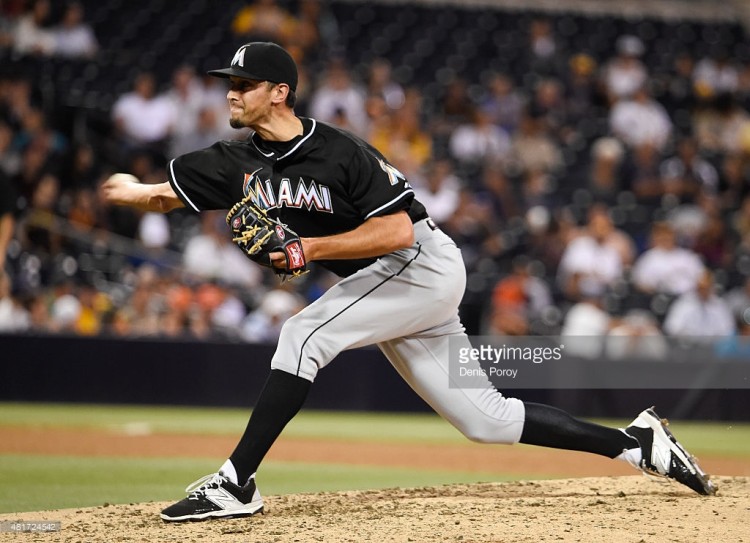 The St. Louis Cardinals have struck again, acquiring an undervalued relief pitcher in July in hopes of improving their bullpen for October. Clark Spencer of the Miami Herald first reported Friday afternoon that St. Louis is trading for the 29-year-old righty Steve Cishek. In exchange, the Cardinals will be sending right-handed pitcher Kyle Barraclough from Double-A, also first reported by Spencer.
Cishek currently has the worst strikeout rate and K%-BB% of his career to go with the second-worst walk rate of his career. He also has the worst opponents' average (.285) and WHIP (1.59) of his career. Cishek was demoted to the minor leagues on June 1 after putting up a 6.98 ERA in his first 13 games. He was only 3-for-7 in save opportunities at the time. Cishek came back to the Majors on June 13 and pitched again on June 14. Since then he's pitched 12.2 innings of 0.71 ERA ball and only one extra-base hit (no homers) allowed. He's struck out 11 and walked four.
Since coming back Cishek's been more fortunate. Here are his stats pre-demotion, and here are his stats post-demotion. He's improved his strikeout and walk rates by three percentage points apiece, and he's seen his BABIP fall from .375 to .306, which is right in line with his career .304 BABIP. His strand rate early in the season was 63 percent, but that's been 73 percent – his career rate – since he came back to the Majors.
HOW THIS IMPACTS THE CARDINALS
I'm willing to bet that Cishek's early-season struggles were just a small blip. His strikeout rate is still below normal, but his walk rate is better than his career walk rate. Last year Cishek struck out 30 percent of batters – a career-high – but posted his lowest ground ball rate (42 percent). This year his ground ball rate is back up to 48 percent, close to his 50 percent career rate. Despite having strikeout pitchers the Cardinals preach a pitch-to-contact philosophy. The Cardinals have the sixth-best defense according to Fangraphs, and while the Marlins are eighth the difference really stands out when Cardinals pitchers have runners on base. With runners on St. Louis has allowed a .264 BABIP and 50 percent strand rate – both far and away the best marks in the league, according to Fangraphs.
Cishek should flourish in St. Louis especially after relying on his sinker more often after his stint in the minors. Cishek figures to be the top right-handed arm out of the 'pen leading the way for Trevor Rosenthal. That should lead to plenty of holds for the former closer. In small leagues he's not worth rostering, but in NL-only leagues or deep mixed leagues he can be a useful relief option.
HOW THIS IMPACTS THE MARLINS
Barraclough is a 25-year-old right-handed pitcher who's in his fourth year in the minors and hasn't pitched above Double-A. He's a middle reliever/closer with good ERAs the last two years (2.47, 2.27) but mediocre WHIPs (1.42, 1.43). He has a 2.04 K:BB rate in the last two years with just under 12 K/9, but he does struggle with walks (5.2 per 9 last year, 6.6 this year). I don't see Barraclough making any noise this season in the Majors or anytime soon.
The loss of Cishek keeps A.J. Ramos and Carter Capps firmly entrenched as the top dogs in the Miami bullpen. Cishek's closer experience could've put him back in the spot if Ramos struggled, but these two should continue to tie up opponents in the eighth and ninth innings. Ramos's 2.01 FIP and 11.6 K/9 say he's legit, and what else can you say about Capps? He's got a 1.09 FIP and he's striking out 50 percent of batters while walking only 5.8 percent of them. Capps is unowned in a lot of leagues across various platforms, but he can help you in ERA, WHIP and especially strikeouts.