2016 Fantasy Baseball: Young Outfielders Producing in Big Ways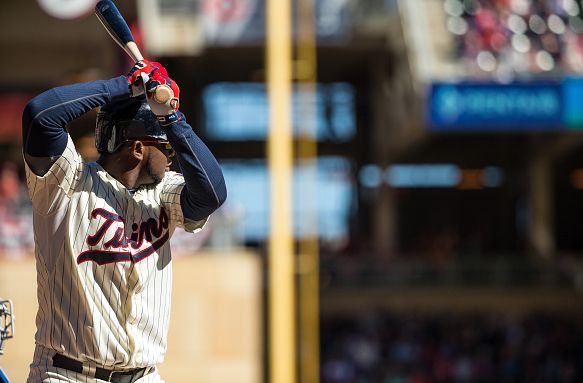 There are plenty of quality young hitters in today's game, and many of them are outfielders. I want to highlight a few players who are having strong seasons so far and write why I think they'll make good long-term investments either in keeper leagues or to be selected early in drafts in the coming years.
Marcell Ozuna sits at third among the outfield WAR leaderboard at 2.4 WAR behind Mike Trout and Dexter Fowler. Ozuna's in the midst of a 36-game on-base streak while hitting .344/.392/.598 on the season. He has 10 doubles, four triples and 10 home runs, which have helped him accrue a career-high .243 isolated power already. Ozuna has been very good at hitting for extra bases in his short career, and in 2016 he's seemingly put a lot of things together to perform the way he has. He's improved his eye at the plate leading to a career-best strikeout rate and walk rate. His strikeouts haven't been above league-average at all this year, and his walks have mostly been above league-average.
If you play around with those graphs on Fangraphs you'll see that about 2/3 of the way through 2015 Ozuna really bottomed out. I wrote in the offseason how he came back strong with a .789 OPS after a brief demotion to the minors. Since coming back to Miami Ozuna is hitting .311/.356/.530 with 16 home runs in only 376 plate appearances. You'll see in those graphs that he's been on a steady climb from the pit that was summer 2015. I don't think he can go much higher, but the guy is really skilled and, yeah, he's not going to continue getting on-base every game, but he can continue to contribute at a high level.
Tied with Ozuna in WAR is Gregory Polanco, who has also experienced his fair share of ups and downs and unwarranted criticism in his two-plus years in Pittsburgh. I'd say those critics have shut up this year, as Polanco has career-bests in walk and strikeout rates, isolated power, hard-hit rate, BABIP, average and just about everything else. His 18 doubles lead all outfielders by three and rank him tied for third among all hitters. Only Bryce Harper, Jose Bautista, Joc Pederson, Giancarlo Stanton, Trout, Michael Saunders and Yoenis Cespedes have a double-digit walk rate and an isolated power mark above Polanco's .239. That's pretty good company.
How's Polanco doing it? In this world of NOW NOW NOW NOW, it doesn't always work that way on the baseball field. Polanco has been just below league-average offensively in his first two years, but this year he's boomed to a 152 wRC+. It's taken him a while to get used to Major-league pitching, but since about the middle of 2015 he's started to take off. In his rookie year Polanco hit way too many ground balls; almost half of the time he made contact the ball was on the ground. Since then he's decreased his ground ball rate and increased his line-drive rate, which can only mean good things. His 27.8 percent line-drive rate is fourth among qualified outfielders. Polanco is pulling the ball 45 percent of the time, a career-high, and while he's always hit well pulling the ball this year he's gone to another level. He has a 1.062 OPS and .354 Iso when he pulls the ball. Polanco was highly touted for a reason, and the breakout is just starting.
Stephen Piscotty's 145 wRC+ ranks him tied for 12th among outfielders with Bryce Harper(!). So far Piscotty hasn't suffered a sophomore slump as he's improved his average, OBP, slugging, walk and strikeout rates from his stellar debut season. His Iso has dropped from .189 to .177, but that could be equal as soon as Tuesday.
Evaluators didn't know how much power Piscotty would have, but so far he's shown a good amount. I think 20 home runs would be about his max this season or anytime in the near future. He hits a few too many balls on the ground to be a true power threat this early, as his batted ball splits are 21-45-33 for line drives, grounders and fly balls. I was looking at similar batted-ball mixes and the one closest to him was Nick Markakis. Now you might think "Ugh," but Markakis had two 20-homer seasons and four 40-double seasons earlier in his career. He was a guy who wasn't sexy to own, but he got the job done and you didn't have to worry about him hurting your team. Piscotty doesn't have the upside of the two mentioned above, but he'll be a steady producer for years to come.
After his home run on Sunday, his 11th on the season, Miguel Sano's .230 Iso ranks 22nd among outfielders right behind Matt Kemp, Ryan Braun and Kris Bryant. I've heard some people upset with Sano, and that's ridiculous. You knew what you were getting when you drafted him. His 120 wRC+ indicates he's hitting above league-average, and his 13.7 percent walk rate puts him in the top 10 among outfielders. Yes, he strikes out a ton, and water is wet. You knew he was going to, but he's on pace for over 30 bombs as a just-turned 23-year-old in his first full season. The good years are just starting, too.