2016 Fantasy Baseball: Rookie Outfielders Breaking Out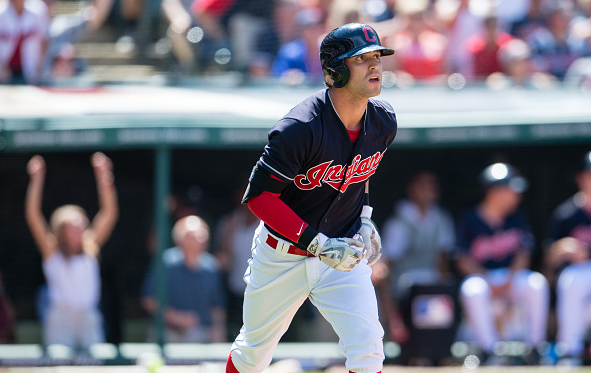 There are several rookie outfielders making fantasy waves throughout the summer of '16. They're contributing in power, average and on the bases, and I think several of them have the potential to be contributors in the future.
Tyler Naquin leads all rookie outfielders in WAR at 2.7 and in wRC+ at 169. He's hitting .324/.391/.614. If he had enough at bats, his 1.005 OPS would rank third among all hitters behind only David Ortiz and Daniel Murphy. Naquin has hit for a lot more power than expected as his .290 isolated power mark is well above his .123 minor league mark, and his 13 home runs in just 74 games already best his previous minor-league high of nine homers in 108 games in High-A ball in 2013.
With Naquin's power comes strikeouts (29 percent), but he's also walking a good amount of time (9 percent). Those numbers are what you'd expect after looking at his minor-league plate discipline numbers. He's got a .430 average on balls in play, and despite posting a high .360 minor-league BABIP, you've got to expect that to come down, which will bring his average down closer to .300. Naquin also has below-average rates in zone contact, out of zone contact, and swinging strike rates. He is hitting the ball hard (40 percent hard-hit rate), but his 31 percent home run to fly ball rate would lead all hitters by a wide margin if he had enough at bats. In the coming years I'd expect Naquin to be a reasonable third or fourth outfielder with decent averages and a chance to get you close to 15 homers and steals in a season.
Travis Jankowski ranks second in rookie outfielder WAR at 2.1 thanks to 24 steals, which ranks seventh among all hitters. Jankowski stole 71 bases in 2013 at High-A, and in 2015 he had 34 among three levels. Jankowski only had three home runs in 1,271 minor-league plate appearances. So he's strictly a speed source. His .081 Iso would rank fourth from the bottom if he was qualified already this season. Jankowski knows what his game is: hit the ball on a line or on the ground and run. His 16 percent fly ball rate would be tied for the lowest fly ball rate among all hitters, but he's hitting 25 percent of balls in play on a line. He loves going the opposite way and up the middle, so he knows how to control the bat. His 14 percent walk rate speaks to that as well and backs up his good minor-league plate discipline numbers, too.
Jankowski has batted leadoff during most of his starts, accruing a .400 OBP from the top spot. Before digging into the numbers I thought he'd been racking up an inflated OBP from batting in front of the pitcher, but in 34 of 39 starts he's batted leadoff and he has 19 steals from that spot. With Jankowski's proven speed and leadoff ability combined with San Diego's ever-rebuilding mode he should continue to be a stolen-base asset in the future.
Leading all rookie outfielders in home runs is Max Kepler with 15. Kepler never hit more than 10 in any minor league season, but he put up .242 Iso in 2012 and a .199 Iso in 2014. I don't think the power he's shown lately is that repeatable, but in his first taste of Double-A last year he put up a .923 OPS so he's shown some ability to put up numbers with or without power. I think he's the real deal as a complete player but not one that's going to give you elite numbers in any one category.
David Dahl has three home runs in his first 12 big-league games, and two of them have been 400-footers. He's always struck out a lot in the minors while barely walking, and that's continued so far in the Majors. But playing at Coors I'm willing to give him an extended leash. He had two double-digit homer/steal seasons in the minors including 18 homers and 17 steals in the minors this season. As long as the Rockies keep this core of hitters intact Dahl should have plenty of opportunities at homers, runs and RBI in the future.