30 Prospects in 30 Days: Jameson Taillon – SP – Pittsburgh Pirates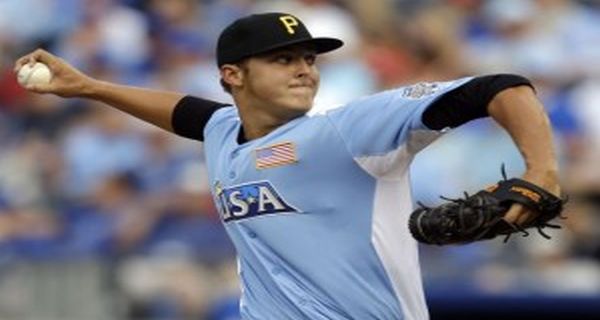 Jameson Taillon is a 6-foot-6, 225-pound right-handed beast of a pitching prospect. Drafted second overall out of high school in 2010, Taillon, 21, isn't as polished as fellow Pittsburgh pitching prospect Gerrit Cole, but he still offers tremendous upside as a future major-league starter.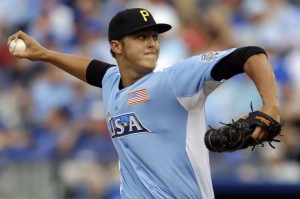 Taillon has pitched well at all three stops in his minor-league career. He debuted at Single A West Virginia in 2011 and pitched well as a 19-year-old, striking out more than a batter an inning. In 2012 he pitched mostly at High A Bradenton, tossing 125 innings of 3.82 ERA ball. His hit, home run, walk and strikeout rates worsened, but that can be expected jumping up a level. However, he impressed in a three-start stretch at the end of the '12 season in his first taste of AA ball in Altoona. In his first two starts, of five and six innings, respectively, he didn't allow a run, only gave up five hits total and struck out 13 with zero walks. In his third start, he gave up three runs in six innings but still struck out five and walked only one.
Taillon lands near the top of all the major prospect lists, and he's been there for a while, too. He's ranked in Baseball America's top 20 each of the last three years, and he's been deemed a top 15 prospect by MLB.com the last two years. Baseball Prospectus ranked him 13th last year and 11th this year, while Keith Law again ranked Taillon in the top 20 this year. Scouts and analysts rave about Taillon's curveball, saying it's arguably his best pitch. That's saying something considering Taillon can throw a ball 96-97 mph comfortably. Multiple reports say Taillon still needs to work on his changeup and slider, but Law says Taillon's changeup is "a legitimate third offering right now."
As an amateur observer, it's my opinion that Taillon has a bright future. At such a big size, Taillon has the build to be a top-of-the-line starter. He's not just a flame-thrower, as evidenced by the reports on his off-speed and breaking pitches. His 8.2 K/9 rate through two minor-league seasons isn't otherworldly, but he also doesn't walk that many batters (2.3 BB/9).
The signs seem encouraging for the big righty after his second season in professional ball. He'll still need to work on developing his secondary offerings this year to the point where they're easily repeatable plus-pitches, all the while pitching against better and more experienced hitters. He could start the season at either Double A or Triple A, with a stop at Triple A all but assured this year either way. Taillon could see time in the big leagues this year, but it's not likely. Cole would be the better bet to pitch in Pittsburgh this year, with Taillon there in 2014. In leagues that keep minor leaguers or dynasty leagues, Taillon should be rostered. But in yearly leagues there's no reason rostering him to start the year, and even if he gets called up, you should wait to see how he does before picking him up.