30 Prospects in 30 Days: Jorge Soler – OF – Chicago Cubs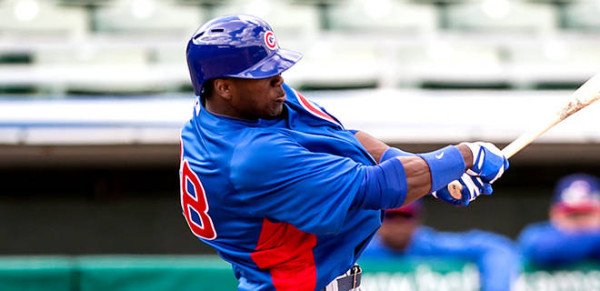 If you were, hypothetically speaking, a baseball, one of the last things you'd want to see is Jorge Soler in the batter's box. Just take a look (and listen) at this and this. The first video is from Soler's first at-bat this spring, while the second video is from last season, his first as a professional.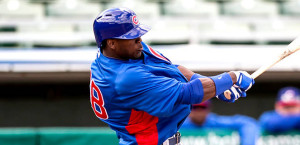 Soler, 21, defected from Cuba in 2011 and signed a nine-year deal with the Cubs last summer, making his professional debut in the Arizona Rookie League. Soler performed well there and then was promoted to A ball, where he also played well. The overall sample size as well as his performances in both stops are too small to dissect and take away any significant meaning from them, but we can be pleased with Soler's plate discipline (12 walks, 19 strikeouts in 34 games) and his success on the basepaths (12-for-13 stealing bases). At 6'4″, 215 pounds, Soler doesn't look like someone who'd be that good at those two skills, but the rookie performance says otherwise.
ESPN's Keith Law and Jonathan Mayo of MLB.com each ranked Soler the 42nd best prospect in baseball this season, and both raved about his approach at the plate. Law said Soler has "explosive hands" that have no trouble squaring up good velocity, and Mayo said Soler has plus bat speed and significant raw power. Baseball Prospectus ranked Soler 36th among prospects, while Baseball America ranked him 34th.
The real test for Soler comes this year, when he'll be playing against better competition and players his age and older. Soler was recently assigned to minor league camp after playing with the Cubs for most of Spring Training, hitting .222 with one homer in 17 games. He told Carrie Muskat of MLB.com that facing major league-caliber pitching was something he had never seen before:
"It used to be when I played, 3-0 fastball, 2-0 fastball, and now it's different. Now 3-0 changeup for a strike, 2-0 slider for a strike. The pitchers have more command of every single pitch."
So while the Cubs' new front office, which is highly regarded, believes in Soler's potential, he still has to showcase it against better competition and for longer periods of time. If he's still ranked in the top 50 on prospect lists in a year, he should be well on his way to the major leagues sometime fairly soon. If he struggles, it's not a death knell but it's not something Chicago would like to see. At 21, Soler is much younger than fellow Cuban defector Yoenis Cespedes, who also signed a major-league contract last year and played very well for Oakland as a 26-year-old rookie.
It appears Soler will start the 2013 season at Single A, with a quick promotion to Double A all but booked. His first taste of the majors won't come before late 2014, and even if he would struggle then he'd still only be 22. He's a long way away from being a big contributor to your fantasy team, but once he gets there – whether it's next year or 2016 – he should be a top hitter in a stacked Cubs' lineup.