45 Prospects in 45 Days: Chicago's Kris Bryant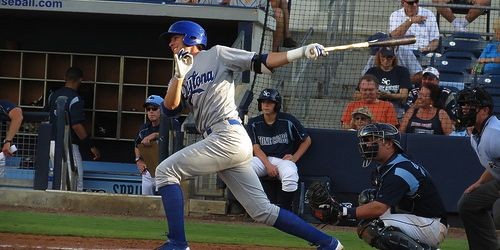 Profile
The Chicago Cubs picked up arguably the best hitter in the 2013 MLB Draft when they selected University of San Diego product Kris Bryant second overall. The 6'5″, 215-pound righty plays a solid third base but is seen by many to be headed to the outfield, with his powerful arm and strong athleticism. Bryant's power is his calling card; he lead the NCAA in home runs last year with 31, 10 ahead of second place. Bryant was honored with the 2013 Golden Spikes award, given to college baseball's top player.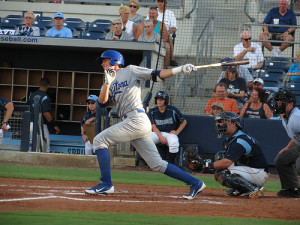 Pundits
Bryant places in the top 20 in each of ESPN's, Baseball Prospectus's and MLB.com's prospect rankings. He is the Cubs' consensus No. 2 prospect at all three sites, ranked behind Javier Baez. Jonathan Mayo and Jim Callis are the highest on Bryant, ranking him ninth at MLB.com. They write:
Bryant has well-above-average power and drives the ball to all fields. There is some swing-and-miss in his game, but he has worked to eliminate some of the holes in his swing and projects to be able to hit for a good average.
Keith Law ranks Bryant 15th at ESPN, and while Law and others worry a bit about Bryant's contact rate and a little bit of swing-and-miss to his approach Law believes Bryant will still be an impact bat:
He's a good athlete for his size and has a chance to remain at third base; if he has to move to the outfield, he'll be above average to plus in right, with plenty of arm for any position on the field.

At worst, he'll be an impact power bat with good defense in right and adequate OBPs; his ceiling is a 30- to 35-homer bat with .350-plus OBPs and solid-average defense at third, the kind of bat you stick in the cleanup spot so you can build your lineup around him.
BP's Jason Parks ranks Bryant 17th overall and says he was the best hitting prospect in last year's draft who "wasted little time proving his offensive profile was well above average." More from Parks:
Excellent size and present strength; good athlete; elite raw power; game power could play plus-plus or better; highly leveraged swing built for over-the-fence production … The power is enormous and is going to play at the highest level, although he might end up hitting for a lower average and swinging and missing more than some are projecting. While the 22-year-old can play passable defense at the hot corner, his athleticism and arm are a better fit for right field, a position most sources seem to agree is Bryant's long term home. Regardless of where he plays, the bat could make him an all-star, a true 35-plus home run force in the middle of a lineup.
Production
We have a fairly limited sample from Bryant in pro ball – only 36 games and 146 plate appearances in the minors with a 77-at-bat Arizona Fall League debut. However, in his first taste of the minors Bryant dominated: .336/.390/.688 with nine home runs, 14 doubles and two triples. He did strike out in 24 percent of plate appearances, but we can live with that if he's mashing. In the AFL Bryant continued to hit – .364/.457/.727 with six homers, eight doubles and a triple. Bryant's strikeout rate stayed the same, but he doubled his walk rate. I don't know if that was due to pitcher's pitching around him or not, but it's good to see that even against some of the better pitchers the minors have to offer he still put up good or even better numbers. Bryant either lead or tied for the lead in the AFL in home runs, doubles and OPS.
Projections
It seems that since Bryant is such a fresh face to pro ball most of the projection systems haven't received enough information to publish any reliable projections. Only the Oliver system has been published at Fangraphs for Bryant, and it's promising:
| | | | | | | |
| --- | --- | --- | --- | --- | --- | --- |
| PA | HR | BB% | K% | AVG | OBP | SLG |
| 600 | 29 | 7.8 | 32.5 | .253 | .318 | .487 |
Now, Bryant won't get anywhere near 600 plate appearances in the Majors this year, but this projection shows that Bryant could be able to come into Chicago soon and produce immediately. While he does have a hole or two in his swing, what power hitter doesn't? Bryant can mash, and that's what we pay for in fantasy baseball.
Prediction
Bryant has some of the best raw power in the minors, and he's arguably one of the most Majors-ready hitters down there, too. It's hard to see him up before the All-Star break this season, as he should start the season in Double A and continue his seasoning there. The Cubs are planning on starting Luis Valbuena/Mike Olt and Nate Schierholtz at third base and right field, respectively, so it's not like Bryant's blocked by two all stars now. Schierholtz could be a trade candidate late in the season, so an August call-up for Bryant seems reasonable if he's hitting well the first half of the season. But a larger role should come his way in 2015, and in dynasty leagues or leagues where you can roster minor leaguers with no cost he should be owned everywhere.