A Better Way To Track Your Fantasy Baseball Teams on Mobile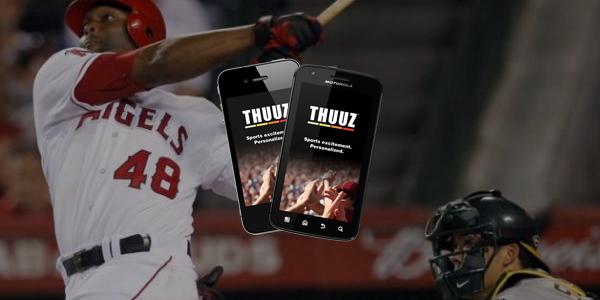 Maybe you're studying for a test or you're staying late at the office pouring over a bunch of boring documents. You need to take a break to check up on how your fantasy team or favorite hockey team is playing, but where do you turn to check? Try Thuuz, an every day personal guide for your teams' best games as they're happening.
Thuuz is a cutting edge, smart electronic programming guide for sports fans. Thuuz tracks your favorite sports teams and fantasy teams to give you a number rating from 0-to-100 depending on the game's or player's situation. In fact, just by uploading your fantasy baseball team to Thuuz, you automatically get entered into their $5,000 Sweeten the Pot Sweepstakes!
None of us want to sit through the bottom of the order while our big bopper is waiting in the dugout. So feel free to eat dinner or talk with your kids, and when he's up Thuuz will notify you so you can tune in. The next time Carmelo Anthony hits a last-second shot to send the game into overtime your Thuuz app, available for download for your iPhone, Android device or Google TV at Thuuz.com, will alert you and let you know something big is happening.
Then, Thuuz's world-class television integration will let you know where you can watch the play, whether it's on the TV, Internet or your mobile device. It's like the RedZone Channel but not just for the NFL. MLB, NHL, NBA, NCAA hoops and football, MLS, and tennis, as well as European soccer, cricket and rugby are all covered by Thuuz. Don't have time to watch live? Then just check out Thuuz's daily video highlights.
Thuuz is directly geared toward the individual sports fan. Just let the app know what your favorite teams are and you'll get a daily personal guide telling you whether your teams' games will be worth watching. Plug in your fantasy teams' rosters and you'll get notified when your batter is up with runners in scoring position.
You can also interact with your friends and other fans while talking trash and discussing all things sports. The Fix's Alan Harrison will be using Thuuz to monitor, watch and talk about sports and fantasy sports in particular. You can ask him who to bench, start or pick up on your fantasy baseball squad.
For more information check out Thuuz's FAQ page and then download the app to your favorite device and get started watching only the most exciting moments you need to see while you don't waste your time watching a pitcher trying to get down a bunt.