Fantasy Baseball Daily Fix: April 26, 2013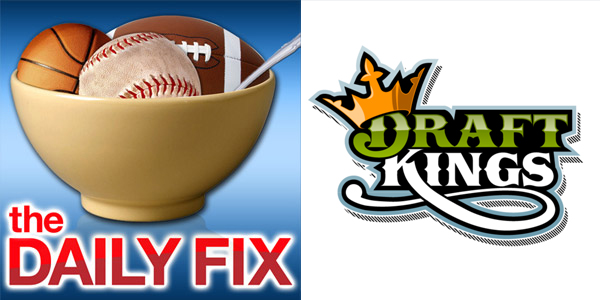 DraftKings Team of the Day
Today I'm playing the $3 Double Up contest. You only have to beat out half of the 50 contestants to win some money, so it's a good way to start out playing daily fantasy baseball. When you sign up at DraftKings don't forget to claim your deposit bonus!
Pitchers: Ervin Santana vs. Cleveland – Santana's been pitching well against good offenses lately, and he's the third highest scoring pitcher going today but his salary is just middle of the road.
Lance Lynn vs. Pittsburgh – The Pirates strike out a lot against righties, and they're below average in wOBA against righties. They also rank last in wOBA on the road.
Catcher: Devin Mesoraco – Mesoraco has reached base safely in every game he's played this season.
First base: Ike Davis – See below
Second base: Daniel Murphy – Both Mets hit righties, like today's opposing starter Kyle Kendrick, much better than they do lefties. Davis got off to another slow start, but he hit a homer yesterday so hopefully he's beginning a hot streak.
Third base: David Wright – Wright is crushing righties so far (1.062 OPS), is the leading third baseman in fantasy points per game and was a ridiculously good value.
Shortstop: Troy Tulowitzki – Tulo's crushing righties, too, and was only $4,800
Outfield: Michael Cuddyer, Dexter Fowler, Robbie Grossman – Cuddy and Fowler have been hitting the ball well lately, and Brandon McCarthy has been less than stellar this year. They're both in the top 10 in fantasy points per game on the season. I picked Grossman just because his salary of $2,600 was so low. He doesn't have to do too much to have some value.
Thursday Recap
Yes, there was some baseball being played Thursday night, so let's go around the diamond with some news and notes.
Gio Gonzalez pitched the game of the day Thursday as he shut down Cincinnati over eight one-hit innings. He struck out seven and walked two. The only hit he gave up was a solo home run to Joey Votto. This was Gio's first impressive start of the season.
Clay Buchholz continued his hot start by striking out 10 Astros in 7.2 innings. But it was the Astros after all. I'd definitely be trying to sell high on Buchholz. Kevin Slowey, owned in only 3.7 percent of ESPN leagues, had his fifth straight good start Thursday. In his five starts he's allowed one, two, one, one and three runs, respectively, while striking out 21 and walking only six. Three of those starts have come against Cincinnati, Atlanta and Washington, so he's done well against good competition. He'll make for a decent streaming option, especially in Miami, in the near future.
Hyun-Jin Ryu rebounded from his first poor start of the season to strike out eight Mets in seven innings. He only gave up three hits and walked three, but his control hasn't been a problem this year so there's no need to worry about those free passes. Ryu should be owned in all leagues.
Alex Gordon hit a game-winning grand slam in Chicago. He now has four extra-base hits, six RBIs, six runs and six hits in his last three games. Matt Kemp went 2-for-3 with an RBI and a walk. He's now 11 for his last 24. Brandon Maurer – Brandon Maurer! – shutout the Angels over 6.2 innings, striking out six and walking only one. In that same game Kyle Seager went 3-for-4 with a home run and three RBI. The 25-year-old has a 14-game hitting streak that includes six doubles and three home runs. He's walked six times and struck out just nine times while hitting .411 during the streak. He should have a breakout year.