Fantasy Baseball Daily Fix: May 31, 2013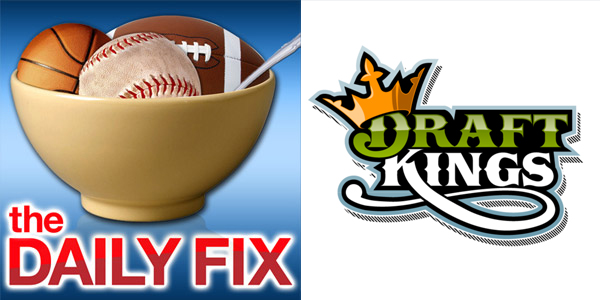 DraftKings Team of the Day
Today I'm playing the $1 Double Up contest, which is just one of three daily double up games you can play in an easy way to make some money. Don't forget to claim your deposit bonus here.
Pitcher: Johnny Cueto ($9,100) vs. Pittsburgh – There are a lot of really good starters going today, but Cueto and Iwakuma are two of the best values. Cueto's averaging 18 points a game this season, which is much better than CC Sabathia and Cole Hamels, both of whom cost much more than Cueto. Pittsburgh's been playing well lately, but they still don't hit righties too well. Cueto is 12-4 with a 2.52 ERA, 1.06 WHIP and 115 strikeouts in 125 career innings against Pittsburgh. Alternative: Stephen Strasburg vs. Atlanta
Pitcher: Hisashi Iwakuma ($9,100) vs. Minnesota – Sashi's 22.4 points per game rank fourth best among today's starters, but his price tag is only the ninth highest. He's scored at least 15 points in every start but one, and he's been above 19 in six of his last seven. Alternative: Jon Lester vs. New York Yankees
Catcher: Yadier Molina ($3,900) vs. San Francisco – Yadi loves to get hits and get on base and get RBI, but his price is something you'd see by Bengie Molina's name. Matt Cain's starting against the Cards, and he's been very homer-prone and erratic this year, so it's a better match up than it appears. Alternative: Buster Posey vs. St. Louis
First base: Joey Votto ($4,400) at Pittsburgh – Votto's May OBP is over .500 as of this writing, and he's been hitting home runs, too. He's the second highest scoring first baseman, but 11 guys are priced higher than he is. Weird. Alternative: Edwin Encarnacion at San Diego
Second base: Matt Carpenter ($3,800) vs. San Francisco – Carp's turned into a perfect lead-off guy for the Cardinals, as he's walking as much as he's striking out. His 17 doubles are good for fourth in the majors. Alternative: DJ LeMahieu vs. Los Angeles Dodgers
Third base: Josh Donaldson ($3,900) vs. Chicago White Sox – Donaldson is priced below Alex Rodriguez…who hasn't played this season. But Donaldson's scoring the third most points among third basemen. He's not reliant on hits for his value as he walks a ton, but his 18 doubles are a nice thing, too. Alternative: Jed Lowrie vs. Chicago White Sox
Shortstop: Jean Segura ($3,700) at Philadelphia – Segura's 10.1 points are the most per game among healthy shortstops, but he costs less than Rafael Furcal, who hasn't played this season. He hits lefties and righties almost equally well, and his May was just as good as his April. Alternative: Everth Cabrera vs. Toronto
Outfield: Nate McLouth ($3,800) vs. Detroit – Max Scherzer is starting against Baltimore, but McLouth gets on base at a .392 clip against righties and has 13 of his 17 steals against them, too.
Matt Joyce ($3,600) at Cleveland – Joyce tore it up in May, posting a .412 OBP. The Indians are throwing righty Corey Kluber, and Joyce has all eight of his homers against righties as well as a .939 OPS.
Shin-Soo Choo ($4,700) at Pittsburgh – I pretty much always put Choo in my lineup, because he gets on base a ton and scores a ton of runs at a good price. Alternatives: Jose Bautista at San Diego, Mark Trumbo vs. Houston, Nick Swisher vs. Tampa Bay
Thursday Notes
Michael Wacha's Major League debut was spoiled by Mike Matheny as much as it was by Mitchell Boggs. Wacha threw seven innings of two-hit, one-run ball with six strikeouts and no walks. He was in line for the win until Boggs gave up a game-tying homer to Jeff Francoeur of all people. Wacha induced a lot of weak contact and ground balls, and got 13 whiffs on just 93 pitches.
Recent Seattle call-up Nick Franklin hit the first two homers of his Major League career Thursday in San Diego. You can see them here.
Dillon Gee struck out 12 Yankees in 7.1 innings while walking none. … Freddy Garcia pitched eight innings of three-hit ball against Washington. He struck out six and walked none. His ERA is now 3.57. … Doug Fister struck out 12 in seven innings against the Pirates. … Pittsburgh's Jeff Locke pitched his third straight scoreless start by shutting down the mighty Detroit lineup. He's only allowed seven earned runs in his last eight starts. Locke's ownership numbers: 63 percent on ESPN, 51 percent on Yahoo!