Two-start pitchers and SP streamers: Week 14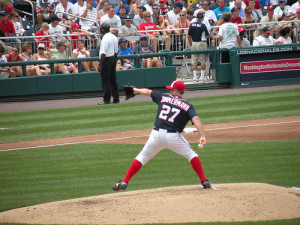 Jordan Zimmermann – vs. MIL, vs. SD
Stephen Strasburg – vs. MIL, vs. SD – Eight earned runs allowed in last eight starts.
Clayton Kershaw – at COL, at SF
Patrick Corbin – at NYM, vs. COL
Jose Fernandez – vs. SD, at STL
Kris Medlen – vs. MIA, at PHI
Homer Bailey – vs. SF, vs. SEA
Lance Lynn – at LAA, vs. MIA
Yovani Gallardo – at WSH, vs. NYM – 1.08 ERA in last four starts, and now he gets two of bottom five teams in wOBA vs. righties.
Cole Hamels – at PIT, vs. ATL
Doug Fister – at TOR, at CLE
Jered Weaver – vs. STL, vs. BOS
Jeff Locke – vs. PHI, at CHC
Matt Moore – at HOU, vs. CWS – Astros have the worst strikeout rate against lefties.
John Lackey – vs. SD, at LAA
A.J. Griffin – vs. CHC, at KC
R.A. Dickey – vs. DET, vs. MIN
Andy Pettitte – at MIN, vs. BAL
Wade Miley – at NYM, vs. COL – Quality starts in four of last five.
Scott Feldman – at OAK, vs. PIT
Bronson Arroyo – vs. SF, vs. SEA
AL-/NL-only league plays
John Danks – vs. BAL, at TB – Just needs to get the home run problem solved, then he'll be trustworthy in mixed leagues.
Sam Deduno – vs. NYY, at TOR
Justin Grimm – vs. SEA, vs. HOU – Home ERA (4.26) over two runs better than road ERA.
Jeremy Hefner – vs. ARI, at MIL – Only six earned runs and five walks in last five starts.
Roberto Hernandez – at HOU, vs. CWS – Houston and the White Sox rank in the bottom six in wOBA vs. righties.
Phil Hughes – at MIN, at BAL
Tim Lincecum – at CIN, vs. LAD
Shaun Marcum – vs. ARI, at MIL
Jason Marquis – at MIA, at WAS – Marquis has two of the bottom five teams in wOBA against righties.
Bench 'em
Jose Alvarez – at TOR, at CLE
Erik Bedard – vs. TB, at TEX
Scott Diamond – vs. NYY, at TOR
Robbie Erlin – at BOS, at WSH
Jason Hammel – at CWS, at NYY
Scott Kazmir – at KC, vs. DET
Dallas Keuchel – vs. TB, at TEX
Michael Kickham – at CIN, vs. LAD
Tom Koehler – at ATL, at STL
Luis Mendoza – vs. CLE, vs. OAK
Roy Oswalt – vs. LAD, at ARI
Wily Peralta – at WSH, vs. NYM
Joe Saunders – at TEX, at CIN
Chien-Ming Wang – vs. DET, vs. MIN
Streaming options available in at least 50 percent of ESPN leagues
Wednesday: Bud Norris vs. Tampa Bay – Norris has a quality start in seven of his last eight starts.
Corey Kluber at Kansas City – Kluber was roughed up in his last outing, but he still struck out four and walked just one in 4.2 innings. The Royals have the fourth-worst wOBA against righties.
Miguel Gonzalez at Chicago White Sox – Gonzalez has five quality starts in a row with 28 strikeouts and just seven walks. The Pale Hose rank just 25th in wOBA vs. righties.
Thursday: Chris Archer at Houston – Astros rank second to last vs. righties in wOBA and have the worst strikeout rate against them.
Friday: Rick Porcello at Cleveland – It's clear the Angels own Porcello this year, but in two starts (12 innings) against the Indians this year Porcello has a 2.25 ERA, 13 strikeouts and four walks.
Andrew Cashner at Washington – Cashner has four straight quality starts with a good K:BB. Washington ranks 26th in wOBA vs. righties.
Saturday: Joe Kelly vs. Miami – This is only Kelly's second start of the season, as he's pitched mostly in long relief. He has a 3:1 K:BB this season and a 2.96 ERA at Busch Stadium in his career.