Two-start pitchers and SP streamers: Week 15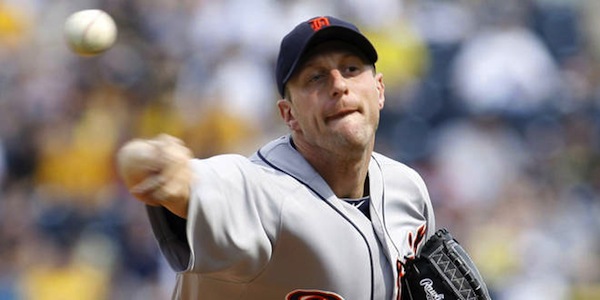 Week 15 presents fantasy owners with several quandaries. Hisashi Iwakuma, Bartolo Colon, Justin Verlander, Matt Harvey and Jeff Locke are all All-Stars and scheduled to start the Sunday before the Midsummer Classic. If those players do start on Sunday they won't be allowed to pitch in the All-Star Game, unless the player himself chooses to pitch. Speaking of pitching Sunday, Adam Wainwright will now pitch Sunday against the Cubs, taking Shelby Miller's place, according to MLB.com. I've included Wainwright in the rankings below while keeping Miller out.
In other non-All-Star news, Ricky Nolasco was scheduled for two starts, but he was traded to the Dodgers on Saturday. It remains to be seen where he'll officially fall in the Dodgers' rotation, but Thursday at home against Colorado seems like the most likely spot.
Max Scherzer – Mon at CLE, Sat vs. TEX
Matt Harvey – Mon at SF, Sun at PIT
Adam Wainwright – Wed vs. HOU, Sun at CHC
Homer Bailey – Mon at MIL, Sat at ATL
Julio Teheran – Tue at MIA, Sun vs. CIN
Cole Hamels – Tue vs. WSH, Sun vs. CWS – Nationals and White Sox rank 29-30 in wRC+ against lefties
Matt Garza – Mon at CWS, Sat vs. STL
Felix Hernandez – Mon vs. BOS, Sat vs. LAA – Boston and Los Angeles rank 1-2 in wRC+ against righties.
Justin Verlander – Tue vs. CWS, Sun vs. TEX
CC Sabathia – Mon vs. KC, Sat vs. MIN
Bartolo Colon – Mon at PIT, Sun vs. BOS
Mike Minor – Mon at MIA, Sat vs. CIN
Kyle Lohse – Mon vs. CIN, Sat at ARI
Travis Wood – Tue vs. LAA, Sun vs. STL – Seven straight quality starts; has shut down St. Louis twice this season.
Hisashi Iwakuma – Tue vs. BOS, Sun vs. LAA
Derek Holland – Mon at BAL, Sat at DET
Jeff Locke – Mon vs. OAK, Sun vs. NYM – Please sell high as soon as you can. Twenty strikeouts and 16 walks in last five starts.
James Shields – Tue at NYY, Sun at CLE
Jon Lester – Mon at SEA, Sat at OAK
Jhoulys Chacin – Tue at SD, Sun at LAD
Zack Greinke – Mon at ARI, Sat vs. COL
Scott Feldman – Mon vs. TEX, Sat vs. TOR
Hector Santiago – Mon vs. CHC, Sat at PHI – Sneaky strikeout potential here – 24.8 percent strikeout rate. Only owned in 3 percent of ESPN leagues.
Eric Stults – Tue vs. COL, Sun vs. SF
Tony Cingrani – Tue at MIL, Sun at ATL
Josh Johnson – Tue at CLE, Sun at BAL
Tim Lincecum – Mon vs. NYM, Sat at SD
Martin Perez – Tue at BAL, Sun at DET
AL-/NL-only plays
Chris Archer – Tue vs. MIN, Sun vs. HOU
Wei-Yen Chen – Tue vs. TEX, Sun vs. TOR
Samuel Deduno – Mon at TB, Sat at NYY
Randall Delgado – Mon vs. LAD, Sat vs. MIL
Roberto Hernandez – Mon vs. MIN, Sat vs. HOU
Ian Kennedy – Tue vs. LAD, Sun vs. MIL
Jose Quintana – Tue at DET, Sun at PHI
Edinson Volquez – Mon vs. COL, Sat vs. SF
Injury notes
Ross Detwiler was scheduled to start Monday and Saturday, but he was placed on the 15-day DL, according to the Washington Post. The Post reports Dan Haren will take Detwiler's Monday start.
David Phelps was placed on the 15-day DL with a right forearm strain, according to MLB.com. He was scheduled to start Tuesday against Kansas City and Sunday against Minnesota. CC Sabathia will now start Tuesday.
Streaming options available in at least 50 percent of ESPN leagues
Tuesday: Dillon Gee at San Francisco – The righty has a quality start in six of his last seven starts with a 51:9 K:BB.
Bud Norris at St. Louis – Norris posted another quality start last week, and he's been a Cardinal killer his entire career – 2.74 ERA, 1.14 WHIP, 83 K, 33 BB in 95.1 innings.
Wednesday: Felix Doubront at Seattle – Doubront should give you six strikeouts, and he hasn't allowed more than three earned runs in any of his last 10 starts.
Rick Porcello vs. Chicago White Sox – The White Sox rank 28th in wRC+ against righties, and despite just a couple stinkers Porcello's been quietly good this season.
Friday: Joe Kelly at Chicago Cubs – The Cubs rank 26th in wRC+ against righties.