2013 Fantasy Baseball Daily Fix: August 27, 2013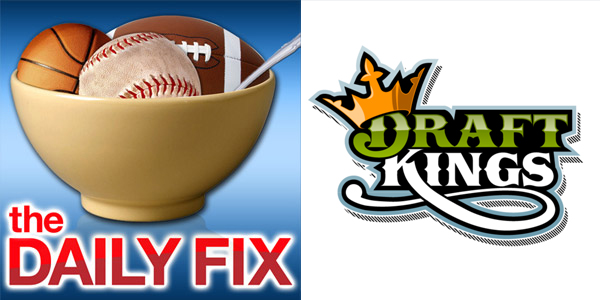 IT'S MY BIRTHDAY.
Instead of just giving you one lineup for the DraftKings Team of the Day, I like to give you options at various price points at each position. I generally like to spend big on pitching and find value at the plate, but if you like to do things the other way around, you can do so with these recommendations. I have included asterisks next to the names of players I actually chose for my team today.
I'm playing in a Triple Up, Double Up, and 10x Booster today. Don't forget to get your deposit bonus here.
Starting Pitchers
Luxury pick: James Shields* – $9,200 – @ Minnesota
This is a pretty easy call. It's a top 20 pitcher facing an opponent that ranks 25th in wRC+ versus right-handed pitching and has the 2nd worst K% against right-handers.
Reasonable and reliable pick: Derek Holland* – $7,200 – @ Seattle
Holland isn't quite as good as Shields, but he's close and his matchup is just as good. Holland gets the Mariners who have a lineup full of lefties and some switch-hitters who are better from the left side. As a result, they have the third worst wRC+ vs. LHP and 4th worst K% vs. LHP.
Cheapest guy I can pick: N/A
With Holland and Shields being such obvious picks, I can't recommend you trying to go cheap with pitching today. That's especially true since any starter under $7,000 is either awful or has a terrible matchup.
A quick note on how I pick hitters before we get to the lineup. My basic strategy when picking hitters is very simple. I'm looking for a guy I know is capable of being a good hitter who is facing a bad pitcher of the opposite handedness. And if the hitter happens to have been performing well lately, or if the game is in a favorable ballpark to hitters, that's a bonus. If I name a player below, you can assume he meets these criteria. I'll only highlight a few of the selections rather than repeating the same analysis for each player.
Catcher
Luxury pick: Mike Napoli – $4,600
Reasonable and reliable pick: Matt Wieters* – $3,800
Wieters is a switch-hitter who has been much better against left-handed pitching in the last few years. He'll get lefty Felix Doubront today.
Cheapest guy I can pick: Humberto Quintero – $2,200
First Basemen
Luxury pick: Edwin Encarnacion – $4,500
Reasonable and reliable pick: Eric Hosmer* – $3,800
Just wanted to give everyone a little update on what Eric Hosmer has done since June began, in other words, what he's done in his last 341 plate appearances.
.321 BA, .369 OBP, .517 SLG, .196 ISO, 7.6% BB%, 12.3% K%,
Cheapest guy I can pick: Kendrys Morales – $3,100
Second Basemen
Luxury pick: Jason Kipnis – $4,400
Reasonable and reliable pick: Matt Carpenter* – $3,900
Who had Carpenter as a top five middle infielder in the preseason? Anyone? Anyone? Bueller? Bueller?
Cheapest guy I can pick: Jurickson Profar – $2,800
Third Basemen
Luxury pick: Evan Longoria*, $4,100
Seems like way too low of a price with Longoria having the platoon advantage agains C.J. Wilson today.
Reasonable and reliable pick: Brett Lawrie, $3,600
Cheapest guy I can pick: Matt Tuiasosopo – $2,800
Shortstops
Luxury pick: Hanley Ramirez – $4,800
Reasonable and reliable pick: Jean Segura* – $3,400
Cheapest guy I can pick: Xander Bogaerts – $2,000
As usual, the price for prospects is too low right after they're called up. If Boston is going with a platoon at short, Xander should get the start against the lefty Wei-Yin Chen today.
Outfielders
Luxury picks: Adam Jones*, $5,300; Bryce Harper*, $5,100
Reasonable and reliable picks: Alejandro de Aza, $4,000; Carlos Gomez*, $3,500
Cheapest guys I can pick: Khris Davis, $2,700; Andrew Lambo, $2,000