2015 Fantasy Baseball: DraftKings Value Plays, May 6th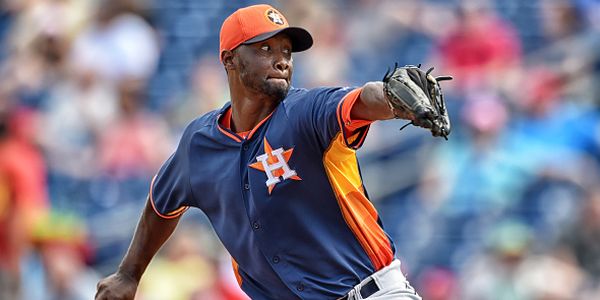 Below we've got some salary relief options for your DraftKings lineups tonight. Later today, for our Front Office subscribers, we'll also have a full breakdown of tonight's 12-game evening slate complete with matchup and park adjusted projections, a discussion of the day's starting pitcher situation, the best teams to use for stacks, and player rankings for each position. If you're not a Front Office subscriber, our daily breakdowns of each day's MLB action can be accessed for a dollar a day. Try us out for a day or two and see if you like what we're putting down. OK, enough selling you. Here are today's bargains.
Lance Lynn, St. Louis Cardinals, $8,800
Lynn is the fourth most expensive pitcher of the day, but our model grades him as easily the best value among the pricier options. Lynn and Gerrit Cole are the top projected pitchers of the day and have essentially the same projection, but Cole is $700 more expensive than Lynn.
Lynn has a good matchup with the Cubs who have been slightly worse than average against right-handed pitching this year after being 16 percent worse than average against RHP last year. The matchup also provides plenty of upside as the Cubs have the highest strikeout rate in the league against right-handers. Lynn has always struggled a bit with left-handed hitting, and even though he improved some in that regard last year, it's still something of which you should be wary. The good news is that Anthony Rizzo is the only left-hander the Cubs have that's presents a problem. Miguel Montero isn't the threat he once was, and Dexter Fowler, a switch-hitter, is better from the right side.
Deduno made my write-up when I did the full length breakdown here on the site the last time Deduno started. The bottom line is that he's below average, but he's not bad enough to be priced at the lowest salary DK assigns to pitchers. He has some ability to miss bats as his strikeout rate is about 19 percent combined between this year and last. To be fair, a large portion of his work was as a reliever, but it's not as if he has no strikeout ability. As for his downside, he has a groundball rate of 58.3 percent in 10 starts since the start of 2014. That's good because his HR/FB rate tends to be a little high, but he manages his HR/9 by not giving up too many fly balls.
Perhaps most importantly, his matchup is good. Entering Tuesday's action, the Rangers had the worst wRC+ in the league against right-handed pitching, though they likely surpassed the Phillies after having a good night at the plate last night. Still, the Rangers were well below average against right-handers last year, and they continue to be a good matchup in that regard.
Deduno is obviously too risky and unnecessary in cash games, but he makes plenty of sense if you're gambling with big tournament lineups.
E5 is undeniably off to a lousy start, which is obviously why his salary is much lower than we're used to seeing it. And his slow start is plenty his fault, not just the result of bad luck. Encarnacion is hitting groundballs at a much higher rate than normal, and he's popping out a lot. But we're certainly still at the point in the season where we should expect batted ball rates to move around plenty, so don't go looking for nails to put in his coffin.
Encarnacion and the Blue Jays will face C.C. Sabathia in Toronto tonight, and that makes for a good matchup. First of all, we know Toronto is a hitter's park, as it was fourth most favorable for home runs to right-handed hitters last year. As for Sabathia, he has simply been unable to limit hard contact and keep balls in the park with his reduced velocity. His fastball velocity has been sub-90 mph for 70+ innings now since the start of last season, and he has the third highest HR/9 and the 36th lowest soft contact percentage of 169 pitchers with at least 70 innings in that time frame. Encarnacion and the other Jays hitters have a chance to do some damage. In terms of value, Devon Travis ($3,400, 2B) also looks like a great play.
Brock Holt, Boston Red Sox, $3,200
There's a decent chance Holt isn't in the lineup tonight, but he has started five of the last six for Boston against right-handed pitching, and they're facing a right-hander tonight. Our model gives him a decent bump both for his matchup against Alex Colome and for the game being played in Boston. Holt doesn't really have a traditional platoon split, nor does Colome have a huge platoon split, but the reason to consider Holt is mainly price.