2016 NFL DFS: Week 11 DraftKings and FanDuel Breakdown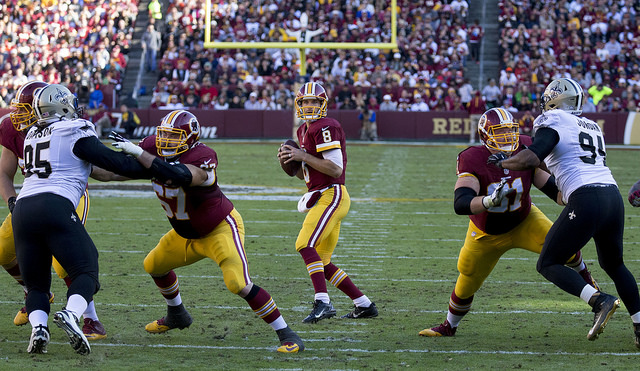 Below you'll find discussion of the players that are "in play" at each position for the Week 11 main slate DFS contests on DraftKings and FanDuel (aka the 12 Sunday games beginning 1:00 PM ET or later). Players are arbitrarily listed in descending order of FanDuel salary and are not ranked in order of preference given differences between the sites and the varying types of contests you might be playing.
Quarterback
Cheaper is generally better at QB (which is DFS's version of Zero-QB), but Roethlisberger is in too good of a spot to ignore this weekend. The Steelers have the second highest implied total in Vegas behind only the Patriots who have an absurd implied total of 32. The Browns rank 31st in both Football Outsiders' pass DVOA and 4for4.com's Schedule-Adjusted Fantasy Points Allowed (aFPA) so this matchup is about as good as it can get for Ben. You should still lean toward cheaper options in cash games, but Roethlisberger shouldn't be too heavily owned, so he makes for a good GPP option. It's probably easier to pay up for him on FD where pricing is softer.
Andrew Luck — vs. TEN — DK: $7,200 — FD: $8,100
I don't really care for Luck generally. He ranks 21st in in FO's DYAR which compares a QB's performance to replacement level. Blame it on his offensive line if you're a Luck defender, but the line is still what it is. That said, this game has the highest over/under at 53 and both defenses rank 27th or worse in DVOA, so it has tons of potential to be a high scoring game. Indy is favored as the home team and has the third highest implied total of the weekend, so there's no denying, even for a Luck-hater like me, that this game sets up well for Luck. Given that he's on the pricey end of the spectrum, he's also probably best used on FD. And he makes the most sense in cash given that he should be fairly popular.
Matthew Stafford — vs. JAX — DK: $6,600 — FD: $7,900
Jacksonville is average in both DVOA and aFPA, so this isn't a tremendous matchup for Stafford or anything. But the Lions have the fourth highest implied total on Sunday, and Stafford has been good this season as he ranks eighth in DYAR. He should not be highly owned, so he's an option for a GPP bullet.
Kirk Cousins — vs. GB — DK: $5,800 — FD: $7,600
Cousins is pretty obviously the best cash game play of the weekend. The Packers rank 18th in DVOA and 16th in aFPA, so they don't appear to be a fantastic matchup at first glance, just an above-average one. But the Pack pass defense has been much worse the last three weeks allowing eight touchdowns and an average of 288 passing yards per game over that stretch. Washington has the fifth highest implied total of the weekend and is a home favorite, so there's basically nothing to dislike about Cousins this week. Oh, and he ranks sixth in DYAR so far.
Andy Dalton — vs. BUF — DK: $5,700 — FD: $7,500
We went over a few pricier GPP options above, so how about a cheaper one? Dalton has an entirely decent matchup against the Bills who rank 23rd in DVOA and 17th in aFPA. And the Vegas variables set up well for Dalton also as Cincy is a home favorite with an above average implied total of 25. He's been an efficient QB this season as he ranks a respectable 11th in DYAR, so there's no obvious reason to avoid Dalton this week. He figures to be very lightly owned, so he's a nice, cheap GPP option.
Running Back
LeVeon Bell — @ CLE — DK: $8,800 — FD: $9,100
Cleveland is a bit better against the run than they are against the pass, but they're still quite bad against the run as they rank 29th in DVOA and 26th in aFPA. Bell is averaging 24.2 touches per game this season, and he could easily touch the ball near 30 times if this game ends up being a game in which Pittsburgh leads comfortably for the majority of it. Unlike his QB, Bell should be very heavily owned, so Bell is the cash game play from Pittsburgh (if you can afford him), and Ben is the GPP play.
DeMarco Murray — @ IND — DK: $8,200 — FD: $8,500
I made the mistake of fading Marcus Mariota last week, and you probably noticed that he was missing in the QB section above, so I'm getting back on the fade-Mariota train. This week it's less that I dislike Mariota and more that I just like Cousins better in cash and Mariota is going to be too heavily owned to be contrarian enough for me GPPs. Instead I'll get my exposure to the Tennessee side of that game with DeMarco. Indy ranks dead last in DVOA and 29th in aFPA, so this is a spectacular matchup for DeMarco who had 127 yards from scrimmage and a score the last times these teams met. He's tough to roster on DK because of price, but that's actually the spot I'd be most inclined to use him (in a GPP) given that his ownership rate shouldn't be too high there.
David Johnson — @ MIN — DK: $7,900 — FD: $8,300
Johnson is a bit like Murray in that he may be a bit pricey for cash games, but he makes some sense in GPPs. Minny may seem like a tough matchup for Johnson and they're not a great one, but they only rank 10th in DVOA and 15th in aFPA.  Plus, Johnson can overcome a tough matchup with volume like he did in Week 7 when he touched the ball 40+ times against Seattle. Since Week 5 Johnson leads the league with 27.4 touches per game, so don't let the matchup scare you off of using Johnson in a GPP linuep.
Spencer Ware — vs. TB — DK: $6,000 — FD: $7,700
Ware ranks sixth in receiving yards among running backs this season, and that's why he's listed here. The aFPA numbers for running backs being used here are in PPR leagues and Tampa ranks 25th in aFPA against backs in PPR. And the Bucs rank 27th in DVOA against RBs as receivers, so it's pretty obvious they struggle with pass catching backs. Ware is priced nicely on DK and makes for a nice play on the PPR site.
LeSean McCoy — @ CIN — DK: $6,900 — FD: $7,500
McCoy got 25 touches in Week 9 after missing Week 8 due to injury, and he isn't on the injury report this week, so he should be back to his regular self. He racked up 120 yards from scrimmage with those 25 Week 9 carries in a tough matchup with Seattle, so there's little reason to have concerns about McCoy. Cincy ranks 20th in DVOA and 18th in aFPA, so the matchup is more than good enough for a healthy McCoy to do damage.
Aside from Bell, Blount will probably be the most heavily owned back this weekend. As mentioned, the Pats have the highest implied total in Vegas, and they're a 13-point favorite, which means game flow should work in Blount's favor. The matchup is also insanely good as the Niners rank 31st in DVOA and 32nd in aFPA. On top of all that, Blount has more red zone carries this season than any other back in action on Sunday. You may have to pass on Bell in cash because of salary, but Blount seems really hard to pass on.
Rashad Jennings — vs. CHI — DK: $3,600 — FD: $5,600
Players are listed here in descending order of FD salary, but Jennings is a DK-only cheap option. He got 18 touches last week against Cincy, and game flow should work in the favor of volume for Jennings as the Giants are a seven-point home favorite against the Bears. If you need salary relief at RB in either cash or GPP on DK, keep Jennings in mind.
C.J. Prosise — vs. PHI — DK: $4,200 — FD: $4,900
There's obviously some question about what role Thomas Rawls has in Seattle's backfield, and you have to figure he's going to be used significantly at some point given the release of Christine Micheal. But I say "at some point" because you could certainly see Seattle easing him back in at first, especially since Prosise acquitted himself nicely in his first career start last week. In addition to the issue of Rawls, Philly isn't a great matchup for Prosise, but at only $4,900 on FD, Prosise is worth considering no matter what concerns you have about him.
Wide Receiver
Odell Beckham — vs. CHI — DK: $8,500 — FD: $9,000
Antonio Brown — @ CLE — DK: $9,500 — FD: $8,900
A.J. Green — vs. BUF — DK: $8,300 — FD: $8,200
Mike Evans — @ KC — DK: $8,100 — FD: $8,000
T.Y. Hilton — vs. TEN — DK: $7,100 — FD: $7,900
Instead of going one-by-one with these stud receivers I'm going to address them all at once because it would end up being five fairly similar paragraphs. The long and short of it is that they're all studs and none have intimidating matchups, either on a team level or on an individual corner-receiver level. The only question is what sites and what contests make the most sense for these guys.
Brown and Hilton figure to be the most highly owned guys, so they're cash-only options. That's especially true for Hilton since Luck is more of a cash than a GPP play. But remember that Roethlisberger is a GPP option, and Brown would be fine to roster in a GPP in the event Ben is your QB. Beckham should also be fairly popular but not so much so that he has to be avoided in GPPs. He should be a bit lower owned on FD given that he's a bit more expensive there. Green and Evans should be the lowest owned of the bunch, and they'll likely be owned less on DK than FD due to higher price tags there. Feel free to use any of these guys (or two of them if you can afford it) in cash games.
Larry Fitzgerald — @ MIN — DK: $7,100 — FD: $7,000
This has been mentioned here previously in the season, but because Fitzgerald works primarily out of the slot, he often has a better matchup than it would seem based on the team he's playing. Here, Minnesota ranks fifth against the pass in DVOA, but they don't have a corner in the slot that can slow down an elite talent like Fitzgerald. He's not going to be highly owned due to the perceived tough matchup, but he makes for a sneaky tournament play.
Donte Moncrief — vs. TEN — DK: $6,100 — FD: $6,500
Moncrief has a touchdown in all three games he has played in full this year, and he could well get another one Sunday in a good matchup with Tennessee. The Titans don't have a corner that makes the matchup tougher for either Hilton or Moncrief, so don't hesitate to use either one of them depending on what your budget allows.
Julian Edelman — @ SF — DK: $6,300 — FD: $6,100
As mentioned, New England has an extremely high implied total in Vegas this weekend at 32. With Gronk ruled out on Sunday (and now Chris Hogan ruled out as well), that means there are plenty of points to be distributed elsewhere in New England's offense. Edelman has been seeing plenty of volume lately as he's the only NE receiver to see eight or more targets in any of their last three games, and he has seen at least eight in each game. On top of all that, the Niners don't present a tough individual matchup for Edelman in the slot. Edelman might be a bit chalky for GPPs on FD, but he pretty much works on any site in any format.
Jordan Matthews — @ SEA — DK: $5,400 — FD: $5,800
Matthews is another one of these guys who works primarily out of the slot. So yeah, the matchup with Seattle might seem tough, but the Seahawks actually don't have a a great corner working in the slot. Matthews is nice and cheap this week and is going to be very lightly owned, so he's absolutely a tournament play.
Steve Smith — @ DAL — DK: $6,000 — FD: $5,500
Smith is too pricey on DK, so only consider him on FD. But he's worth a long look there because Dallas struggles with slot receivers like Smith. Dallas ranks 30th in DVOA against "Other" receivers, and Orlando Scandrick just has not been the same since returning to the lineup.
Jeremy Kerley — vs. NE — DK: $3,500 — FD: $5,300
Kerley is only an option on DK, but he's a nice salary relief option there if you need it. Kerley is another slot receiver with a nice individual matchup, and he's seeing plenty of volume (7.8 targets per game). That kind of volume gives him plenty of value potential at his price point on DK.
Tight End
At tight end you're looking for guys on teams with an implied total of 24+, and their team is preferably a favorite (even more preferably a home favorite). In general, tight ends see less volume than receivers, and they do their work closer to the line of scrimmage than receivers do on average, so tight ends are much more touchdown dependent for fantasy scoring. Touchdowns come with much more volatility than targets and yardage do, so it's not a bad idea to spend less on such a volatile position.
To that end, Charles Clay at only $2,600 on DK is very intriguing. Clay has a matchup against Cincinnati who ranks 31st in aFPA and 29th in DVOA against tight ends. Finding salary relief on DK is so critical given that the pricing is sharper, so Clay feels tough to pass on there. On FD, Martellus Bennett is only $400 more expensive than Clay, so Bennett is the cheap option to go with there. His questionable tag isn't ideal, but he's been playing with the same ankle injury for awhile now, so it shouldn't be too much of an issue. Bennett is going to be heavily owned, so look elsewhere in GPPs.
Jordan Reed is the best of those alternatives. With Cousins being one of the best QB options of the day, Reed has to be considered given that he's Cousins' best weapon. Delanie Walker is also an alternative. He's another way to get exposure to that Tennessee/Indy game, and the Colts rank 28th in aFPA and 31st in DVOA against tight ends. Both Reed and Walker should be fairly highly owned, so if you want to get really contrarian, take a look at Travis Kelce. Kelce ran more routes than any other Chief last week with Jeremy Maclin out, and Maclin is out again this week.
Kicker
All you're looking for in a kicker is a kicker that plays for a favorite who has an implied total of 24 or more. Preferably the team would be a home favorite, but road favorites are acceptable as well. The cheapest kickers who meet that criteria this week are Robbie Gould and Mike Nugent. Both guys are minimum priced, and their team's have an implied total of 25 or higher. The concern with these guys is that wind could be an issue in both of their games, so make sure to keep an eye on weather Sunday morning. But if you have an extra $100 available, just roster Matt Prater at $4,600. The Lions are at home in a covered stadium (no wind!) and are a 6.5-point favorite with an implied total of 26.75. They're hosting the Jags who rank dead last in aFPA against kickers.
Defense/Special Teams
I write a DFS D/ST article each week for FantasyAlarm.com, so I'm copy/pasting what I wrote there below.
The key with defenses is finding defenses that will face a lot of passing plays. Fantasy point-scoring events like interceptions and sacks occur exclusively on passing plays, and fumbles actually occur more on passing plays than running plays. Defensive touchdowns are difficult to predict, but they're also more likely to occur on passing plays with 53 pick sixes last year compared to only 33 scoop 'n scores.
One of the best ways to identify defenses that will face a lot of passing plays is identifying Vegas favorites, preferably home favorites. And obviously the lower the opponent's implied point total, the better the matchup for the defense.
Premium Options
The chalk this week looks like it's going to be Miami facing off with Jared Goff, but let's get back to them in a moment. The slightly less chalky play but the preferred chalk play is Kansas City at home against Tampa Bay. Tampa Bay has the lowest implied total in Vegas at 18.5, and they've given up some big fantasy point totals to good defenses when they've faced them this season. The Arizona and Denver D/STs each topped 15 fantasy points when they played Tampa. Kansas City isn't quite on the level of those defenses, but they are a good one as they rank ninth in Football Outsiders' Defense Efficiency Ratings (DVOA). Kansas City as a 7.5-point home favorite against a team with the lowest implied total screams cash game play.
As mentioned, Miami is going to be super chalky this week as they get the privilege of facing Jared Goff in his first start. Miami ranks fourth in pass DVOA and seventh overall, so they're a very good unit that's a bear of a matchup for Goff to walk into. That said, this game is a pick 'em and Miami is on the road, so the Vegas variables don't necessarily set up in Miami's favor. You have to imagine LA is going to do all they can to grind this game out, which means the fantasy-point scoring opportunities might be limited for Miami's D. The down side is limited to be sure, so they're still a good cash game play. But the upside might not totally be there, and they're going to be too chalky to use in GPPs anyway.
Sneaky Options
This category is reserved for good defenses that may be overlooked in a given week for whatever reason, providing you with the opportunity to roster a really good unit with a lower ownership rate.
Two teams fit that bill this weekend, Seattle and Minnesota. Both are home favorites (though Minny is only a slight favorite), and they're hosting teams with an implied total of 20 or less. The teams rank fifth and sixth respectively in DVOA, so these are good units in a good spot. The Seahawks are the bigger favorite as a 6.5-point favorite at home against Philly, but Minny has the better matchup against Arizona who has allowed the seventh most fantasy points per game to opposing defenses. Neither team figures to be too heavily owned, so they make for interesting GPP plays. Minnesota is priced very reasonably on both major sites while Seattle is the most expensive D on each site, though that should help keep their ownership rates down.
Bargain Option
If you're looking to go as cheap as you can, Dallas may be your best bet on either site. The Cowboys aren't a great defense as they rank 19th in DVOA, but they have an unimposing matchup against Baltimore. For one thing, Baltimore has the second lowest implied total on Sunday at only 19 points, and they rank 29th in FO's Offense Efficiency Ratings. Baltimore ranks 29th in pass DVOA as well, which makes them a good matchup for Dallas who struggles more against the pass than they do against the run. Dallas is a seven-point favorite at home in this one, so the matchup sets up well for them to see plenty of fantasy point scoring opportunities.