Daily Fantasy Baseball Strategy: May 7, 2015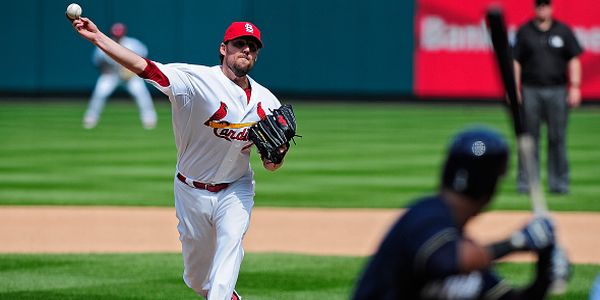 Below we've got a discussion of the starting pitching situation as well as the best teams to use for stacks for Thursday's five-game afternoon slate and six-game evening slate on DraftKings. We've also got projections derived from Dan Szymborski's ZiPS projections, and we have rankings of the top plays at each position. These daily breakdowns are usually for our Front Office subscribers, but we wanted to give everyone a look behind the curtain today. Hopefully you like what you see.
Forecast
The biggest concern weather-wise today is in Minnesota for the game between the A's and Twins. There is a chance of thunderstorms virtually all afternoon and evening, so delays are certainly possible. As we'll get to in a minute, I'm not on either pitcher in this game, so the possible delays are of no consequence to me. I did consider some A's against Ricky Nolasco, but a pretty strong wind is blowing in from right, so I'll likely avoid this game altogether.
The only other game where rain appears to be a concern is in Los Angeles for the game between the Astros and Angels. The chances of rain appear to grow as the evening goes on, so delays and even a postponement are somewhat possible. I like Collin McHugh quite a bit on that game, so I'll be keeping my eye on the weather in that one.
As for wind, there's supposed to be a 22 mph wind blowing out to left in Kansas City, a 14 mph wind blowing out to left in St. Louis and an 18 mph wind blowing in from right on the south side of Chicago.
Before lock tomorrow, make sure to check DailyBaseballData.com for forecasts, and check out @KevinRothWx for DFS-specific forecasts.
Pitching Perspective
Here are our projections for today's starters. You'll see each starter's salary, the average number of fantasy points the starter is projected to score per game and how far above or below average his projection is compared to his salary in the value column. You'll also see adjustments being made for matchup and ballpark. As for the colors, they rank as follows from good to bad: purple, blue, green, yellow, orange, red, burgundy.
Prior to adjusting for quality of opponent or ballpark, Corey Kluber ($9,800) easily has the best projection of any starting pitcher today. However, he has a rough matchup against the Royals who have been 17 percent better than average against right-handed pitching so far. The Royals only have 573 plate appearances collectively against right-handers, and their team BABIP against RHP is .340, so they're probably not this good against righties. The bigger problem is that they just don't strikeout much. Their strikeout rate against right-handers is the fifth lowest in the league, and they avoided the punchout a lot last year as well. Without as much strikeout upside as normal, Kluber ends up looking a little overpriced according to my model, so he's not a must use, though I don't think it's foolish to use him.
The man from the middle of the pack in the pre-adjusted projections that surpasses Kluber once you account for matchup and ballpark is John Lackey ($7,700). The biggest bump he's getting is from matchup as he'll face the Cubs and their league-worst strikeout rate against right-handed pitching. The one concern I have is that Lackey has not been generating strikeouts so far. On one hand, his velocity is down a full mile per hour from where it was last year, which could explain his low strikeout rate. However, he's been generating swings and misses at a rate basically higher than he ever has before. As long as that holds up, the strikeouts will come, and the Cubs are a good catalyst for such a thing. At his price tag, he's a great value.
The other guy I like in the afternoon slate (both Kluber and Lackey are throwing in the afternoon) is Carlos Frias ($4,700). Frias has just 40 career major league innings and will be making his fourth career start today. His strikeout rates in the minors weren't all that impressive, so he may not have huge upside. But at this price point, you don't have to go big to bring a return on the investment. What Frias does have is good control and a good matchup against the Brewers. The control should limit his downside. As for the Brewers, they have the fourth highest strikeout rate against right-handed pitching, and they have been 23 percent worse than average against RHP. The Brewers are a righty-heavy lineup that was below average against RHP last year, so it's more than just a small sample thing this year.
Moving on to the evening slate, Chris Archer ($9,400), Collin McHugh ($8,100) and A.J. Burnett have the best projections. I mentioned the concern about weather in McHugh's game earlier, and I will really be keeping an eye on it. McHugh is the cheapest of the three and grades out as the best value of the trio. He's easily my top option assuming the weather holds off. He's got above average strikeout and walk skills and is pitching in a favorable park, so his downside should be limited.
If I have to pivot off McHugh, I'd prefer to go with Archer if I can make the money work. He's due for some regression in BABIP and strand rate, but his strikeout upside is extremely high right now. His swinging strike rate is 12.6 percent, which ranks seventh out of 110 qualified pitchers this season. His opponent, the Rangers, swung some hot bats on their way through Houston this week, but they're still below average against right-handed pitching, just as they were last year. If you can't fit Archer in and McHugh is too risky with the weather, then go Burnett.
For your second pitcher, I'd look at Tim Hudson. I also like Hector Santiago, but he's pitching opposite McHugh, and I'd prefer not to roster pitchers facing each other. The good news is that Hudson and Santiago grade out almost exactly alike today. They both have matchups against teams that are fourth or worse in strikeout rate against pitchers of their handedness, and they're both pitching in pitcher-friendly ballparks. Santiago has more strikeout upside because basically anyone has more strikeout upside than Hudson, but he also has a lot more downside. If you aren't using McHugh, I like Santiago in big tournaments, but I'd lean toward Hudson in cash games.
Stack Options
Gun to my head, I'd go with the Indians as my favorite option of the afternoon slate against Edinson Volquez. Kansas City isn't a super hitter-friendly park, but a 20+ mph wind blowing out should mitigate that somewhat. Against the right-hander, the best options are Cleveland's top left-handed hitters who should hit 1/3/4/5: Jason Kipnis ($5,100, 2B), Michael Brantley ($5,500, OF), Carlos Santana ($4,300, 1B/C) and Brandon Moss ($4,600, 1B/OF). It's not the best value stack as Brantley and Kipnis are overpriced by quite a bit, but I do think the production will be there. If you wanted to go Cleveland heavy in a GPP, you could also add in the 2-9 hitters, Jose Ramirez ($3,300, 2B/SS) and Michael Bourn ($3,800, OF).
The second option I'd go with in the afternoon slate is probably Detroit. Baltimore and the Dodgers also warrant consideration, but the Tigers have the best matchup against Jose Quintana in Chicago. I know I mentioned a wind blowing in from right in this game, but it may not affect the right-handed Tigers I want to use as much. It's a bit of a crosswind, so it may not hurt right-handers trying to pull one out of the park as much. The Tigers hitting 2-6 in the lineup are the ones to use: Ian Kinsler ($4,400, 2B), Miguel Cabrera ($5,400, 1B/3B), Victor Martinez ($4,400, 1B), J.D. Martinez ($4,300, OF) and Yoenis Cespedes ($4,400, OF).
As far as the evening slate goes, just stick with Vegas. The two games with the highest total tonight are San Diego at Arizona and Baltimore at New York. The Padres and D'Backs are even odds in that game, but I prefer the Padres. The problem is that their useful players (and their 1-3-4 in the lineup) are all in the outfield, which makes building a roster difficult. Outside of their outfield, Yonder Alonso ($3,800, 1B) makes sense, but he's not always in the lineup and is sometimes too far removed from the outfielders for stacking.
As for the Yankees, who are the favorite in their game, I'd focus on their top four: Jacoby Ellsbury ($5,300, OF), Brett Gardner ($4,900, OF), Alex Rodriguez ($3,900, 3B) and Mark Teixeira ($4,500, 1B). If you wanted to go Yanks heavy in a tournament, you could also throw in Brian McCann ($3,900, C) and Carlos Beltran ($4,000, OF).
You can view and download our hitter projections here. These projections are an average of what each hitter is projected to do on a per game basis according to the ZiPS rest-of-season projections. The projections have then been adjusted for splits, quality of the opposing starting pitcher and ballpark.
Player Rankings
Catcher
First Base
Second Base
Third Base
Shortstop
Outfield
Starting Pitcher
*Rankings are price sensitive