Daily Fantasy Hockey: DraftKings Value Picks, November 23rd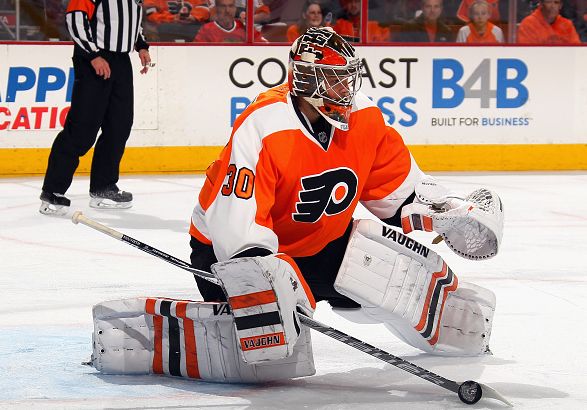 The Fix always has a full breakdown of significant NHL slates for our Front Office subscribers, but now we're also going to be highlighting a few value plays for everyone on most days with big NHL slates. Below you'll find three or four players who are cheap and undervalued in today's DraftKings contests.
If you'd like to read our full breakdown of tonight's slate, complete with player rankings, you can become a Front Office member or purchase today's breakdown individually right here.
Drew Stafford – W – $3,900 – Winnipeg Jets
The Jets are in a good spot tonight against a terrible Colorado team. The Avs allow the most shot attempts per 60 (even strength, score-adjusted) and have gotten spotty goaltending out of Reto Berra and Semyon Varlamov. Varlamov will make his first start in about a month and a half tonight, returning from a groin injury. Prior to the injury, Varlamov posted a disappointing .890 save percentage and had started to cede work to Reto Berra. It's hard to have confidence in Varlamov tonight, so it's fairly easy to feel good about the Jets.
This game is in Winnipeg, so the Jets will largely control matchups having last change. The Jets almost exclusively match their top line up with the opposition's top line when at home, so expect the Bryan Little line to match up with Colorado's Nathan Mackinnon line, while the Mark Scheifele line should see Colorado's Carl Soderberg line. The Mackinnon line is a much better possession trio than the Soderberg line, so the Scheifele line is the Winnipeg line to target. Scheifele's wingers, Mathieu Perreault and Drew Stafford, are both underpriced in this matchup and would make for a nice salary relief mini-stack. Another option would be to mini-stack Perreault with Dustin Byfuglien as Perrault plays up on the top power play unit with Byfuglien.
Ryan Spooner – C – $3,900 – Boston Bruins
Boston will be in Toronto taking on a Leafs team that has started to regress after a somewhat promising start to the season. Through about 10 games the Leafs were mid-pack in terms of shot attempts allowed per 60, which represented a big improvement from last year. But they've regressed lately and have now allowed the sixth most shot attempts per 60 for the season. Good goaltending from James Reimer has masked this little backslide for the Leafs, but if Reimer ever fails them, they could be in for an ugly game.
Toronto's top line and fourth line checking unit are decent possession lines. I would expect the top line and checking line to match up with Boston's top two lines, leaving the third line to potentially do some damage. Ryan Spooner plays on that third line, and he plays up on the top power play unit for the Bruins. Boston's power play has been incredible this year and they lead the league in goals per 60 with the man advantage. Spooner is quite cheap for a guy who should have the best individual matchup on his team tonight and who plays on a lethal power play unit.
Michal Neuvirth – G – $6,600 – Philadelphia Flyers
Goalie matchups don't get much better than the one Neuvirth has tonight against Carolina. The Hurricanes rank ninth in shots per game but only 28th in goals per game. Plenty of shots and not a lot of goals is exactly what you're looking for in a goalie matchup. On top of that, Carolina is playing on the second half of a back-to-back on the road. Neuvirth also has the second best save percentage this year among goalies with at least eight starts. But let's not act like he's an elite goalie. The real reason to love him tonight is the matchup.
Thanks as always to war-on-ice.com for the statistics.