Daily Fantasy Hockey Strategy: February 9, 2016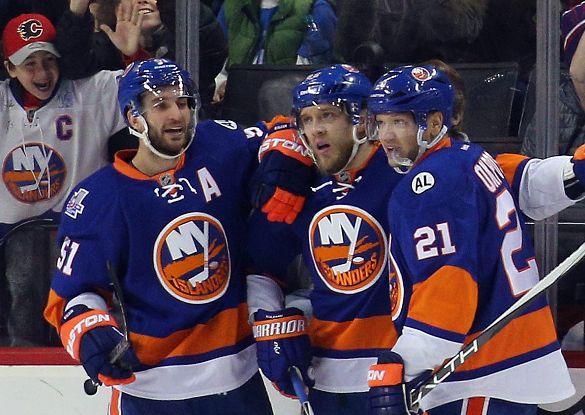 Below I've got a discussion of the best matchups and potential stacks of the day followed by player rankings for Tuesday's 12-game evening slate of NHL contests around the industry. At the bottom of the post I've embedded my research chart for the day. Here is just a snippet of an old chart I'll use to explain what you're looking at.

First the colors. Purple/blue is amazeballs, green is great, yellow is good, orange is bad, red is awful and deep red is no effing way.
The first column that isn't self-explanatory is the sixth one, the one that is titled 'z' to the right of salary. That is how far above or below average the player's salary is compared to all other players in action today. 'Proj.' is a projection from my own Marcel-like projections. The 'z' next to the projection is how far above or below average the projection is compared to all other players in action today. And then 'Value' is the projection z-score minus the player's salary z-score.
All shot attempt numbers discussed are at even strength, score-adjusted and weighted for recent performance unless otherwise noted.
And as always, make sure to check Twitter for any injury news, and check LeftWingLock for starting goalies and line combos.
Teams to Target
[cointent_lockedcontent article_labels="hockey"]
New York Islanders on the road in Columbus
This is the only super obvious target of the evening. In fact, after this section of the post, I'm likely shifting to some quick hits just because no other teams represent such an obvious stacking situation. Of course, the problem with stacking Isles is that they are too obvious of a play. Columbus is awful and a great matchup for opposing skaters, everyone knows that, and the Isles lit up Edmonton for eight on Sunday, which will surely be fresh in everyone's mind. So feel free to fade the crap out of them in GPP.
But in cash? You have to have some exposure. The safest line to pick on outside of Columbus' fourth line is their second line centered by Alexander Wennberg. Wennberg's line should see some ice against New York's second and third lines, so forego John Tavares and the top line tonight. The safe mini-stack is Frans Nielsen and Kyle Okposo on the second line as they also play together on the top power play unit. The other option is the third line where Anders Lee is the most desirable option there, as he also plays on the top power play unit. He could be mini-stacked with linemate Brock Nelson or Nick Leddy, who see a majority of the power play minutes on the blue line. Leddy is also an option to pair with Nielsen/Okposo.
Vancouver at Colorado
Actually, before the quick hits, let's take a second to talk about this game. The Avs are a great matchup as they allow the most unblocked shot attempts per 60 in the league. Any time they play their opponent is worth considering. But tonight their opponent is Vancouver who has three total goals in their last three games. And in those three games they played the teams that rank T1, T5 and T12 in most goals allowed per 60. Forgive me for finding Canucks hard to trust tonight.
But.
Instead of ignoring Vancouver as a result of them being the only reason I lost money last week, I'll admit that there are a couple Canucks I could stomach this evening. Colorado's depth lines are particularly bad possession units, and Radim Vrbata and Brandon Sutter playing on the third line should see plenty of ice against those depth lines. Vrbata and Sutter also happen to be playing on the top power play unit with the Sedins. They're great values across the board, so if you can stomach Vancouver, that's the way to go.
As for the Avs, their second line likely draws the matchup with the Sedins, so their top line is worth considering. Nathan Mackinnon and Matt Duchene have been solid possession players this season, and they could dominate the puck against Vancouver's second line. They should skate with Tyson Barrie at even strength and Barrie generally plays on the power play with Duchene.
Other Lines to Consider
Minnesota's top line against Dallas – Minny's second line is a beast of a possession unit that works against the opposition's top line a lot at home. As a result, Minny's top line should see plenty of Dallas' decent second line, but they'll also get away from the top six and see some ice against Dallas' weak possession depth lines at times. Mikko Koivu, Zach Parise and Charlie Coyle make up that top line and the top power play unit, where they're joined by Ryan Suter.
Tampa Bay's third line against Montreal – Montreal's weakest possession line is its second centered by David Desharnais. That line tends to draw the opposition's third line in home games, so Valtteri Filppula's line should get that matchup. Filppula and Ryan Callahan skate on the power play with Steven Stamkos, which adds to their appeal.
Florida's third line against Buffalo – Jack Eichel ranks in the top 50 in the league in goals scored over halfway through his rookie season, which is an encouraging sign. But he has not been a positive possession player this season, and his line can be exploited a bit. They tend to play against the opposition's third line in home games, so Nick Bjugstad, Brandon Pirri and Logan Shaw are options. Bjugstad is the best option playing on Florida's top power play unit.
Calgary's top line against Toronto – Without Tyler Bozak, Toronto goes from not that imposing to not remotely imposing. The only line you might want to avoid is their top line, and Calgary has been using their (fantasy irrelevant) third line against the opposition's top line in recent home games. Calgary's top line should draw the Bozak-less second line, which is a really nice matchup. The only issue with that line is price as Jiri Hudler is the only real value. Johnny Gaudreau and Sean Monahan are probably priced out of use on FanDuel, but they're only slightly over-priced on DraftKings and FantasyDraft.
Player Rankings
Don't forget to check out our newest sponsor, FantasyDraft.com.  If you sign up through our referral link and deposit $20 or more into your account, we'd be overly grateful. And we'll try to make it worth your while with solid advice.
Here are positional rankings for tonight's slate. The color of each player's salary represents their value on that site. Once again, here's the color code: Blue is amazeballs, green is great, yellow is good, orange is bad, red is awful and deep red is no effing way.
Goalies with an asterisk next to their name are not expected to start tonight but haven't been ruled out, so don't count on them playing. Any players in bold have been confirmed as the starter for the day. And players with a line through their name will not be starting tonight. Make sure you always check LeftWingLock for starting goalie updates in case I am unable to update the list throughout the day.
Research Chart
You can download the research chart from this Google Sheet page here. Please keep in mind that the projections and values in the chart below are based on matchups on the team level, not on an individual level. So if you see a name in the discussion section above or the rankings above and they have a good value grade here, then they're a solid play.
[/cointent_lockedcontent]