Daily Fantasy Hockey Strategy: February 9, 2017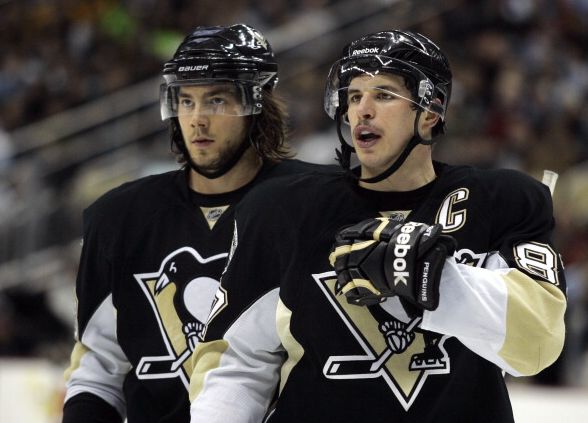 Below we've got a discussion of the best matchups and potential stacks of the day followed by player rankings for Thursday's 11-game evening slate of NHL contests on DraftKings and FanDuel.
As always, make sure to check Twitter for any injury news, and check LeftWingLock for starting goalies and line combos.
Teams to Target
Pittsburgh Penguins @ Colorado Avalanche
I won't lie, this post is going to be pretty effin' chalky. Three teams are way out in front of the pack in terms of implied totals in Vegas tonight, and those same three teams top my own expected goals model. What am I going to do, not discuss those three teams? We'll get to some other options and some value plays later in the post, but for now let's draw on the sidewalk.
Pittsburgh let DFS players down on Tuesday night when they scored just two goals against Calgary despite having the highest implied total of the night. They'll have a chance to redeem themselves against the Avs who shutdown the Habs on Tuesday in yet another disappointment for fantasy players.The Avs have allowed the third most goals, the seventh most shot attempts against per 60, and they rank sixth worst on the PK.
Players who faded Pens in GPPs on Tuesday were rewarded, and there's not much sense in stacking Pens tonight (or most nights) when they're likely to be very popular. But in cash games, you simply have to have exposure to some of their best players. Sidney Crosby and Phil Kessel are the producers and the guys who shoot the puck on this team, so fit them in when you can in cash. Crosby is probably a bit easier to fit in on FD, and Kessel is priced better on DK. Kris Letang is another option as he has retaken his spot on the top PP unit and tends to skate with Crosby's line at even. Like Kessel, Letang is priced better on DK. The value play here would be Nick Bonino who should be on a line with Kessel and on the top PP unit with all the big boys. He's an especially good value on FD.
It should be noted that the Pens had an optional skate this morning and Evgeni Malkin was dressed and skated. I'd still stick with Crosby and Kessel as the studs to play if Malkin returns, but you do need to keep an eye out for pre-game line rushes to see if Malkin plays and how that might affect their line combos.
Washington Capitals v. Detroit Red Wings
Detroit ranks 10th in both goals allowed and save percentage, though they do rank 13th in fewest shot attempts allowed per 60. Washington only ranks 23rd in shot attempts taken per 60, so there's at least some chance that this isn't a super-"pace-y" and the shot totals remain fairly low. Washington ranks third in goals scored and second in shooting percentage, so they obviously have the talent to score goals against any opponent, but this is even a more obvious GPP fade scenario than the Pens are, at least as far as their top line is concerned.
In cash, if you could afford Alex Ovechkin, you'd obviously want to put him in your lineup. But with Crosby also being in a great spot tonight, you might rather spend big on Crosby. Ovechkin's top line is also likely to draw the tougher possession matchup against Henrik Zetterberg's line, so Evgeny Kuznetsov and the cheaper second line is the preferable play tonight. Kuz himself is only affordable on DK and is probably the second liner I like the least. Justin Williams is priced nicely and leads the Caps in ixG60, even over Ovi. Marcus Johansson is also an option and gives you exposure to Ovi as he plays up on the top PP unit with him. Similarly, Matt Niskanen has retained his blue line spot on the top PP unit even though John Carlson has been back in the lineup for awhile now.
Columbus Blue Jackets vs. Vancouver Canucks
Weirdly the only matchup Vancouver has that scares me is their fourth line which often draws opposing top lines in home games yet still has solid possession and xGA numbers. But on the road Van's fourth line should see Columbus' top line, so the Jackets' top line is the play. Nick Foligno is priced well on both sites and is joined on the top PP unit by his center, Alexander Wennberg, and defenseman Zach Werenski, who is priced very well on both sites. Brandon Saad is the third member of that top line and could be included in any Columbus stack.
Stack Options
Toronto has the fourth highest implied total tonight, so we're still in chalk territory here, but given how obvious Pittsburgh and Washington are tonight it's possible that ownership percentages for Leafs are reasonable. William Nylander has been shooting the puck like crazy of late with 25 shots and five goals in his last seven, and Auston Matthews has been hot with five points in his last three including goals in consecutive games. But the line to stack here is a stack is what you're after is the Bozak/Marner/van Riemsdyk trio which has been the team's best line for the last month or so and which continues to draw matchups with opposing depth line in home games.
Montreal, as mentioned, has been struggling as they've lost four straight and have scored just three goals in that stretch. But this is still a team that ranks eighth in goals scored on the season facing an Arizona team that has allowed the sixth most goals. Montreal's top line of Pacioretty/Danualt/Radulov is really the only reliable option if you're going to stack a line. But if you just want to get a little bit of exposure to Habs or if you're looking for a value play, Artturi Lehkonen ranks second on the team behind Pacioretty in iCF60 and is nice and cheap on both sites.
Value Plays
Kenny Agostino (St. Louis, DK: $2,600, FD: $3,200) – Agostino was recently called up and has registered nine SOG in two games since. He recorded a point in each game, a goal and an assist, and he averaged 13:28 of ice time. He's playing on what is listed as St. Louis' third line, but with all their top talent now consolidated on the top line, it's arguable which is St. Louis' second line and which is their third. He's also seeing work on the second PP unit. For only $100 over the minimum and only $200 over the minimum on FD, he's an excellent salary relief option.
Matt Beleskey (Boston, DK: $3,400, FD: $3,900) – Boston didn't hold a morning skate this morning due to some weather in the area, but Beleskey is expected to skate on the second line with Krejci and Pastrnak as well as the second PP unit. You obviously need to check Boston's lines in warmups to see if his top six assignment holds, but if it does he's another excellent salary relief option.
Player Rankings
Centers
Sidney Crosby
Auston Matthews (FD only)
Nick Bonino
Evgeny Kuznetsov (DK only)
Alexander Wennberg
Defensemen
Zach Werenski
Kris Letang (DK only)
Matt Niskanen
Shea Weber
Ryan McDonagh
Ivan Provorov
Torey Krug
Wingers
Nick Foligno
Alex Ovechkin
Phil Kessel
Max Pacioretty
William Nylander
Marcus Johansson
Kenny Agostino
Matt Beleskey
Artturi Lehkonen
Justin Williams
Brandon Saad
Goalies
Matthew Murray
Sergei Bobrovsky (cash only, FD only)
Thomas Greiss (GPP only, DK only)
James Reimer (GPP only, FD only)
Goalies with an asterisk next to their name are not expected to start tonight but haven't been ruled out, so don't count on them playing. Any players in bold have been confirmed as the starter for the day. Make sure you always check LeftWingLock for starting goalie updates in case I am unable to update the list throughout the day.