Daily Fantasy Hockey Strategy: First Round Preview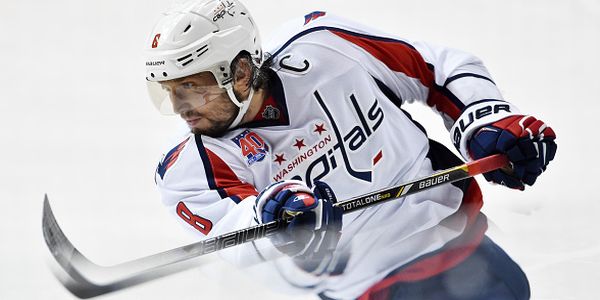 It's Stanley Cup Playoff time, and we've got it all covered for you. Christopher Morais published his Western Conference Round 1 preview already, and he'll have a preview of the first round in the East tomorrow. Today I'll be breaking down the round 1 matchups in depth (like balls deep) from a daily fantasy perspective so you can play hockey DFS a bit longer.
Western Conference
Anaheim (Mighty) Ducks (1)

v.

Winnipeg Jets (WC)

If all the playoff teams were playing on the same day in a massive eight-game slate, Anaheim would be a team from which I would consider choosing skaters in DFS, but they wouldn't be a top option. Winnipeg would be among the six teams I would likely ignore altogether. But the first round will provide us with a bunch of four-game slates, so either team could potentially be an option depending on the other teams playing on a given day, especially Anaheim.

The Jets tend to play a buttoned-down style. Of the 16 playoff teams, the Jets are 12th in Corsi events for per 60 minutes since March 1, and they have allowed the fourth fewest Corsi events against per 60 in that same time frame. That makes them a below average matchup for Anaheim, but it also limits their offensive upside.

As for how bad of a matchup they are for Anaheim's offense, it depends on what you think of Winnipeg's goaltending. Ondrej Pavalec has a .920 save percentage this year, but prior to this season he had a career save percentage of just .906 on almost 8,500 shots against. At best, I'd grade Winnipeg's goaltending as average, so Anaheim skaters could definitely be an option on certain days.

Anaheim doesn't really go three deep with scoring lines, so the top two lines are the only ones that really warrant consideration. The top line is anchored by the pair of Ryan Getzlaf and Corey Perry. Either Jiri Sekac or Tomas Fleischmann is likely to play with Getzlaf/Perry. Whoever ends up playing on the top line can be a useful salary relief option if you play Getzlaf or Perry. The second line is centered by Ryan Kesler, and Matt Beleskey is almost on his wing. Either Kyle Palmieri or Jakob Silfverberg will be opposite Beleskey. Whichever of the two is relegated to the third line can be ignored.

Winnipeg's top line centered by Bryan Little is an excellent possession line, but their second line centered by Mark Scheifele is comprised of three below average possession skaters. That's the matchup you want to pick on. These teams last played in Anaheim in early January, and the (Mighty) Ducks got the Getzlaf line away from the Little line almost completely. Similarly, Anaheim has been getting the Getzlaf line away from the opposition's top line in recent home games. When the (Mighty) Ducks and Jets played in Winnipeg in December, the Jets only matched up the Little line with the Getzlaf line about half the time. However, the Jets have been matching the Little line up with the opposition's top line in recent home games. The guess is that the Getzlaf line is the one you want in the games in Anaheim, and the Kesler line is the one you want in the games in Winnipeg. As a disclaimer, we'll know a lot more about how teams want the matchups after a game in each city.

On the back end of things, Sami Vatanen and Francois Beauchemin are the D-men you want to own from Anaheim. Winnipeg was one of the worst matchups for goalies in the regular season (low shot volume), and the (Mighty) Ducks were below average, so you might avoid the goalies in this matchup.

Prediction: (Mighty) Ducks in six.
St. Louis Blues (2)

vs.

Minnesota Wild (WC)

This is going to be a short preview because neither team strikes me as a good DFS option in Round 1. With Devan Dubnyk in net, the Wild aren't likely to give up many goals. On the other side, the Blues are a tough matchup in that they don't give up many shots, and the problem is compounded by the fact that the Wild don't take many shots. Of the 16 playoff teams, the Wild rank 15th in Corsi events for per 60, and the Blues allow the fifth fewest Corsi events per 60. If I had to pick the series to average the fewest number of goals per game, this would probably be it. Because the Wild don't attempt many shots, they're also a bad fantasy matchup for goalies, so Brian Elliott and Jake Allen aren't good options. The Blues are right at an average matchup for goalies, so Dubnyk may be an option some nights. But Dubnyk may be the only player I roster in this entire series.

Prediction: Blues in seven.
Nashville Predators (2nd Central)

vs.

Chicago Blackhawks (3rd Central)

We potentially have some fantasy relevance here as both teams are in the group of six borderline teams from which I might roster players. There are six teams I'm largely ignoring, six teams I might consider, and four teams I'll be leaning on heavily.

Of these two, Nashville is the team I like better as I have them graded as a slightly better offense and as a slightly tougher matchup for opposing skaters. Plus, they have home ice. As for which Nashville line has the best matchup, it's very tough to say because I have no idea what Chicago's lines are going to look like. For one thing, there's talk of Patrick Kane being good to go Game 1. Some people think Game 3 is more likely, but we weren't expecting to see Kane until Round 2 at least, which is to say maybe not at all.

Whether Kane plays or not, about all I know for sure is that Jonathan Toews and Marian Hossa will play together and aren't a great matchup for opposing skaters. The weak possession links from Chicago are Antione Vermette, Brandon Saad, Teuvo Teravainen, Kimmo Timonen and Brent Seabrook. Timonen didn't play in Chicago's final three games, but he and Seabrook have played together some, although usually against depth lines at home.

As for the forwards, Saad and Vermette have seen some time together as well, so that's potentially a pair to pick on if they're lined up. In recent home games where they have played together, they have played protected minutes against depth lines. Because the Hawks seem to shelter their weaker players at home, the Preds may not be a great option on the road. However, the Preds top line may be a very good option at home. In recent home games the Preds have gotten the Mike Ribeiro line out against the opposition's depth lines. For that reason, Ribeiro and presumably James Neal and Filip Forsberg look like a good choice in home games.

On the blue line, Shea Weber and Roman Josi are the top choices if affordable. If you need to go cheaper, Ryan Ellis and Seth Jones are your options. In net, Pekka Rinne has a good matchup as the Blackhawks are one of the more favorable matchups for opposing goalies. As long as Rinne isn't too expensive, he could be an option.

As for using Blackhawks, the Preds don't have many weaknesses to exploit. The entirety of their top six forwards and their top four defensemen are all good possession players. Whoever ends up on Chicago's third line might end up being your best bet for games in Chicago. Aside from that, your best bet is to roll with the top line, which is presumably Toews, Hossa and Kane (if healthy). Duncan Keith is the top option on the blue line on the power play. In net, Corey Crawford could be an option as the Preds were a decent matchup for opposing goalies in the regular season. In Chicago home games, Crawford is worth considering.

Prediction: Predators in seven.
Vancouver Canucks (2nd Pacific)

vs.

Calgary Flames (3rd Pacific)

Here we have the first of the teams I plan to lean on heavily in the first round, the Vancouver Canucks. In fact, Vancouver is probably the team I like the most. Vancouver is roughly an average offense in my estimation, but the Flames are the best matchup for opposing skaters of any team in the playoffs. Since March 1 the Flames allow 65 Corsi events against per 60 and the team allowing the second most Corsi events against is allowing just 58 Corsi events against per 60. The Flames also have the fewest Corsi events for per 60 of any of the playoff teams, so they're easily the worst possession team playing in the postseason.

Aside from their third defensive pair that plays sheltered minutes, the Flames don't have any players that are above average in terms of possession, so all Canucks have good matchups. I could get into which Calgary lines are the worst, but it really doesn't matter. The Canuck pairing I prefer is the second line pair of Nick Bonino and Radim Vrbata. They're more expensive than the Sedin twins but also more productive in my estimation. If you play Bonino and Vrbata along with Alexander Edler, you get exposure to the Sedins as well as Vrbata and Edler play on the top power play unit with the Sedins.

If you need to spend a little less money, the Sedins are also an option. Likewise, Yannick Weber is a cheaper alternative ro Edler on the blue line, and he also plays with the top power play unit. If you really need a cheap option or want to be contrarion, the third line pair of Bo Horvat and Jannik Hansen is also an option. Because Calgary is such a low shot volume team, they're not a good matchup for opposing goalies, so Eddie Lack/Ryan Miller probably aren't a great option in net.

As for the Flames, they're just on the edge of being a team I'd consider using. I would only use the top line of Sean Monahan, Johnny Gaudreau and Jiri Hudler as well as Dennis Wideman or Kris Russell on the blue line in Calgary home games. Vancouver is not a great matchup for goalies, so I don't love Jonas Hiller or Karri Ramo.

Prediction: Canucks in five.
Eastern Conference
New York Rangers (1)

vs.

Pittsburgh Penguins (WC)

In this matchup we've got the second of four teams I plan to rely on heavily, and it's not the top overall seed in the East. Pittsburgh has one of the better offenses among the playoff teams in my estimation, and the Rangers aren't a bad matchup for opposing skaters. They're not a great one because they do have good goaltending. but they allow the fourth most Corsi events against per 60 out of any of the playoff teams. On the flip side, I have the Rangers graded as a below average offense and the Penguins as the fourth toughest matchup for opposing skaters among the playoff teams. I doubt I'll be rostering many Rangers.

We could get into the line matchups, but I don't see much of a difference in New York's top two lines from that perspective. The Penguins you end up rostering depend on what your budget is. If you can afford it, Sidney Crosby and Patric Hornqvist are the pair you want, but they're likely too expensive to play together. The second line of Evgeni Malkin, David Perron and Chris Kunitz is easier to make work. If Kunitz or Perron end up playing with Crosby, that will make him easier to roster. Another way to get Crosby in your lineup is to play him along with Paul Martin who eats up a ton of power play time with a low price tag.

Both of these teams are good matchups for opposing goaltenders, so the goalies in home games warrant consideration.

Prediction: Penguins in six.
Montreal Canadiens (2)

vs.

Ottawa Senators

(WC)

This is a very interesting matchup, but it's not one that's likely to yield much fantasy goodness. On one hand, it's strength on strength as the Senators have one of the better offenses in the playoffs, and the Canadiens may be the toughest matchup for opposing skaters among the playoff teams. The Habs are not a good possession team allowing the third most Corsi events against per 60 among the playoff teams, but they have Carey Price back there stopping the plethora of shots against.

The difference may lie in the matchup between Montreal's offense and Ottawa's goaltending. The Sens have received stellar goaltending down the stretch, primarily from Andrew Hammond. That coupled with a low shot volume offense from Montreal means the Habs may have trouble scoring goals. That's especially true if Max Pacioretty misses any games, though I'd be surprised if he doesn't play Game 1.

I'll likely avoid Habs skaters altogether, but Sens could be an option on certain days. Montreal doesn't have many good possession players, but I guess the Tomas Plekanec line is the line you'd prefer to avoid as they hit the ice with Montreal's top D pair of P.K. Subban and Andrei Markov fairly often. In recent home games they have matched up with the opposition's top line, which is probably the Kyle Turris line for Ottawa.

The Sens tend to match up the Turris line with the opposition's top line at home as well, so the second line centered by Mika Zibanejad may be the better play both at home and on the road. Zibanejad almost always has Bobby Ryan to his right, and young Mike Hoffman was to his left in the last game of the season. Ottawa banishes Hoffman to a depth line far too frequently, but he's a force as he recorded 27 goals this season. I love that Zibanejad line if Hoffman stays on it.

On the blue line, it's all about Erik Karlsson if you can afford him, but Patrick Wiercioch also eats up a ton of power play minutes at a much more reasonable price. As for goalies, neither of these teams is a great matchup for opposing netminders, but the Sens are close to average in that respect, so Price is worth a look in home games.

Prediction: Senators in six. Sorry, Morais.
Tampa Bay Lighting (2nd Atlantic)

vs.

Detroit Red Wings (3rd Atlantic)

Neither of these teams has a great offense by my calculation, though I imagine some would disagree with me on that with respect to the Lightning. The thing about the Lightning offense is that their success this season has fueled by a high shooting percentage and not a strong possession game. Among the 16 playoff teams they rank 13th in Corsi events for per 60 since March 1. Detroit is also below average in putting pucks towards the net, but they're slightly better than Tampa.

The real difference lies in how many pucks each team allows to be put toward their own net. Tampa is above average in Corsi events against per 60, but Detroit leads all playoff teams in that stat. That's ultimately why I'm not in love with Lightning skaters despite their offensive production in the regular season and Detroit's possibly shaky goaltending.

The Tampa line you want to avoid when picking Detroit skaters is the second line centered by Tyler Johnson, which has been an excellent possession line. In late season home games the Bolts were matching up the Steven Stamkos line with the opposition's top line, so Detroit's top line may be the play in Tampa. The Wings were playing Henrik Zetterberg and Pavel Datsyuk together late in the year, and they were getting them away from the opposition's top line in home games, so the top line may be the play in Detroit as well. Detroit mixes up lines fairly frequently, so make sure to check for news of their lines prior to the series kicking off.

On the blue line, Marek Zidlicky and Niklas Krownall are the options. Zidlicky sees more top power play time, but Kronwall is generally a more productive player. As for goalies, neither of these teams are particularly good matchups for goalies. If anything, Ben Bishop could be an option in home games.

Prediction: Red Wings in six.
Washington Capitals (2nd in Metropolitan)

vs.

New York Islanders (3rd in Metropolitan)

If you're keeping track, I said there were four offenses I planned to lean on heavily, and I've only mentioned two to this point. Here are the final two teams. This thing could be an absolute track meet. The Islanders are arguably the best offense in the playoffs and also the best matchup for opposing skaters. I'd bet good money this is the highest scoring series of the first round as long as it makes it past five games, which I think it will.

These teams obviously have superstar offensive players in Alexander Ovechkin and John Tavares. Feel free to roster them as you're able to afford. If you roster Ovechkin, you can pair him with either of his linemates, Evgeny Kuznetsov or Joel Ward. If the Caps ever go back to letting Nicklas Backstrom center Ovechkin's line, that's a deadly duo. As it is, Backstrom makes for a decent play paired with Troy Brouwer as those two play on the top power play unit with Ovechkin.

At home, the Caps will probably get the Ovechkin line away from the Tavares line plenty, and I actually expect the Isles to get the Tavares line away from the Ovechkin line as well, so Ovi is probably the play in all games if you can afford him. But it's understandable if you can't so the Backstrom/Brouwer pairing is a away to get exposure to him at a lower cost.

As for the Isles, they run three deep with their lines. They've been mixing them up a lot late in the season, so it's a little tough to tell you what they'll be. Like I said, I think each team may be trying to get their top line free of the opposition's top line, which isn't a great thing for the Tavares line on the road. The Backstrom line has been pretty damn good from a possession standpoint lately, and I expect them to matchup with Tavares a lot in Washington. But Tavares is the play if you can afford him in home games.

In road games, I'll want to get a piece of Anders Lee, Frans Nielsen, Brock Nelson, Josh Bailey and Ryan Strome. I just really don't know how they will line up. Strome and Lee play on the top power play unit with Tavares and Kyle Okposo, so if they play on a line together, that's the pair I want in the games in Washington.

On the blue line, Nick Leddy is the man you want from New York. He plays with the top power play unit and comes at a reasonable price. He's one of the top choices on the blue line. For the Caps, John Carlson sees the top power play minutes, but he's very expensive. You don't have to pay up for him. He makes more sense if you're going with Backstrom/Brouwer as an alternative way to get exposure to Ovechkin.

The Caps are not a good matchup for goalies and the Isles goaltending is shaky anyway, so avoid New York goalies. But the Isles are a decent matchup for goalies, so Braden Holtby is worth a look in home games.

Prediction: Capitals in seven.