Daily Fantasy Hockey Strategy: November 10, 2015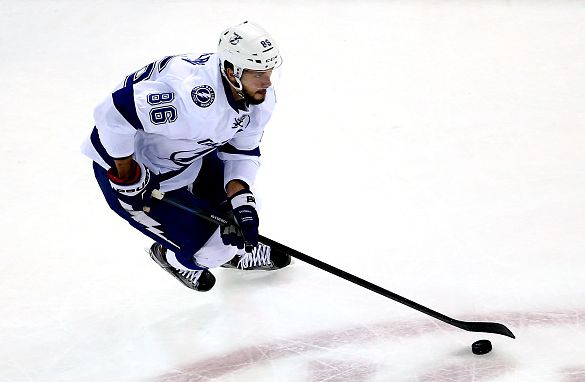 Below I've got a discussion of the best matchups and potential stacks of the day followed by player rankings for Tuesday's 12-game slate of DraftKings contests. At the bottom of the post I've embedded my research chart for the day. Here is just a snippet of an old chart I'll use to explain what you're looking at.

First the colors. Purple/blue is amazeballs, green is great, yellow is good, orange is bad, red is awful and deep red is no effing way.
The first column that isn't self-explanatory is the seventh one, the one that is titled 'z' to the right of salary. That is how far above or below average the player's salary is compared to all other players in action today. 'Proj.' is a projection from numberfire.com's rest-of-season projections, which I have cut down to a per-game basis and adjusted for matchup. The 'z' next to the projection is how far above or below average the projection is compared to all other players in action today. And then 'Value' is the projection z-score minus the player's salary z-score.
Make sure to check Twitter for any injury news, and check LeftWingLock for starting goalies and line combos.
Teams to Target
[cointent_lockedcontent article_labels="hockey"]
With all but six teams in action tonight, there are a lot of spots to potentially pick on. My little matchup statistic I use says there are three teams that are really great matchups, two more that are very good matchups, and then two more that are a cut below that. All seven of those teams are playing tonight, so it becomes difficult to decide which ones to pick on. I'll probably lean on price tag and value to be a big determinative factor tonight.
The three teams that are the best matchups for opposing skaters are Buffalo, Calgary and Colorado. Unfortunately they are playing Tampa Bay, Florida and Philadelphia, respectively. I say unfortunately because none of those three teams have been dominant possession offenses this season. Of the three, Tampa is the only one with an above average offense, so they're one of my favorite plays of the day. Steven Stamkos is always a popular play, and at only $7,400, he could very well be worth his price tag tonight. But the real value potential is with the second line pair of Tyler Johnson and Nikita Kucherov. Stamkos can be used as a one-off, but I don't love him as a mini-stack option with Ondrej Palat out for a few weeks and Ryan Callahan down on the third line. On the blue line, Anton Stralman joins Johnson/Kucherov on the power play if you want to extend that stack. And actually, Victor Hedman could be a mini-stack candidate with Stamkos on the top PP unit.
As for Philly and Florida, their offenses are hard to trust, particularly Philly who ranks next to last in goals per game. I could get on board with a Claude Giroux/Jakub Voracek mini-stack, but I'm not in love with it. The one Flyer I do like a lot is Mark Streit because the Avs allow the second most fantasy points to defensemen. As for the Panthers, their offense has been at least average in terms of goal production, even if they're not a big Corsi-for team. As has been discussed here, the Flames really struggle with depth lines (h/t @JoeCarterFan). For that reason, I like the second line centered by Vincent Trocheck. If you're looking for a mini-stack there, Reilly Smith is the better value, but Jussi Jokinen could be used if you want to stack the whole line in a GPP. Nick Bjugstad and Jonathan Huberdeau on the top line have decent price tags themselves if you want to get exposure to both lines in multiple lineups, but I'd bet on the second line.
While the three best matchups aren't playing great offensive teams, the fourth and fifth best matchups have to face two of the better offenses in the league. Toronto will be in Dallas taking on the Stars who are second in goals per game and lead the league in shot attempts per 60, and Arizona will be in Los Angeles taking on the Kings who trail only the Stars in shot attempts per 60.
The problem with the Stars is twofold. First, their top line is so consistently productive that they always manage fairly high ownership percentages even though they're so expensive. And that's the second problem with them; they're very expensive. Tyler Seguin and Jamie Benn are honestly overpriced. They're two of the few guys in the league with a good chance of delivering on their price tags, but they're overpriced nonetheless. Patrick Sharp is a bit underpriced, but he's not a huge value or anything. With Toronto not being quite as bad as they were last year possession-wise, I'm tempted to fade the Stars.
The Kings, however, I cannot fade. I mentioned that they are second in the league in shot attempts per 60 (at even strength, by the way), and the trio of Jeff Carter, Tyler Toffoli and Milan Lucic easily leads the team in shots attempts per 60. And they're hot right now as they're one of only seven trios to record seven or more goals in the last 10 games. Carter/Toffoli is the mini-stack, and the whole line is an option in GPPs. You can add to the Carter line with Alec Martinez on the second PP unit, or Jake Muzzin is a good value on the top PP unit. With Arizona being the only team in action today that played last night, the Kings matchup looks even better.
The one other matchup that catches my eye a bit is Nashville hosting Ottawa. The Preds are third in even-strength shot attempts per 60, and the Senators allow the third-most shot attempts per 60. Goaltending can bail the Sens out, but this strikes me as a big possession mismatch. The problem is I don't love a ton of values there and have a hard time coming up with a mini-stack. I think I'd be inclined to go with Filip Forsberg and either Shea Weber or Roman Josi, who join Forsberg on the PP unit, as a mini-stack. And if you need salary relief, Colin Wilson is an option as a one-off.
Player Rankings
Center
Winger
Defensemen
Mark Streit – $4,900 – Philadelphia Flyers
Victor Hedman – $5,200 – Tampa Bay Lightning
Erik Johnson – $4,600 – Colorado Avalanche
Alec Martinez – $3,100 – Los Angeles Kings
Micheal Del Zotto – $3,700 – Philadelphia Flyers
Shea Weber – $5,500 – Nashville Predators
Goalies
Goalies with an asterisk next to their name are not expected to start tonight but haven't been ruled out, so don't count on them playing. Any players in bold have been confirmed as the starter for the day. And players with a line through their name will not be starting tonight. Make sure you always check LeftWingLock for starting goalie updates in case I am unable to update the list throughout the day.
Research Chart
You can download the research chart from this Google Sheet page here.
[/cointent_lockedcontent]