Daily Fantasy Hockey Strategy: November 17, 2015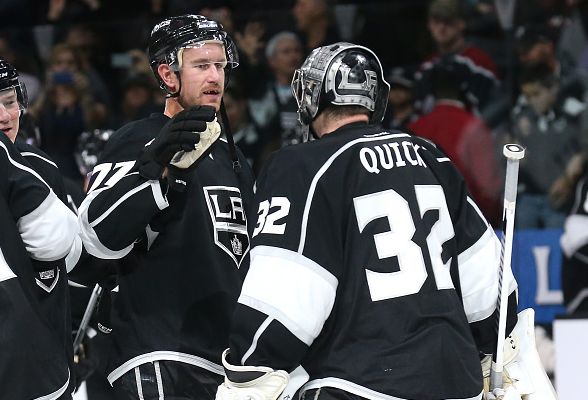 Below I've got a discussion of the best matchups and potential stacks of the day followed by player rankings for Tuesday's eight-game evening slate of DraftKings contests. At the bottom of the post I've embedded my research chart for the day. Here is just a snippet of an old chart I'll use to explain what you're looking at.

First the colors. Purple/blue is amazeballs, green is great, yellow is good, orange is bad, red is awful and deep red is no effing way.
The first column that isn't self-explanatory is the seventh one, the one that is titled 'z' to the right of salary. That is how far above or below average the player's salary is compared to all other players in action today. 'Proj.' is a projection from numberfire.com's rest-of-season projections, which I have cut down to a per-game basis and adjusted for matchup. The 'z' next to the projection is how far above or below average the projection is compared to all other players in action today. And then 'Value' is the projection z-score minus the player's salary z-score.
All shot attempt numbers discussed are at even strength and score-adjusted unless otherwise noted.
And as always, make sure to check Twitter for any injury news, and check LeftWingLock for starting goalies and line combos.
Teams to Target
[cointent_lockedcontent article_labels="hockey"]
Dallas doesn't have the best matchup of the day, but they do have a good one against Buffalo who is mid-pack in terms of Corsi allowed per 60 but has the seventh lowest team save percentage. Combined with the fact that Dallas is almost unquestionably the best offensive team in hockey, they're certainly a consideration tonight. If Buffalo starts Linus Ullmark, they're not as good of a matchup for Dallas, but still good enough. If they start Chad Johnson, it'll be hard to fade Stars.
On an individual level, the Stars with the best matchups are those who will be on the ice against Buffalo's second line and the defensive pair of Josh Gorges and Rasmus Ristolainen. Those five players are their worst possession players relative to the rest of the team. But Gorges/Ristolainen tend to play primarily with Buffalo's top line, which is a better possession trio. In recent home games, the Sabres have matched their top line up with the opposition's top line. If there's a uniform weak spot with the Sabres, it's probably down their right side as both top six right wingers are negative relative possession players.
Given Buffalo's weakness down the right side, I would first lean towards Dallas' left wingers, which means Jamie Benn is the man to pay up for if you're going to do it. He's expensive, but not quite as ridiculously expensive as Tyler Seguin. Benn could be paired with John Klingberg, who joins him on the left side of the top power play unit. But because Seguin is so expensive and because I don't like the matchup generally for the top line, I'm not sure I see a full GPP stack here. Plus, Dallas will be popular, so it's probably not the worst idea to fade them a bit in tournaments. In terms of plain value, I could see the depth line pair of Vernon Fiddler and Colton Sceviour doing some damage given that they should see some good matchups against Buffalo's depth lines. But that's certainly not a cash game play.
The best matchups of the night belong to bad offensive teams, New Jersey and Toronto, who will face Calgary and Colorado, respectively. We've covered this here before, but the Flames and Avalanche are terrible defensive teams. They are essentially tied for most shot attempts allowed per 60, and Calgary ranks dead last in save percentage while Colorado is mid-pack in that statistic.
We've also covered the fact that depth lines kill Calgary. The top D pair of Mark Giordano and T.J. Brodie does a good job in terms of possession and suppressing offense. That pair always matches up with the opposition's best line when the Flames are at home as they are tonight. In their last game at home they faced the Penguins and the Flames apparently deemed the Evgeni Malkin line to be Pittsburgh's best, so Giordano/Brodie matched up a ton with Malkin/Kessel. But in the home game prior, that pair matched up heavily against Philadelphia's Claude Giroux line, their only good line.
I have no doubt that pair will be on the ice almost every time New Jersey's top line, centered by Adam Henrique, is on the ice. For that reason, New Jersey's second line is the best way to attack the Flames tonight. I love Kyle Palmieri, who has the best projection of any Devil in the projection chart below. I would pair him with his center, Travis Zajac, as a mini-stack for cash games. Sergey Kalinin could be paired with them in GPPs for the ultimate salary relief line. That would likely allow you to stack Stars in a GPP if you were so inclined. On the blue line, David Schlemko is the D man who joins the second line on the power play.
As for the Leafs against the Avs, Colorado's third D pair of Nate Guenin and Brandon Gormley are their worst defensive pair. But they're the third pair, so they don't see a ton of ice time. And when they are on the ice, they're typically with Colorado's third line who is a decent possession line relative to the rest of the team. The second line is worse than the first in terms of possession, but they play with the second D pair who is better than the top D pair in terms of possession. Long story short, it's hard to identify specific Leafs with the best matchup. Gun to my head, I'd say Colorado's second line is the one to pick on.
Thankfully, that matches up with where the value is for Toronto as their second line center, Tyler Bozak, is one of the better values on the team today. If you wanted to stack Leafs, I'd pair Bozak with either right winger P.A. Parenteau or defenseman Morgan Reilly, both of whom join Bozak on the second power play unit.
Two other teams have solidly above average matchups tonight, St. Louis on the road against Columbus and Los Angeles on the road in Philadelphia. St. Louis played last night, which probably leads me to like the Kings a bit more than the Blues.
Philadelphia's best possession line is easily the top line centered by Claude Giroux. In recent home games, the Flyers have gotten the Giroux line away from the opposition's top line. The question is who Philadelphia considers to be LA's top line. Anyone who has played fantasy hockey this year knows the Carter/Toffoli/Lucic line has been their most productive line. But if Philly is playing the Giroux line against the opposition's "second" line in order to free Giroux up for offense, then it's possible they treat LA's Anze Kopitar line as the "top" line. The Kopitar line has a reputation of being a good defensive line, and they have been the better of the top six lines in terms of relative possession. My guess is that they treat the Carter line as the top line given how productive they have been this year, but I can't be certain.
Despite that uncertainty, I can't pass on the Carter line. The Flyers are weaker down their left side in terms of possession players, so it's hard to fade Toffoli on the right wing. Plus, the Carter/Toffoli pair is a better value than Kopitar/Marian Gaborik according to the chart below. If you want to stack that whole Carter line in GPPs, I have no issues with it. That's especially true on a +/- site given how infrequently Philly scores and how good LA is at suppressing shots from the opposition. And as always, Alec Martinez is a very cheap option who plays with the Carter line on the power play.
As for the Blues, the Columbus line to target is their top line centered by Ryan Johansen. In recent home games, the Blue Jackets have tended to get the Johnasen line away from the opposition's top line, so I'm not sure St. Louis' top line of David Backes, Alexander Steen and Vladimir Tarasenko has the best individual matchup. And with Paul Stastny and Jaden Schwartz injured, the Blues don't really have usable depth lines. Plus, St. Louis played last night, which is another knock against them. It's a good matchup, it's just not one I'm sure works out. That said, David Backes is way under priced now that he moved up to the top line. He scored twice last night playing on the top line, but his price has not yet caught up as tonight's prices were decided before that game occurred. He's definitely a salary relief option.
This is turning into a long write-up, but I've got one more team to mention, Nashville hosting Anaheim. Anaheim is only a slightly above average matchup for opposing skaters, but they played last night and Nashville is a top five offensive team. Anaheim's top defensive pair of Cam Fowler and Kevin Bieksa is their worst pair in terms of relative possession. That pair plays with the Ryan Getzlaf line primarily, and the the Getzlaf line has only been an average possession line relative to the rest of the team.
In their most recent home games, the Preds have matched up their top line centered by Mike Fisher against the opposition's top line, so I would expect them to see the Getzlaf/Fowler/Bieksa unit the most. Right now that top line is Fisher, James Neal and Colin Wilson. Fisher and Neal have been together most of the year, but Wilson has recently been playing on the top line. Neal/Fisher is the safe mini-stack in case the Preds go back to previous line configurations and because that pair plays together on the power play while Wilson still plays on the second unit. Neal isn't a great value, but Fisher is a good value, as is Wilson. That trio could be a GPP play as well. On the blue line I'd lean towards Shea Weber who is a bit cheaper than Roman Josi.
Player Rankings
Center
Winger
Defensemen
Goalies
Jonathan Quick – $7,500 – Los Angeles Kings
Antti Niemi – $6,800 – Dallas Stars
Goalies with an asterisk next to their name are not expected to start tonight but haven't been ruled out, so don't count on them playing. Any players in bold have been confirmed as the starter for the day. And players with a line through their name will not be starting tonight. Make sure you always check LeftWingLock for starting goalie updates in case I am unable to update the list throughout the day.
Research Chart
You can download the research chart from this Google Sheet page here.
[/cointent_lockedcontent]