Daily Fantasy Hockey Strategy: October 17, 2015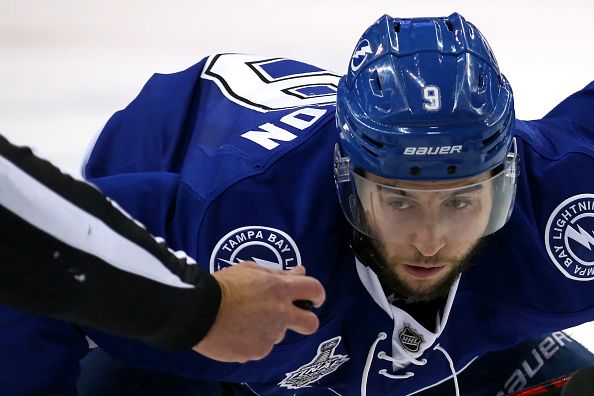 Below I've got a discussion of the best matchups and potential stacks of the day followed by player rankings for Saturday's 10-game evening slate of DraftKings contests. At the bottom of the post I've embedded my research chart for the day. Here is just a snippet of an old chart I'll use to explain what you're looking at.

First the colors. Purple/blue is amazeballs, green is great, yellow is good, orange is bad, red is awful and deep red is no effing way.
The first column that isn't self-explanatory is the seventh one, the one that is titled 'z' to the right of salary. That is how far above or below average the player's salary is compared to all other players in action today. 'Proj.' is a projection derived from numberfire.com's preseason projections which I have cut down to a per-game basis and adjusted for quality of opponent. The 'z' next to the projection is how far above or below average the projection is compared to all other players in action today. And then 'Value' is the projection z-score minus the player's salary z-score.
Make sure to check Twitter for any injury news, and check LeftWingLock for starting goalies and line combos.
Teams to Target
[cointent_lockedcontent article_labels="hockey"]
Update (4:30 CT): I have left the original post below unedited, but I wanted to give a few updates. And the rankings at the bottom have been edited.
First, the Penguins appear to be shaking things up and playing Malkin up with the top line. That obviously renders the Malkin/Hornqvist mini-stack moot. As it stands, Malkin and Kris Letang are the only Pens I'm really considering. I think Malkin is more of a consideration on DK. 
Ottawa's top line wingers, Mark Stone and Mike Hoffman just barely missed the cut to be ranked originally, but with Carter Hutton starting for Pekka Rinne, they're much more interesting tonight. That Ottawa top line is tied for the league lead in goals by a line with five, so I certainly don't hate having exposure to them. Hoffman is the better option of the two if you're not mini-stacking.
And then as far as goalies go, Thomas Griess will not start for the Isles as Jaroslav Halak returns tonight. I can't trust Halak in his first start back, so I'm still leaning on Craig Anderson in cash games and maybe gambling with Tuukka in some GPPs.
The obvious play tonight is the Tampa Bay Lightning. They'll be up against Buffalo, and the Sabres have been as good of a matchup for opposing skaters so far as they were last year. Vegas has the Bolts with the highest implied goal total of the day and for good reason. Really, the only question here is whether you're going with the Stamkos line or the Triplets line.
For me it's a fairly easy call to go with the Triplets line. That trio scored more goals than any other line last season, but they have just two goals combined through Tampa's first five games. This seems like the kind of matchup where they should start to get right. If you just want to go with a mini-stack, I'd go with center Tyler Johnson and Nikita Kucherov. But I have no issue with you throwing in Ondrej Palat and stacking the whole line in tournaments. Anton Stralman joins that trio on the second power play and could be included with either stack.
A couple of teams with good matchups tonight that I can't quite get on board with are San Jose against the Isles and Montreal against Detroit. San Jose played last night and is down Logan Couture, so they're a bit off my radar. As for the Habs, I like their top line, particularly Tomas Plekanec and Max Pacioretty, but Patch's price tag is a little to steep for me on DK to commit to that mini-stack. If you did go with Habs, blue liner Andrei Markov would be a good addition to that mini-stack.
Other teams with good matchups are Pittsburgh against Toronto (who played last night), Florida against Dallas and Edmonton against Calgary. For the Pens, I'm again drawn to the second line pair of Evgeni Malkin and Patric Hornqvist. They have combined for just three points so far, but they have stayed together on the second line and both play on the top power play unit. And due to their early struggles, their price tags are affordable, relatively speaking. Against Toronto with the Leafs playing for the second night in a row, this could be the night they get on track.
As for the Panthers, I don't expect their second line will be too highly owned. But I do like their matchup against Dallas, and I also like that line's price tags. The Stars put the puck towards the net a lot and allow it to be put toward their own net quite a bit as well. The Stars have the third most Corsi events for per 60 so far, but they have also allowed the ninth most Corsi events against per 60. Brandon Pirri and Reilly Smith play on the wings on the second line and also play together on the second PP unit. Combined they would cost you just 17.2 percent of your budget.
And then finally I like Edmonton's matchup against Calgary. The Oilers have the fourth lowest goals per 60 number so far, but the Oil and the three teams worse than them in that stat have impossibly low shooting percentages that are going to come up sooner rather than later. The top line pair of Ryan-Nugent-Hopkins and Taylor Hall could certainly have success in this matchup, and Benoit Pouliot makes some sense as a salary relief target. Pouliot plays on the second line with Connor McDavid and joins McDavid, RNH and Hall on the top power play unit.
In net tonight, Braden Holtby is perhaps the safest cash game play if you like to play it conservatively at that position. Carolina puts a good number of pucks toward the net, but dating back to last year they have one of the league's lowest shooting percentages. A lot of shots and not a lot of goals is a good recipe for a goaltender. Washington is a -208 favorite, so Holtby has a good chance to pick up the win.
My problem with Holtby is just his price. He's by no means outrageously priced at $8,000, but there are some value options out there. Craig Anderson is a slight favorite at home against Nashville, and his projection isn't that much lower than Holtby's according to my model. Anderson is $1,200 less expensive than Holtby, and those savings are tempting.
Tuukka Rask is more expensive than Anderson and has been awful this year, so it might not seem like Rask warrants consideration. But there's a very good chance we're all grossly overreacting to Rask's early struggles, and he's likely to return some nice value in a few upcoming starts at his reduced price point.
If you're looking to go as cheap as you can in net, Thomas Griess is a nice option at home against a Couture-less Sharks team that played last night. The Islanders are a -152 favorite in that one, so Greiss could pick up a win at a pretty cheap price tag.
Player Rankings
Center
Winger
Defensemen
Goalies
Craig Anderson – $6,800 – Ottawa Senators
Tuukka Rask – $7,400 – Boston Bruins
Braden Holtby – $8,00o – Washington Capitals
Goalies with an asterisk next to their name are not expected to start tonight but haven't been ruled out, so don't count on them playing. Any players in bold have been confirmed as the starter for the day. And players with a line through their name will not be starting tonight. Make sure you always check LeftWingLock for starting goalie updates in case I am unable to update the list throughout the day.
Research Chart
You can download the research chart from this Google Sheet page here.
[/cointent_lockedcontent]