2013 Fantasy Baseball Daily Fix: April 29, 2013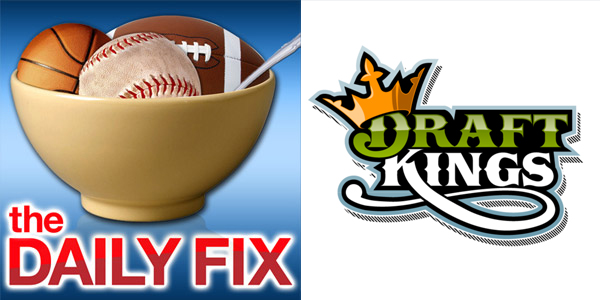 DraftKings.com Team of the Day:
I didn't get a chance to play at DraftKings too much this week, but that's the beauty of daily leagues. No harm, no foul for taking a couple of days off. And you can hop in anytime. Today, we are going with MLB $1,500 Moon Shot [$1,500 Guaranteed] for just a $2 entry. Don't forget to claim your deposit bonus! Special thanks to Andrew Miller for picking up the slack for me last week.
Rotoinfo.com provides excellent updates as lineups roll in. Looks like I'm going stars and scrubs today. I've left my lineup $1,000 short of the total I can spend to give me flexibility if I need to swap some of my scrubs out if they don't make the lineup.
Matt Harvey | P | Mets | $10,900 – He is Matt Harvey. They are the Miami Marlins. Enough said.
Zach Britton | P | Orioles | $6,700 – For my second starter, I'm going cheap. Britton is coming up from AAA to make this start. He's been OK at AAA this year (with some control issues). He does own a 2-0 record in two starts against the Mariners for his career.
Last week in this column, I tried stacking hitters. I'm going to stay away from that today, but if you want to go that route, I'd suggest looking at the Detroit Tigers. Lots of relatively cheap values on the Tigers' roster (a couple you will see below).
Victor Martinez | C | Tigers | $4,200 – The Tigers face the corpse of Mike Pelfrey. Martinez has shown some life in the past week. Here's to Pelfrey being the cure to what ails V-Mart.
Carlos Pena | 1B | Astros | $4,400– Pena hasn't done much other than strikeout and walk this year. However, he is 14-43 with six HRs in his career against Yankees starter Andy Pettitte. It's a big risk with high upside.
Omar Infante | 2B | Tigers | $3,800 – Infante has been heating up and he's facing Mike Pelfrey. A nice combo for cheap.
Manny Machado | 3B | Orioles | $3,400 – Machado is also relatively warm and faces Joe Saunders who likes to give up hits in bunches. At $3,400 he's a great deal.
Brandon Crawford | SS | Giants | $3,100 – Crawford has been channeling Honus Wagner lately. Here's to hoping he can keep it up for one more day as he does have five hits in 16 career ABs vs. Ian Kennedy
Brandon Barnes | OF | Astros | $2,900 – El cheap guapo here – Barnes has done well against left handers and even though he faces a tough one in Pettitte, I like him to pick up at least one hit. Robbie Grossman is also an option as an even cheaper OF.
Ryan Braun | OF | Brewers | $6,000 – Stud. Career 1.239 OPS (with four HRs) against Pirates starter Wandy Rodriguez. I also considered Carlos Gonzalez (8-20 with 5 HRs against Ted Lilly, but not great at Dodger Stadium) for this spot.
Seth Smith | OF | A's | $3,600 – Short sample against Tommy Hanson, but he does have a dinger. I could go with Carlos Beltran here as well, but he's been ill lately. If he's healthy, I may move Smith out for Beltran (three HRs in his four hits over 14 ABs against Mat Latos).
The First Pitch:
As we near the finish line of the first month of the season, it's time to take stock and see where we are. The Boston Red Sox have the best record in baseball and the Toronto Blue Jays have the worst (of the teams that are trying this year – Miami and Houston do not count). The Pittsburgh Pirates are in first place, the Colorado Rockies and Arizona Diamondbacks are tied for first and the Washington Nationals and Los Angeles Dodgers are just above .500. What does it all mean? Probably not a whole lot, but it's fun to see that you can't predict baseball.
Los Angeles Dodgers 2 Milwaukee Brewers 0
Clayton Kershaw is good at baseball. He threw eight innings with 12 strikeouts and no walks. He's an ace of the highest order and should be well on his way to contending for the Cy Young again this year. Brandon League picked up his eighth save (guess he'll be the closer for a while, eh?). However, the most surprising number from the game was four. As in Carl Crawford now has four homeruns (after hitting two solo shots) and a paltry six RBIs. The Dodgers are going to need to get this type of pitching from Kershaw until they can fix the mess at the back end of their rotation. Chris Capuano is due back this week from his celebratory hamstring injury, but Chad Billingsley is done for the year, Aaron Harang is (thankfully) in Seattle, Ted Lilly is just back from injury and Stephen Fife is on the DL.
Miami Marlins 6 Chicago Cubs 4
Do you know who else hit two HRs on Sunday? That's right – Giancarlo Stanton. Don't look now, but that's three homeruns in three days. If there is anyone in your league that thinks the Marlins poor lineup or trade rumors will negatively affect Stanton, see what it might take to get him in a trade. Stanton will be just fine. He had no lineup protection last year and still was a fantasy monster. Remember – he didn't hit his first HR of 2012 until April 29. So, he's ahead of last year's pace (he finished with 37)!
Cincinnati Reds 5 Washington Nationals 2
Is Tony Cingrani for real? I don't think so, but I'm not sure when the league will catch up to him. He threw another six fantastic innings today against the Nats striking out 11 (including four in one inning) – getting every starting Nat but Kurt Suzuki and Antony Rendon once. Cingrani is basically a one pitch starting pitcher which seems like an impossible way to succeed. He's thrown fastballs on a whopping 77.5% of his pitches this season. He has a bit of a deceptive delivery so pitchers like him don't usually succeed (at least for long stretches). I still think he comes back down to Earth, but it may not be for a while.
Some quick hits from around the rest of the league:
Nolan Arenado made his 2013 debut for the Colorado Rockies. It seemed to only be a matter of time before he was called up. His value will be muted as long as he hits near the bottom of the lineup. I think he'll produce enough to work his way into the top of the lineup (perhaps in the two spot).
Carlos Ruiz returned from his suspension for the Phillies. He'll slot back in as the starter at catcher and should hold value in most leagues.
Don't forget about some of our other suspended friends who will be returning after 50-game suspensions. Both Yasmani Grandal and Jonathan Singleton should return, but both could return at AAA. Grandal's replacement Nick Hundley has been terrific and could let the Padres keep Grandal in the minors to get acclimated to baseball. Oddly, Singleton might have a chance to make it to the majors before Grandal. The Astros are a mess and demoted starting first baseman Brett Wallace. Singleton has tremendous skills and could be a second half impact bat in all leagues.
Yoenis Cespedes returned from the DL with a flourish as he homered off Brian Matusz. Get him back in your lineup this week.
Brian McCann started his rehab, but it looks like the plan is for Evan Gattis to remain on the roster even when McCann returns. It will be interesting to see what the Braves do to get Gattis ABs. I assume he'll get a star in the OF and a start at C per week with a couple of pinch hitting opportunities. He won't have shallow league value, but will continue to hold some value in deeper leagues.
Nate McLouth ladies and gentlemen. Another four hits and four runs scored against the Oakland A's. He can't keep this up? Can he? Just remember for those of you in daily leagues, he's Mario Mendoza against lefties so keep him out of the lineup when they face one (like today).
Kevin Gregg is the closer in Chicago? Kevin Gregg is the closer in Chicago. I guess. For this week at least.