2013 Fantasy Baseball Daily Fix: June 30th 2013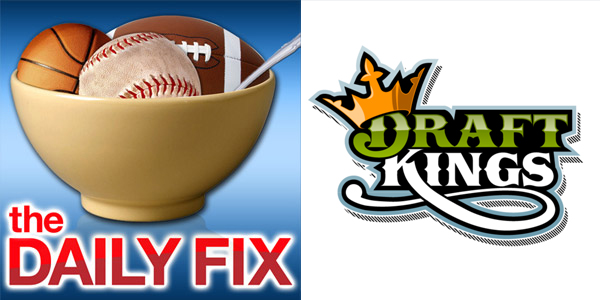 Today, we are also going to participate in the MLB $1K Moon Shot [$1,000 Guaranteed] for just a $2 entry you can pick up $200 for a first place finish. The top 100 score some green in this contest. Don't forget to claim your deposit bonus!
Rotoinfo.com provides excellent updates as lineups roll in.
DraftKings.com Team of the Day:
We are looking at all of the games today so you've got quite a universe to choose from. I'm going with the cheap pitching staff and loading up on hitting stars.
Nathan Eovaldi | P | Marlins | $7,400 – Since returning from the DL, Eovaldi has been solid throwing two quality starts in his first two outings and striking out 10 over 12 innings. The Padres are 22nd in the league in OPS versus right handers and 8th in K% so they present an opportunity for Eovaldi to continue his streak of quality starts.
Zack Wheeler | P | Mets | $5,000 – Yes, Wheeler struggled in his first start, but it looks like he may have been tipping pitches. I'm going to go with Wheeler as he's the cheapest option out there and he faces the Nationals who are sixth worst K% against right handers this season. Plus, he has to be better than the last time out.
There are other options with a full slate of games including those who have been hot lately (greater than a K per inning over their last three starts):  Madison Bumgarner, Gio Gonzalez, Mat Latos and Justin Masterson and Chris Sale. And those with juicy matchups (opponents have high K%): C.J. Wilson, Trevor Cahill and the aforementioned Gio Gonzalez.
Joe Mauer | C | Twins | $4,700 – Mauer has faced Kansas City Royal starter Ervin Santana 30 times and has 14 hits off of him including a home run and seven doubles. His career OPS is 1.200 so I'll pay the extra money for a star at catcher today.
David Ortiz | 1B | Red Sox | $5,900– Ortiz also has a favorable career line against his opposing starter (Mark Buehrle). Even though Buehrle is a southpaw, Ortiz has rung up 1.021 career OPS in 67 at bats with nine doubles and three home runs.
Skip Schumaker | 2B | Dodgers | $3,100 – Here is where things get risky. Schumaker isn't guaranteed to start for the Dodgers, but he's got two home runs in 20 at bats against Phillies starter Kyle Kendrick. He owns a 1.326 OPS in those 20 at bats. Let's hope that Don Mattingly uses those numbers to put Schumaker in the lineup. If not, there are some other low dollar second base options (Jacob Elmore/Ronny Cedeno platoon in Houston, Ryan Roberts in Tampa if he gets the start for an ailing Evan Longoria, Cliff Pennington in Arizona, Elliot Johnson in KC). Or if you don't want cheap, pull one of the high priced outfielders out of the lineup and share the risk.
Trevor Plouffe | 3B | Twins | $3,700 – Since returning from the DL, Plouffe has been solid with an .836 OPS over 13 games. He's also facing Ervin Santana who likes to give up home runs from time to time.
Jose Iglesias | SS | Red Sox | $3,500 – Iglesias isn't this good of a hitter, but I'll ride him until he falters. He's going to get playing time at 3B or SS (with Stephen Drew injured now as well). Over his last 10 games he has a .910 OPS and has struck out only three times in 39 plate appearances
Michael Cuddyer | OF | Rockies | $5,500 – Cuddyer has been one of the hottest hitters on the planet over the last month (I know Jason Kipnis, you've been quite toasty as well). During his 26 game hitting streak he's got a .992 OPS and he gets to hit in Colorado. He has a .923 SLUGGING! percentage over his last seven days. Giddyup!
Yasiel Puig | OF | Dodgers | $4,900 – Puig. Nuff said. Well, he also gets to face Kyle Kendrick which can't hurt.
Mike Trout | OF | Angels | $6,100 – Trout has been almost as hot as Cuddyer with 10 hits in his last 28 at bats and a tasty 357/438/571 line over those games.
If you are looking to stack today I think the Dodgers are your best bet. Kyle Kendrick has been a tick worse than average over his last three starts and has historically struggled against the Dodgers (7.58 career ERA in 10 starts).
I've left $200 on the table so not a lot of room. This is a bit of a high risk set up, but you need to take some risks in these larger games. Good luck today!