2013 Fantasy Baseball Daily Fix: May 13, 2013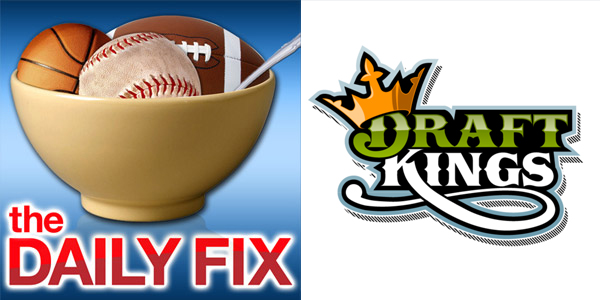 This Friday, be sure to to enter the "Spring Fling" over at DraftKings. It's your chance to turn an $11 entry fee into a $20,000 first place prize! Enter here!
DraftKings.com Team of the Day:
Today, we are going with MLB $1,500 Moon Shot [$1,500 Guaranteed] for just a $2 entry you can pick up $300 for a first place finish. The top 200 score some green in this contest. Don't forget to claim your deposit bonus!
Rotoinfo.com provides excellent updates as lineups roll in. I've got some fun choices below – read along and enjoy.
Anibal Sanchez | P | Tigers | $10,600 – Sanchez is dealing early in the season and he faces a strikeout happy foe in the Houston Astros. He's a no-brainer even at this inflated price.
Hector Santiago | P | White Sox | $5,000 We went to the penthouse for the first starter, we'll go the outhouse for starter #2. He's $300 cheaper than Luis Mendoza who wouldn't likely be a selection if DraftKings had a AAA game. Santiago faces a Twins team that will be offering Pedro Hernandez as their starting pitcher who has nearly a six ERA. Santiago has been good in his two starts so far this season and should be in line for a chance at a win.
I would also consider Travis Wood, Josh Beckett (especially with the anemic Washington offense) and A.J. Burnett for starters.
Russell Martin | C | Pirates | $3,600 – It's not clear that Martin will play so check lineups heading into the matchups on Monday. Martin has four hits(including a HR) in eight ABs against Brewers' starter Marco Estrada. Estrada has given up 11 HRs in 38 2/3 IP this season. I like those odds. I've left enough salary room to sneak hot hitting Josh Donaldson into the lineup if Martin doesn't play.
Mitch Moreland | 1B | Rangers | $3,300– Moreland is cheap and hot. Quite a combination. He's got three HRs in his last 28 ABs and allows us some flexibility elsewhere.
Dan Uggla | 2B | Braves | $4,000 – Uggla was on my squad last week in this space and he hasn't cooled off. He also gets Wade Miley in Arizona who he has homered against.
Pedro Alvarez | 3B | Pirates | $4,000 – Alvarez is a notoriously streaky hitter so you have to take a chance when you think he's getting hot. He looks to be heating up (six hits in his last 12 ABs) and faces Mr. Estrada who likes to give up dingers. He doesn't have a ton of success against Estrada, but when Alvarez is on, he's unstoppable.
Dee Gordon | SS | Dodgers | $3,500 – Gordon has been hitting leadoff for the Dodgers and has been solid. His salary hasn't caught up with this production yet so take advantage. I'd also consider Jean Segura here
Andrew McCutchen | OF | Pirates | $5,200 – McCutchen also gets Marco Estrada and he has an outstanding (albeit short) history against him with seven hits in 19 ABs and two HRs. Start with confidence.
Cody Ross | OF | Diamondbacks | $4,300 – Ross eats lefties for breakfast, lunch and dinner (.932 career OPS, 59 HRs in 942 PAs – he's got 64 HRs in 2,367 PAs verus right-handers). He gets Mike Minor on Monday and he's got two HRs in six career ABs.
Mike Trout | OF | Angels | $5,700 – Mike Trout is very good at baseball. Luis Mendoza (KC's starter on Monday) isn't quite as good. Trout looks to be in a groove (since the calendar turned to May, he's got a 1.132 OPS – not including Sunday's games).
If you are looking for stacking options I'd look at the Pirates. I've peppered them throughout my lineup here, but the higher risk option is to slot as many Pirates in as you can.
The First Pitch:
Let's take a quick look around some of the better performances of Sunday
Colorado Rockies 8 St. Louis Cardinals 2
Jorge de la Rosa took a no hitter into the seventh inning and the Rockies bats finally got going against a Cardinals' staff that had stymied them through much of the series. He finished seven innings and struck out seven while only walking three and give up two hits. This start came out of nowhere as de la Rosa has seen his K/9 rate plummet this season while maintaining solid numbers overall. He'd struck out just four batters over his last three starts (16 IP).
Troy Tulowitzki was healthy today and did Tulo things as he smashed his eighth homerun and recent call up Charlie Blackmon hit his first. The Rockies put Michael Cuddyer on the DL on Sunday and it looks like there will be a platoon of Eric Young and Blackmon in right. It's unclear at this point if it will be a strict platoon, but both should have some value with home games in Colorado.
Chicago Cubs 2 Washington Nationals 1
Gio Gonzalez carried a no hitter into the sixth and struck out seven over his seven innings. But, he watched as the Nationals' bullpen and defense blew the lead and left him with a no-decision. It looked like the Nats offense had finally awoken earlier in the week, but they are back to their light hitting ways as they were shut down by Scott Feldman and the Cubs' bullpen. The Nats have been hovering around .500 all year long and I don't see them as the world-beaters everyone thought they'd be entering the season. Their starting pitching is good on paper, but games on played on a diamond and they aren't as good as they look. Their offense has been out of sync all year. Adam LaRoche had a career year and signed a new contract. He's been missing in action – he's generally a slow starter so this shouldn't be completely unexpected. Ryan Zimmerman's defense has caused issues all season long and it looks like he should move across the diamond sooner rather than later (those $18M yearly salaries at the end of his deal are going to look pretty awful).
The Cubs aren't going to contend for anything this season, but they've unearthed solid pitchers in Scott Feldman, Travis Wood and Carlos Villanueva. Indeed, their two orst starters were the two guys (Jeff Samardzija and Edwin Jackson) expected to lead the rotation. They are due to get Matt Garza back this month so it will be interesting to see who exits the rotation). And out of the "You Can't Predict Baseball", Kevin Gregg has solidified the back end of their bullpen – unscored upon in his first nine appearances.
Some other notes from Sunday's games: