2013 Fantasy Football Daily Fix, December 11 – Week 15 – Tight Ends and Kickers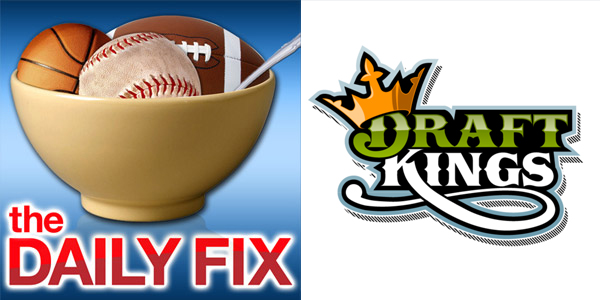 I'm back with the Week 15 DraftKings recommendations for Tight Ends and Kickers. First, a note about a great DraftKings offer. New depositors will get a free ticket into a Millionaire Grand Final qualifier.  So you can get a free game with any deposit you make.  What are you waiting for?
News and Notes
DraftKings Tight End Recommendations
If you've never played on DraftKings before, you can get a deposit bonus by signing up. And there are different options to pick from at DraftKings for any skill level.
Did you know that you can qualify for a million dollar top prize starting with just a $2 investment? It's all right here at the DraftKings Millionaire Grand Final. Wait. Did I already mention that?
Finally, a gentle reminder on the scoring for Tight Ends – this is a PPR site so remember that when selecting players.
10 Receiving Yards = +1PT (+0.1PT per yard is awarded)
Reception = +1PT
Receiving TD = +6PTs
100+ Yard Receiving Game = +3PTs
Fumble Lost = -1PT
2 Point Conversion (Pass, Run, or Catch) = +2PTs
The full DraftKings scoring system is here.
Tight Ends can also be used in the flex position at DraftKings. However, with the entire world of RBs and WRs at your disposal, it would be unlikely you'd have to head to the TEs to pick up a flex play. Jimmy Graham is always in play as a flex option.
Let's take a look at a couple of options at each price point. I'll mention Football Outsiders a lot – the passes per game and yards per game stats I use are from Football Outsiders. Here is the link to Football Outsiders' 2012 stats. FO has updated their stats for 2013 and you can find them here.
The Graham Tier
Jimmy Graham faces the St. Louis Rams on the road. The Saints aren't nearly the same team on the road. St. Louis is also very good against TEs overall, but have struggled a bit with TEs over the last three weeks as they've given up TDs in two of those three games.  There are better options on a dollar per point this week…
The Jeffersons
Tony Gonzalez | Falcons  | $5,500 – The Falcons get the tire fire that is the Washington "football" team. Washington gave up double digits points in weeks 13 and 14 before facing the Chiefs and their non-existant TEs. Gonzo should be good for double digit points and who knows, Washington could implode yet again. No one on that team wants to keep playing this year. They are an embarrassment.
Jordan Cameron | Browns | $5,100 – I was remiss in not putting Cameron in my column last week so he's back on the list this week. Cameron exploded for over 30 points against the Patriots. His matchup this week is great this week too against the Chicago Bears. He's a good option if you can afford him and he may find his way on to a  couple of my teams.
I'll also address Dennis Pitta here who would be a solid option, but his price ($6,100) is untenable and shouldn't be on any teams.
All in the Family
Charles Clay | Dolphins | $5,000 – Clay picked up ten targets last week in a break out game against the Pittsburgh Steelers. I don't see him scoring almost 30 points again this week, but he's a great option to pick up 15 points against a porous Patriots defense.
Jordan Reed | Redskins | $4,200 – Reed may get back on the field this week after he had a setback last week with his concussion. Reed hasn't been a factor since week 10, but he gets a good matchup against the Falcons who give up the third most TDs to TEs. And he may get Kirk Cousins as his QB which could be an upgrade over a shell-shocked Robert Griffin III.
Good Times
Delanie Walker | Titans | $4,000 – Another recovering concussion sufferer, Walker is set to go and lo and behold he gets everyone's favorite TE opponent in the Arizona Cardinals. Since Ryan "Captain Checkdown" Fitzpatrick took the helm in Week 10 Walker has averaged nearly 17 points in his three full games. Walker is most likely going to be on my squads this week.
Zach Miller | Seahawks | $3,400 – Miller nearly laid a goose egg last week, but in the two weeks prior he had double digit points facing two softer defenses. He again gets a soft defense against TEs in the Giants. The only concern I have is Miller has significant home/road splits as he scores 11.4 points per game at home and only 4.9 points per game at home.
From Way Downtown
Michael Hoomanawanui | Patriots | $3,000 – If you want to have a player with a long name, then Hoomanawanui  is your man. He also looks to be the starting TE for the Gronk-less Patriots. His ceiling is probably ten points with the hope that he sneaks into the end zone somehow. In the last game before Gronk's return to the lineup, Hoomanawanui did put up four catches for 57 yards.
DraftKings Kicker Recommendations
Your weekly update on this guy is that he's still not on a roster. Sadly.
A reminder of the DraftKings scoring is below.
There are distance-based bonuses for kickers and no penalties for misses so you can take on risk without penalty.
Extra Point = +1PT
Field Goal 0-39 Yards = +3 PTs
Field Goal 40-49 Yards = +4PTs
Field Goal 50+ Yards = +5PTs
We have the same spread as last week as the most expensive kickers are at $4,000 and the bottom sits at $3,000. A few hundred dollars may not sound like a lot, but every bit counts when assembling your roster. Again, I can't suggest paying too much for a kicker so we'll look at the options further down the line.
Alex Henery  | Eagles | $3,000 – Henery got shut out in the snow last week, but he gets back indoors against a poor Vikings team.
Kai Forbath is another cheap option ($3,000) and he's in a climate-controlled environment in Atlanta (the worst defense against kickers). Graham Gano ($3,200) is another option as the weather should be OK for that game as well.