2013 Fantasy Football Daily Fix, December 27 – Week 17 – Tight Ends and Kickers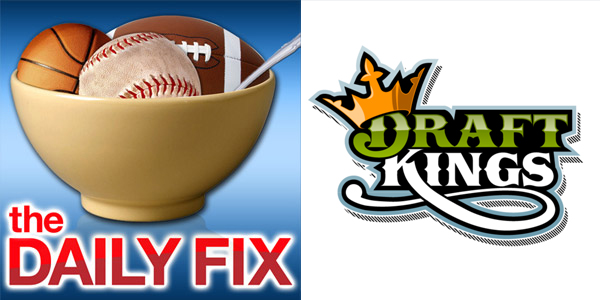 I'm back with the Week 17 DraftKings recommendations for Tight Ends and Kickers. This week is the perfect week to take a dip into the Daily Fantasy pool. You aren't playing this week (and if your championship game is this week, it's time to find a new league). Second, you can also check out the Sunday 200 Grand Final at DraftKings. They keep churning out big tournaments even at the end of the year. What are you waiting for?
Thanks to everyone for reading this season and I hope to see you back here next year.
DraftKings Tight End Recommendations
If you've never played on DraftKings before, you can get a deposit bonus by signing up. And there are different options to pick from at DraftKings for any skill level.
Did you know that you can qualify for a million dollar top prize starting with just a $2 investment? It's all right here at the DraftKings Millionaire Grand Final. Wait. Did I already mention that?
Finally, a gentle reminder on the scoring for Tight Ends – this is a PPR site so remember that when selecting players.
10 Receiving Yards = +1PT (+0.1PT per yard is awarded)
Reception = +1PT
Receiving TD = +6PTs
100+ Yard Receiving Game = +3PTs
Fumble Lost = -1PT
2 Point Conversion (Pass, Run, or Catch) = +2PTs
The full DraftKings scoring system is here.
Tight Ends can also be used in the flex position at DraftKings. However, with the entire world of RBs and WRs at your disposal, it would be unlikely you'd have to head to the TEs to pick up a flex play. Jimmy Graham is always in play as a flex option.
Let's take a look at a couple of options at each price point. I'll mention Football Outsiders a lot – the passes per game and yards per game stats I use are from Football Outsiders. Here is the link to Football Outsiders' 2012 stats. FO has updated their stats for 2013 and you can find them here.
The Graham Tier
Jimmy Graham ($7,300) faces the Tampa Bay Buccaneers at home. Graham is just too risky at this point – he picked up only 44 snaps last week out of a possible 81.  The Bucs are a middle of the road team against TEs, but there is a better option just below Graham…
The Jeffersons
Vernon Davis | 49ers | $6,300 – Ooooo…a talented TE facing the worst defense against TEs? What's that you say? Vernon Davis laid an egg last week? Yes, yes he did. However, there may have been a reason. Davis got something in his eye early in the game. This may have affected him throughout the game. So, if you can fit Davis into your team, he's a great play.
There really isn't anyone else above $5,000 that I'd pay for this week. There isn't any reason to look above $5,000 outside of Vernon Davis.
All in the Family
Greg Olsen | Panthers | $4,900 – Olsen fell below double digit points scored last week for the first time since Week 11. He's never going to go for big points, but he's been a solid performer for most of the season. His matchup is OK with the Falcons giving up the third most TDs to TEs this season.
Martellus Bennett | Bears | $4,000 – The steady Bennett has five or more receptions in each of his last three games and double digit points in his last two and three out of his last five games. Perhaps more importantly, the Bears will have something to play for in this game as they have to win to have a spot in the playoffs. Jay Cutler is in at QB again this week, but even if Cutler falters the Bears have a good backup in Josh McCown.  The Packers are a bottom six defense against TEs and they will be without LB Clay Matthews this week.
Good Times
Joseph Fauria | Lions | $3,400 – Fauria likes to dance, but you don't get extra points for end zone celebrations. However, the Lions have no other healthy TEs currently on the roster as Brandon Pettigrew hit IR this week and Dorin Dickerson has concussion issues.  Fauria has been valuable only when he catches TDs. However, last week with those injuries, he picked up seven targets and was in on 62 snaps (a season high). He could be in for his highest point total of the season as he gets the porous TE Vikings' defense (second worst in the league). He's probably my second option after Vernon Davis though I wouldn't fault you for going with Martellus Bennett as a safer play.
Ryan Griffin | Texans | $3,000 – Speaking of teams without healthy TEs, the Texans fit the bill as well. Rookie Ryan Griffin has stepped into the breach and performed admirably. His matchup with the Titans isn't the easiest, but he's the only game in town for a team that likes to target TEs in the red zone.
DraftKings Kicker Recommendations
Your weekly update on this guy is that he's still not on a roster. Sadly.
A reminder of the DraftKings scoring is below.
There are distance-based bonuses for kickers and no penalties for misses so you can take on risk without penalty.
Extra Point = +1PT
Field Goal 0-39 Yards = +3 PTs
Field Goal 40-49 Yards = +4PTs
Field Goal 50+ Yards = +5PTs
We have the same spread as last week as the most expensive kickers are at $4,000 and the bottom sits at $3,000. A few hundred dollars may not sound like a lot, but every bit counts when assembling your roster. Again, I can't suggest paying too much for a kicker so we'll look at the options further down the line.
I won't go too far here with kickers. I like Mason Crosby ($3,000) for the Packers facing the Bears (27 th in kicker points allowed). Just watch the weather in this matchup. As of Thursday night, everything looks OK, but it could be much worse come game day.
If you want to be safe, take Shayne Graham ($3,000) for the New Orleans Saints indoors against the Tampa Bay Bucs (26 th against kickers).
Good luck in Week 17!